Lez'hur Ledger: International Pillow Fight Day: It's going "down"
I arrived on the scene expecting a ruckus. After all, it was the spot for D.C.'s celebration of International Pillow Fight Day, right on the Mall directly adjacent to the Capitol Fountain. Given the Mall's wide, open space, I expected a genuine melee to ensue.
The Facebook description gave the impression that the event was deliciously unsanctioned. We were supposed to keep our pillows discreetly stowed away, until, upon some secretive cue, we broke out into a spontaneous spree of bedding-based combat. I had high hopes for participating in some boisterous mayhem, perhaps with the threat of pillow-on-riot-shield action looming over our heads.
Unfortunately, by the time I arrived (fashionably late, about 20 minutes into the proceedings), this particular leg of featherbag insanity looked entirely spent. A few dozen people, mostly under the age of 25 (and a good deal under 15), continued halfheartedly assaulting each other in small groups while their parents smiled indulgently, and a bored-looking pair of Capitol Police crouched on bikes amidst the remnants of the fight. A brass band of middle-aged men was playing "America the Beautiful" next to the Capitol Fountain, putting something of a damper on the fun, free-for-all atmosphere.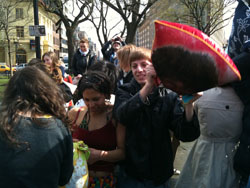 The event's organizer, perhaps sensing the same thing, gestured to the remaining crowd. "We'll be regrouping at Dupont Circle if you want to continue!" he shouted.
Clearly, I would be getting my requisite quota of pillow bruises elsewhere. Or maybe not. As I struggled towards the metro, a hailstorm opened up over the crowd, sending most of the tourists toward the safety of the Smithsonians. When I strolled out of the station at Dupont I didn't have much hope that the scene would be any more promising than the one at the Capitol.
Then I saw a blur of white shapes as I walked towards the circle. At least 80 people, young and old, appeared to be beating each other senseless in front of the statue with a variety of different sorts of cushions. Whipping my pillow out of my bag, I rushed to join them.
I was soon subsumed into chaos. While the event organizer winkingly reminded us to scatter if the police attempted to break up the event, I was pummeled on all sides by people aged 10 to 60.
Clearly, I had missed the memo about this being a costumed pillow fight. Wigged teenagers, costumed superheroes, and a variety of characters all assaulted me. "FOR THE BOURGEOUISIE!" screamed one grad-student-looking-type in a full business suit. "I'm a '90s Frankie Muniz!" shouted another, as a group of his friends hoisted him up.
This leg of the event more than satisfied my expectations. I was elbowed in the face by a ski-helmet-wearing middle-aged man dual-wielding sofa cushions, and uncomfortably chest-butted by a cowboy with stuffing under his shirt. Groups formed lines and charged at each other, shouting out "Free Weezy!" and "For Narnia!"
Eventually, the event's organizer decided to have us test our skills in a playoff system, fighting elimination-style to make the pillow-socking Final Four. My target was a twenty-something clad in a pink top hat and cloak. Bracing myself, I was determined not to be defeated by someone in such a ridiculous outfit.
After being felled by a flying leap and smack to the face, I decided to make a moderately graceful exit.
---
About Samuel Buckley
---