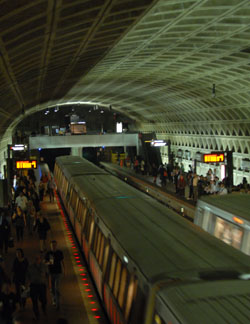 After years of providing phone service to Verizon customers in Metrorail stations, a new wireless contract will allow Washington Metropolitan Area Transit Authority to provide service from all major carriers in parts of its system.
WMATA negotiated and was awarded the contract through "Request for Proposals," a competitive bid process, according to Elizabeth Gautier, an AT&T spokesperson. The contract was a joint deal between WMATA and AT&T, Verizon, Sprint and T-Mobile.
The expansion is part of a multi-step process to extend phone and internet service to the entire system by 2012.
The first phase, which WMATA claims will be completed by October 16, extends cellular and Internet service to twenty Metrorail stations, including Dupont Circle and Rosslyn.
"It's a three-phase effort," said Angela Gates, a spokesperson for WMATA. "By 2010, all Metro stations will have underground [phone and Internet] access."
WMATA expects all stations to have phone service by next year. The final part of the project, extending service between stations, is scheduled to be completed two years after the stations receive cellular service. WMATA aims to install this part of the network with minimal disruptions to service.
"We haven't set up the schedule yet," said Gates, adding that work will be completed at night, "with only a small possibility to interrupt train service."
While the terms of the contract are not made public, WMATA said that the new contract will generate revenue for the transit agency. According to the estimates of a WMATA spokesperson, the agency plans to make at least $52 million from the deal over the first ten years of operation.
Photography by Helen Burton