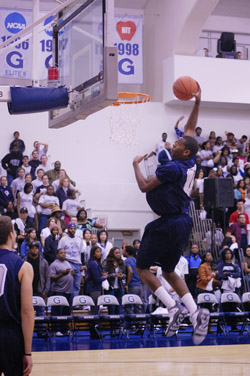 Jamal Adams called it a "paparazzi scene." The Loyola High School men's basketball head coach was holding a typical practice at the Los Angeles school before the start of the 2007 season, and the coaching staffs of six college basketball programs were all there in the gym, watching and observing. They were all there to see Hollis Thompson, Loyola's star forward and one of the most sought-after recruits for the class of 2013.
One coach, however, was not among the "paparazzi." Georgetown head coach John Thompson III went into a Loyola practice by himself later that fall, approaching the recruiting process with more tact. That approach was clearly the right one, as Hollis Thompson verbally committed to Georgetown in November 2007 after being recruited by Duke, USC, UCLA, and Arizona. Now he is on the Hilltop and facing big expectations from fans as the Hoyas' top newcomer.
Hollis, who was unavailable for comment as per basketball program policy regarding new players, is a special case as a freshman for Georgetown. Last year, due to personal circumstances, he left Loyola right before his senior year. He graduated high school early and enrolled at Georgetown in January, allowing him to practice with the team during the second semester last season.
"It's a very good thing," Coach Thompson said. "He's a freshman, but he's not a freshman. He knows what we're trying to accomplish and how we want to accomplish it, so that learning curve is shortened."
Although he didn't play in any games, Hollis was along for last season's ride and had time to build up strength and get used to the faster speed of college basketball. He was also able to acclimate to college life, but in exchange he had to miss out on the experience of his senior year—prom, graduation, and Loyola's basketball season, in which his team reached the state semi-finals for the first time.
Hollis is expected to contribute right away for the Hoyas. His old coach Adams feels that he is a great shooter and an underrated passer. His main weakness had been his strength, which he improved over the past year.
"Hollis is great at moving without the basketball," Adams said. "I think the Georgetown system puts a huge premium on that."
At 6 foot 7 and growing, Hollis may very well help improve Georgetown's weak rebounding. But look for the ball to leave his hands just as often as it reaches them.
"He makes shots," Coach Thompson said. "He can put the ball in the basket. He can do a lot of things, but he makes shots."
In his final season at Loyola, Hollis shot 56 percent from the floor, 43 percent from the three, and 85 percent from the free throw line. Adams believes that he could also put up 50/40/80 numbers in college, as long as he takes his shots within the deliberate confines of Georgetown's Princeton offense.
Thanks to last year's practice, fitting in with that system should be one of Thompson's main advantages this season.
"Georgetown's system is intricate, and just having the extra [practice] is going to be a major benefit," Adams said. "The first semester can feel like the game is being played at hyperspeed, but he should already be on the road for being able to slow down and pick spots in order to be successful."