Students behind the Georgetown University Student Association's Student Advocacy Office met with administrators Monday in the latest push to provide advice for those navigating the University's disciplinary and appeals processes.
At the meeting, James Pickens (COL '12) and Ace Factor (COL '12) presented a plan to use the SAO to offer free and confidential information and advice to students accused of conduct violations. According to Factor, administrators who attended the meeting—including Director of Student Conduct Judy Johnson, Director of Student Affairs Anne Koester, Associate Vice President of Student Affairs Jeanne Lord, and Director of Residence Life Stephanie Lynch—seemed open to the proposal.
"They were really receptive," Factor said. "They really liked the idea."
However, an application for student advisors, which Pickens and Factor originally planned to release as early as the end of this month, has been delayed by the talks, which will continue through the summer, according to Rachel Pugh, the University's director of media relations.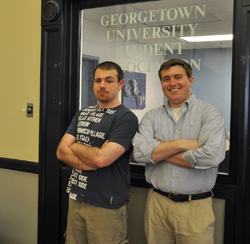 "We will not send the application out until it is ready, and we are still working on coordination with the University," Pickens wrote in an email. "The application will certainly go out before September, and we hope to have the office up and running by NSO."
The pair of students, who joined GUSA President Mike Meaney's (SFS '12) cabinet after an unsuccessful presidential campaign last February, also reached out to the Georgetown University Student Rights Initiative, a student-run group with no official ties to the University. The groups hope to work together in coming months.
"GUSA has unique connections to the higher-ups within the University administration that they can use to help advocate for needed changes, and GUSRI will always be there to help give those changes a voice," GUSRI Director James Butler (SFS '11) wrote in an email. "We've already met with members of the GUSA executive to ensure that we don't end up with two groups of student advocates that can help accused students with charges or appeals."
According to Butler, GUSA also offered to work with GUSRI to print and distribute a student rights guide before the beginning of the fall semester.
"The goal is for all students, especially new freshmen, to be able to understand the system so they aren't blindsided when they start the new academic year," he wrote.
While the SAO would be a first for Georgetown, the idea is not new to D.C.-area universities. Earlier this semester, Factor and Pickens met with students at American University's Student Advocacy Center, which has existed since the early 1980s, to figure out how to adapt the service to Georgetown. Since 2009, American's student advocates have advised more than 200 students facing disciplinary sanctions.
"We get overwhelmingly good feedback," Matt Kabak, a junior at American who will become the center's director in May, said. "It's the competency of our advocates. We hire people that mesh with our organization really well."
Like American's Student Advocacy Center, the SAO will be staffed by volunteer student advocates who will be required to hold weekly office hours.
"Whenever anyone has any conflict with the University, the doors of the Student Advocacy Office will be open for people to come in and ask us for advice," Pickens said.
However, despite the two groups' efforts to coordinate their services, competition between SOA and GUSRI may still occur if they remain separate entities. Butler believes that GUSRI's status as an independent organization is an important quality and, as a result, may be more attractive to students.
"I believe that students would probably prefer to talk openly and honestly about their disciplinary charges with an independent group rather than one run through GUSA and the University itself," he wrote, adding that the group has already helped students earn acquittals during disciplinary hearings. "Thanks to our independent status and funding, we don't have to worry about censure or loss of grants when we point out bad policy or advise students on utilizing their rights to the fullest."
Factor and Pickens are nonetheless optimistic about the future of the SAO.
"We hope to make this a cooperative process with them," Factor said. "But we're pushing forward regardless of what [GUSRI] does."