After an aggressive voter registration drive by District student advocacy group D.C. Students Speak, a number of Georgetown students reported problems casting their votes in Tuesday's special election to fill an open at-large seat on the D.C. City Council.
Vincent Orange narrowly edged out Sekou Biddle in the election. Many students who had previously registered to vote in the District were told their names were not on the voting rolls for Precinct 6, which covers most of the University, along with West Georgetown and Burleith.
Ricky Garza (SFS '13) said that his name was not on the Precinct 6 voting rolls despite the fact that the D.C. Board of Election Ethics's online registry indicated that he was registered to vote in the precinct. Garza was eventually able to cast a provisional ballot using his school insurance as proof of residence.
Several students who attempted same-day registration at the polling place at Duke Ellington School of the Arts were also turned away because they lacked proof of their residence in the city.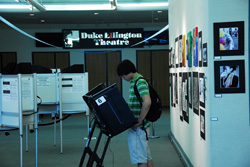 According to election guidelines issued by the DCBOEE, first-time voters must present proof of residence in the form of a utility bill, bank statement, or some form of government-issued identification.
After a number of students at American University had difficulties providing these documents during last year's Advisory Neighborhood Commission elections, the DCBOEE amended their guidelines. However, students may use certain University-issued documents as proof of residence, according to Allysoun McCaughlin, the DCBOEE's public affairs manager.
"Basically … we have that shorter list of documents that are prescribed in the statute, and our office of general council has the additional authority to determine that other documents satisfy [the guidelines]," McCaughlin said.
Andrew Klemperer (SFS '13) said several students in a group he was voting with were not allowed to vote after they could not provide sufficient documents to prove their residence in the District.
"They thought you had to be able to prove residency in order to be able to cast a provisional ballot," Klemperer said.
McCaughlin said that even voters who cannot provide any accepted proofs of residence are allowed to cast provisional ballots. In this case, voters must follow up with the DCBOEE to verify their residence.
"If they did not have the identification, they should have been allowed to cast a special ballot," she said.
After attempting to vote with Klemperer's group, John Flanagan (SFS '14) contacted the DCBOEE, alerting them to the problems students had encountered at the polls. (Disclosure: Flanagan is an editor of Vox Populi, the Voice's blog). The board promised to contact the precinct to clarify the policy, and McCaughlin said that polling places were contacted shortly thereafter. Students reported being able to cast provisional ballots later in the evening.
McCaughlin said that misinterpretations of the rules by precinct volunteers may have been responsible for students being turned away from voting.
"We see that too often, where a poll worker thinks they know [what the rule is] and is well intentioned, but in fact they should have been allowed to cast a ballot," she said.
It is unclear why such a large number of students did not show up on voting rolls.
D.C. Students Speak Chair Scott Stirrett (SFS '13) said that it is important for students to make themselves familiar with their rights as voters in the event of disputes with polling officials.
McLaughlin also emphasized the importance of contacting the DCBOEE promptly if disputes arise at a polling station.
"If there's a problem that happens in a precinct, we prefer to resolve it on the spot," she said. "I hope that the students who were turned away went back and cast ballots."