I never felt more uncomfortable in an outfit than I did on fifth grade picture day. My mother, who I somehow consider my style icon, dressed me in a pink corduroy knee-length skirt, a long-sleeve white shirt stitched with a variety of colorful flowers, a pink headband, and pink Mary Jane shoes. Seperately, the clothes were perfectly decent. Together, well… I felt like I was wearing a girly eight year-old's bedroom set from Pottery Barn. To my misfortune, the camera captured my discomfort, and to this day, I am reminded of the cringe-worthy experience because I am lucky enough to have about twenty copies of this photo in various sizes. Fundamentally, I felt uncomfortable because I didn't feel like myself. Fashion should never create this feeling—it should allow you to express yourself in whatever way makes you feel most at ease.
Fashion is often seen as vain and superfluous—as an utter waste of time and money. There's a pervasive belief that fashion is a shallow and brutally competitive industry, home only to the worst caricatures out of The Devil Wears Prada. To this end, most people see Fashion Week—or more correctly, Fashion Month—as a biannual four-week long parade of excess to the tune of millions of dollars. To me, Fashion Week is the greatest art show of the year: a reminder that the idea fashion is art as well as a method of self-expression is to be taken seriously.
Making choices about how to present yourself can say a lot about your personality. Our words and ideas are, of course, important as well, but so is our fashion, the silent means through which we present our values and preferences. It seems like a notion we take for granted: that what we wear matters. And yet, fashion is such a derided industry, disregarded for its supposed superficiality. I am often met with disdain when I articulate my excitement about this season's new Prada bag or Burberry trench coat. Granted, I won't be watching the Versace Spring/Summer 2016 show from the front row—or any row—in Milan (my Instagram feed will have to suffice). And no, I will not be making space in my closet for Dior's inventive heels of the season or Chanel's new take on their classic quilted bag, as I am well aware that the cost of one designer's fashion show is roughly equal to the cost of four years' tuition at Georgetown.
As a nineteen-year old college sophomore still trying to figure out her life, I'm in no position to casually buy the $3,435 Ruffle Double Breasted Compact Felt and Velvet Coat from Alexander McQueen or the $800 Pom Pom key chain from Fendi. To be honest, it's difficult to justify the purchase of designer jeans with a three-digit price tag. However, the absurdly high price of high-fashion (and as well as ready-to-wear and mass market) clothing and accessories shouldn't diminish their artistic value. An article of clothing's price should be independent from its expressive value—you can convey as much with sneakers from the clearance rack as you can with anything with Alexander McQueen's name on it. Fashion should be a source of inspiration, not a financially restrictive burden. Despite the economic hindrance fashion can impose, I believe you can still draw inspiration for how to express yourself from fashion.
What we wear says something, but not everything, about who we are. Wearing jeans, sports clothes, or a suit to class makes a statement about your priorities. Do you value comfort over trendiness? Do you prefer to be perceived to be low-key and laid-back, or polished and put-together? Are you meticulous, or does the big-picture matter more to you? Do you passively buy every new trend, or are you clever with curating what you already have? These, and many more questions, can be answered by your outfit choice. No one style is better than any other, but the very act of making a choice to wear something is essential in defining ourselves.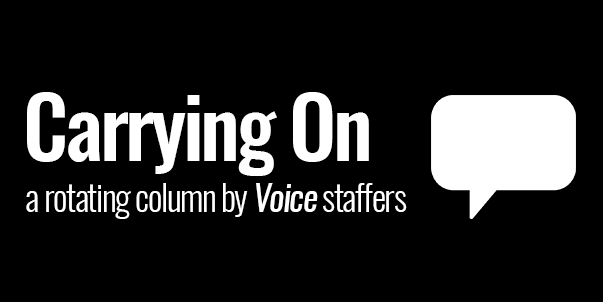 At Georgetown, fashion serves many purposes—one of the most important being social unity. For instance, members of sports teams wear the same apparel to practice and around campus. Sports teams' apparel acts as a symbol of unity—everyone wearing the same shirt or sweatpants can feel the nonverbal bond connecting them. Almost every club at Georgetown has some type of shirt emblazoned with a logo or inside joke, and wearing it links you to that community.
At the same time, though fashion gives us the ability to symbolically belong to something, fashion also entails personal decisions that can completely differentiate us from each other, if that is what we desire. At a place like Georgetown, it can be difficult to stand out. Conventionality has almost become a core requirement in the social scene: Vineyard Vines quarter zips and Sperry boat shoes seem almost necessary to socially "succeed." Those who do want to differentiate themselves through personal style often feel reluctant to do so because it's "safer" to conform. However, students especially should embrace their individual styles through fashion in order to set themselves apart. Personal style is something that no one can replicate—it is an irrevocably unique form of expression for every individual.
With Fashion Week in full swing, I am reminded of the importance of fashion as something that enables us to convey who we are. Though it is easy to become disillusioned and discouraged by the extravagance the fashion industry seems to constantly flaunt, it is crucial to remember to appreciate fashion for its original, most basic purpose: art. Art is meant to inspire us, to evoke feeling. Fashion allows to wear art, and in doing so, it provides an opportunity to distinguish ourselves in a way that majors and minors, clubs, and GPAs can't. It is a vehicle for self-expression—as long as you leave the pink corduroy skirt at home.
Eleanor Sugrue is a sophomore in the SFS and a design editor for the Voice. Carrying On is a rotating column by Voice staffers.