For most Georgetown students, "brunch" is not the first word they associate with El Centro (for those under 21, El Centro has a… lively weekend crowd). Featuring modern Mexican cuisine, El Centro is a popular restaurant located on Wisconsin Ave, less than a block away from M Street. Two friends and I braved the windy trek off campus last Sunday morning to try out El Centro's unique take on brunch – served tapas-style.
Atmosphere
El Centro's interior achieves the familiar "modern-but-with-a-twist" effect that is so popular among restaurants of this caliber – warm orange banquettes line exposed plaster walls, dark brown chairs with slatted backs surround artistically stained tables, and unobtrusively placed lighting fixtures in the arched wooden ceiling enhance the generous amounts of natural light. The larger tables in the middle of the space add to the festive atmosphere – they are far enough apart that their occupants add a pleasant background of chatter without drowning out other conversations.
Although the tables on the sides of the room seem close together, even with three of us around one small table we felt cozy rather than cramped. Since El Centro brunch is served tapas-style, wait staff swoop in to remove plates as soon as they were emptied, preventing unnecessary clutter.
Service was attentive and prompt, although it was a little confusing when people other than our waiter tended to our table – this led to some miscommunication about dishes and the bill at the end  of our meal.
Diversity of Menu
Brunch at El Centro is a mix of standard Mexican dishes (Chile Relleno con Huevo, Huevos Rancheros, Carne Asada Quesadilla) and Mexican riffs on brunch classics like Mexican "Benedict," Bacon, Egg & Cheese tacos, and Breakfast Enchilada.
We ordered as much as we could, taking full advantage of the bottomless tapas (each dish was about four mouthfuls): bacon, egg, and cheese breakfast tacos, chicken tinga tacos, Mexican "Benedict," Mexican breakfast torta, platanos, mole fries, jalapeño beef and chorizo sliders, nachos, and churros for dessert. We also ordered coffee, hot and iced, which was not included in the bottomless price.
Food Presentation
Each plate was beautifully presented, intentionally sloppy with vibrant scatterings of garnish and gooey cheese. Bright pink pickled onions perched on top of our beef sliders and Mexican "Benedict;" a colorful pico de gallo adorned our mole fries and nachos. Even with our giant basket of chips, the tapas plates were small enough to fit several on the table at once without making a cluttered mess.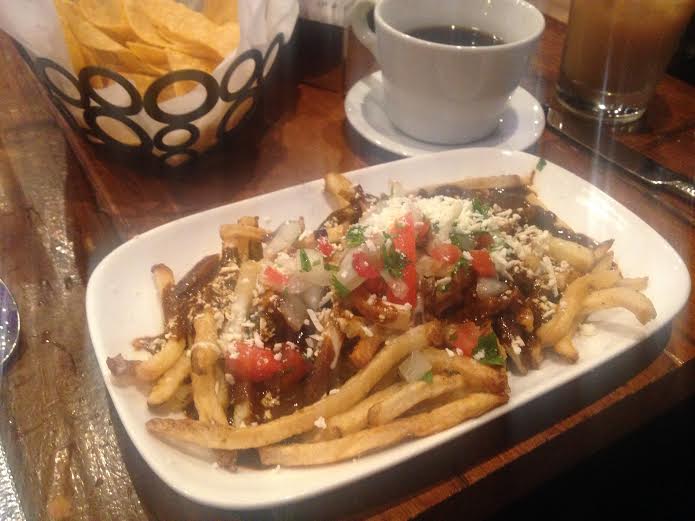 Food Quality
The meal started off well with a free basket of homemade (and addictively salty) tortilla chips, still warm from the fryer, paired with a smoky, subtly spicy salsa and some deliciously creamy guacamole. Unfortunately, this was one of the few highlights of the meal. As exciting as the descriptions of the various dishes sounded, overall we were underwhelmed by the food quality. This isn't to say that the food was bad – it just lacked that "oomph" that we had looked forward to. The two tacos we sampled – bacon, egg & cheese and the chicken tinga – were both extremely mild and one-note, with no contrasting textures or flavors. The Mexican "benedict" was slightly better, thanks to the creamy salsa verde and perfectly poached egg, but that too could have used more pickled onions to break through the overall "smooshy" (in the words of one brunch friend) texture. The mole fries were limp, doused in an overly sweet mole sauce that overpowered all the other toppings.
There were some indisputable hits: the platanos were bursting with natural sweetness, enhanced with a light coating of cinnamon and sugar butter and tempered by a not-too-sweet crema. The table also loved the jalapeño beef and chorizo sliders, one of the few dishes we ordered twice. Not too spicy, but just enough to be interesting. The chorizo and beef mixture combined with avocado, aioli, and pickled onions hit the perfect balance of flavors and textures we had been craving all along. Just when we thought we couldn't fit in another bite, a plate of churros, arguably the best dish of the day, arrived. Crispy and slightly flakey on the outside, airy and tender on the inside, lightly rolled in sugar and served with chocolate and caramel sauces – they made the trip worth it. Place two orders, you won't regret it.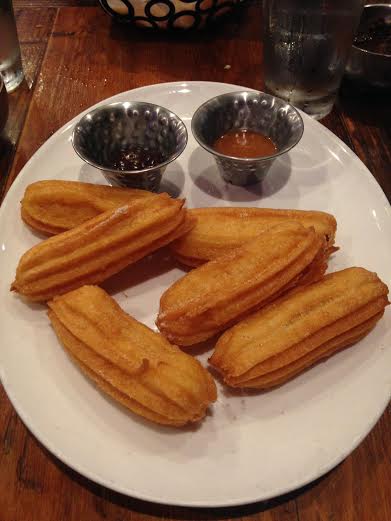 Food Price
Brunch at El Centro is bottomless – no exceptions. You can opt for either the $25 bottomless tapas brunch, or pony up $35 to include alcoholic beverages. Coffee and juice not included. Come with a hearty appetite to get your money's worth!
If you struggle with deciding which brunch dish to order at most restaurants, El Centro is the place for you – the variety can't be beat. However, there are a lot of unexceptional dishes to wade through if you want to find the real winners. That said, we all had a fantastic time trying all kinds of food and gorging ourselves on our favorites.
Originality: 8
Diversity of Menu: 9
Presentation: 9
Quality: 6
Price: 6