United States. Mexico. Huge rivalry.
This Saturday, October 10th, the United States will square off with Mexico for the right to represent the North American soccer region, CONCACAF, in the 2017 Confederations Cup.
The Confederations Cup is a relatively small competition (only eight teams participate) that is held the year before a World Cup. It's always held in the same country that will host the World Cup the following year, so the 2017 Confed Cup will take place in Russia, the host of the 2018 World Cup. The Gold Cup is North America's tournament that determines who represents the continent in the Confederations Cup. Saturday's playoff features the winners of the past two Gold Cups: 2013 (U.S.) and 2015 (Mexico).
Game Preview: United States
U.S. Prediction: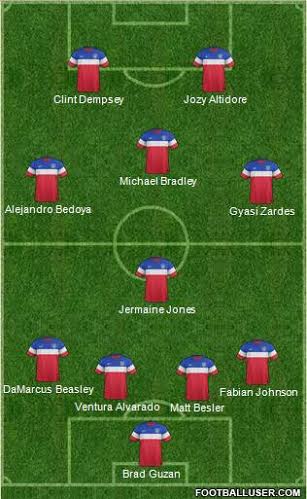 For some reason, head coach Jurgen Klinsmann has recently been all about the 4-1-3-2 formation. It's not what I'd do, but he seems to love it. I doubt he'll implement something different for this game.
Matt Besler has been in good form for his club team and is a safe bet to start at Center Back. Ventura Alvarado, on the other hand, has been dreadful as of late. His performance in the 2015 Gold Cup was horrible, to put it nicely, and he hasn't been getting regular starts for his club team. I'd throw him on the bench and start Geoff Cameron, but, Klinsmann seems to have a weird thing for Alvarado, so I think that Alvarado will be starting on Saturday. Also, I still want Michael Bradley to take on a deeper role, but Klinsmann will certainly keep him in attacking midfield. Jozy Altidore doesn't deserve to start; I'd argue that Clint Dempsey as a lone striker is the best option for the team going forward, and Altidore should come off the bench. Finally, I love Jermaine Jones as much as anyone, but he wanders too much and is caught out of position too often to be a lone defensive midfielder. Danny Williams should be there.
This lineup isn't entirely a lost cause, though. Brad Guzan is a great keeper, better than any of Mexico's choices, I'd argue. DaMarcus Beasley and Fabian Johnson are clearly the USMNT's best options at fullback, when healthy. Gyasi Zardes has performed very well in recent U.S. friendlies, and will be vital in Klinsmann's attacking gameplan. Alejandro Bedoya is, arguably, the team's most consistent player, and Michael Bradley, though being played out of position, is a good (not great) distributor. To top it all off, Clint Dempsey can still do crazy stuff like this that gives me hope: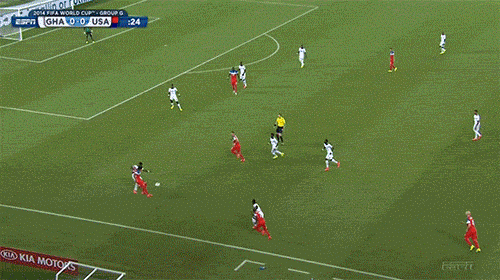 Game Preview: Mexico
Mexico Prediction: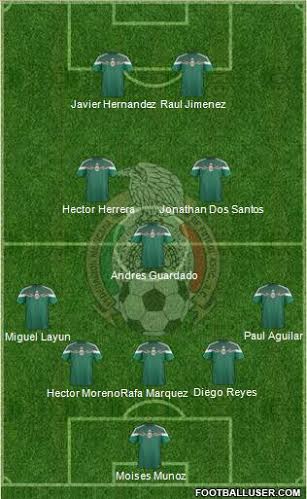 Mexico's head coach, Ricardo Ferretti, is brand-new, only having coached the national team for two games thus far. This formation/line-up is based almost entirely off of Mexico's 2-2 draw in a recent friendly with powerhouse Argentina. Mexico used a five-man back line, and it worked extremely well. They were able to keep Lionel Messi and company scoreless for 80 minutes, conceding only after making a few substitutions.
However, health reasons could force Ferretti to change his formation. Captain Rafa Marquez, the heart of Mexico's five-man back line, has been injured since September 21st. If he isn't fit for this match, I would expect Ferretti to resort to a more traditional 4-4-2 or 4-3-3 formation with only two center backs. A five-man defense requires more oversight and leadership than a four-man back line. If Marquez can't go, I don't see anyone else being able to take over his position leading and directing the defensive operation, forcing Ferretti to resort to a four-man setup.
Mexico's attacking options are extremely dangerous and talented. Javier "Chicharito" Hernandez and Raul Jimenez up top is a scary combo, especially with speedy forwards Carlos Vela and Jesus Corona available off the bench. In midfield, Andres Guardado, Jonathan dos Santos, and Hector Herrera, all of whom play for major European club teams, also pose a threat to the U.S. The Mexican midfielders will be called upon to hold possession in the middle third, push up and facilitate attacks, and assist on defense.
The back line, though very successful against Argentina, is inconsistent. Before the Argentina friendly, in Ferretti's first game, Mexico drew Trinidad and Tobago 3-3. Conceding 3 goals to the Trinidads isn't something to be proud of. In the 5-3-2 formation, the wing backs (in my prediction, Miguel Layun and Paul Aguilar) make many attacking runs up the sideline, leaving the rest of the defense exposed to counter attacks, which the United States will look to capitalize on.
Finally, Mexico's goalkeeping situation is less than ideal. Moises Munoz is okay, but he made a few really bad blunders against Argentina, with one leading directly to an Argentinian goal. No matter which of Mexico's three goalkeeping options start, the United States will have an advantage in that department.
Overall Prediction
If the U.S. wants to win this game, they'll need to score a few goals. That means Clint Dempsey and Jozy Altidore must be at their best, and Michael Bradley has to facilitate well from the middle. It won't be a 1-0 victory; Mexico's attacking options are too good to be shut out by the U.S. defense. The U.S. should look to hit on the counter attack while the Mexican wing backs are attacking up the pitch. Expect to see speedy winger DeAndre Yedlin come in off the bench and make a difference for the Americans at some point.
At the end of the day, I think that the U.S. wins 3-2 in extra time. Dempsey scores two, and striker Chris Wondolowski replaces Jozy late in the second half, then nets the winner in extra time to redeem his unfortunate miss vs. Belgium in last year's World Cup.
Tune in on Saturday night for one of the most important games in Klinsmann's tenure as head coach. It should be an incredible matchup.