If someone were to sustain a traumatic injury in D.C.'s Anacostia neighborhood, the ambulance ride to the nearest qualified hospital could take as long as 30 minutes. That is because there are no trauma centers in Southeast D.C., despite the fact that rapid transport is essential to patients' survival rate. This editorial board believes Southeast needs a trauma center. Neglecting to build one is irresponsible, reinforces economic and health coverage disparities, and actively contributes to the deaths of D.C. residents. 
Southeast is a systematically underserved community, made up of predominantly low-income and black neighborhoods. It is considered a food desert because in Wards 7 and 8, both east of the Anacostia River, there are only three grocery stores serving 148,000 residents. In comparison, Ward 3, a higher-income, majority-white area in Northwest, has nine grocery stores for its 83,000 residents. Southeast has also been designated a Health Professional Shortage Area because of its insufficient health care options—There aren't enough providers and the ones available are not affordable. 
The shortage of emergency medical services in Southeast parallels its food scarcity. Wards 7 and 8 are trauma deserts, meaning there are no nearby trauma centers or hospitals equipped to provide care for severe injuries such as gunshot wounds or car crash injuries.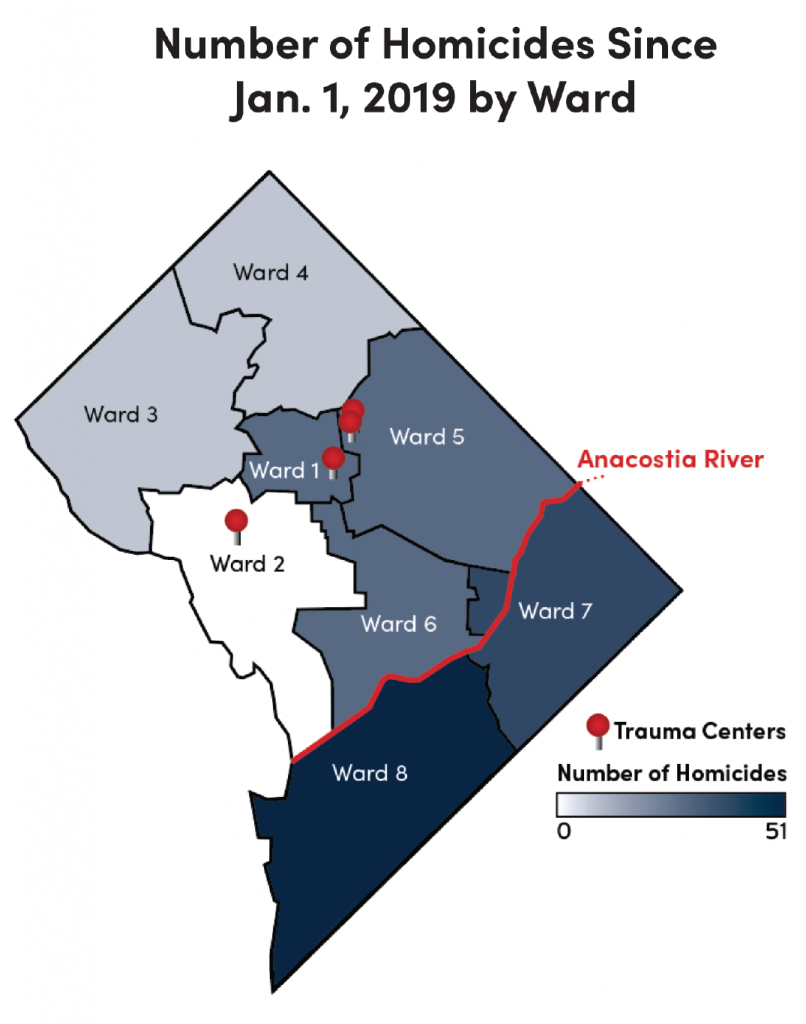 The need for them, however, is vital. At least 138 people have died by homicide in D.C. this year, and 86 of those victims were murdered in Wards 7 and 8. That means 62 percent of victims were from Anacostia, many of whom might have lived if they had been closer to a hospital that could properly treat their wounds. 
Historically, there have been much higher rates of gun violence and homicide in Southeast than in Northwest D.C. Despite this, Northwest is home to all four operating trauma centers in the city at four different hospitals: George Washington University Hospital, Howard University Hospital, Children's National Hospital, and Medstar Washington Hospital Center. This concentration of urgent care reflects the wealth disparity and resulting inequality between the two sides of the city. The average household income in Northwest is 46 percent higher than that in Southeast. Right now, the trauma centers are where the money is, rather than where the trauma is. 
United Medical Hospital (UMC) is the only hospital in the Southeast area and the only public hospital in D.C. It has never had a trauma center. It is up to the D.C. Council and the Mayor's office to keep it running, unlike a private hospital that depends on private funds and independent management. Last May, the D.C. Council announced that the city would shut down UMC by 2023 because the hospital has been financially unsustainable for many years. 
Closing UMC will further exacerbate the lack of sufficient medical coverage in Wards 7 and 8. Currently, the city is negotiating with Universal Health Services, the management for George Washington University Hospital, in the hopes that they will help fund and operate the new hospital. However, there seems to be no backup plan if these negotiations fail. 
It's crucial that there be a plan in place for a new hospital. 148,000 D.C. residents deserve emergency and long-term medical care. While closing UMC may make financial sense, there needs to be a viable replacement plan in the works, and any new hospital must include a trauma center. It is up to the city and new hospital management to ensure that all D.C. residents have access to fast trauma care and a full-service hospital.