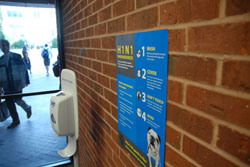 In an attempt to stop the spread of the H1N1 virus, commonly known as swine flu, Georgetown will ask students with flu-like symptoms to stay in their rooms until their fevers abate, according to a University official.
Assistant Vice President for Student Health Dr. James C. Welsh said he expects this will mean three to four days of self-quarantine for ill students, depending on the length of their fever.
Facemasks stored in Resident Hall Offices will be provided to sick students who must leave their rooms. The administration is working with Aramark, the company that operates Leo J. O'Donovan Dining Hall, to provide fluid-rich meals and Grab 'n Go to sick students, who will get deliveries from friends.  RHOs will also be stocked with fluid-rich meals and extra cleaning supplies.
"The probability of us having an H1N1 outbreak would be very high," Welsh said, adding that some universities have already experienced high infection rates. Both the University and Georgetown University Hospital have established task forces to prepare for H1N1, according to Welsh.
The H1N1 vaccine is expected to be available sometime starting in the middle of October. Because of uncertainty about the H1N1 vaccine's availability date, Georgetown has not determined distribution procedures with the District of Columbia Department of Health.
Students with ill roommates will be safe as long as they are six feet from ill students, Welsh said. In situations where staying at a distance is impossible, like in rooms with bunked beds, the University will only consider relocating roommates with pre-existing conditions like asthma, which could make an H1N1 infection more fatal. Welsh said that this in part because of the limited residence space available at Georgetown.
University spokesperson Andy Pino said that there is no threshold of infected or ill students that would trigger class cancellations.
"This flu never went away," Welsh said. The University has had eight confirmed cases of H1N1, though Welsh said the number of infected people at Georgetown is certainly higher. After the first few infections, Georgetown limited H1N1 testing to people who were hospitalized.
A report released on August 7th by the President's Council of Advisors on Science and Technology estimated that H1N1 will infect between 30 to 50 percent of Americans in the fall and winter, and could kill between 30,000 and 90,000 people. The report estimated that the infection rate could surge in September, with infections peaking in the middle of October, around the same time that the vaccine is expected to become available. Preparing for H1N1
Photography by Sam Sweeney