We like to look like we're the perfect candidates for everything—a job, an internship, a marriage … Admitting that you struggle with mental health issues means admitting that you're not the perfect candidate, and that makes you look weaker.
A new world of academic rigor. Moving on from previous relationships in high school. Homesickness. Loneliness. Competition. A previously-diagnosed mental illness. These are just some of the causes of mental health issues experienced by students around the world, including here at Georgetown.
Unlike physical injuries, mental health problems are problems people are often ashamed or even afraid to talk about—creating a paradox in which the afflicted person needs help and often knows he/she needs help, but dreads admitting so. Why? We tend to associate issues of the mind with personal weakness—as though they're our fault.
[pullquote align="right" cite="" link="" color="" class="" size=""]Take the time to get to know your professors. They are such an incredible people and want you not only to be a phenomenal student, but also a phenomenal person. [/pullquote]
According to the National Alliance for Mental Illness, the chances that you or someone you know will experience a diagnosable mental illness during college is one in four. That's four people in your sixteen-person English class. Fifty students in your 200-person economics lecture. Even more suffer more minor mental health issues including stress and sleep deprivation.
Fortunately, there are quite a few ways to take care of your mental health that The Voice has conveniently compiled below.
Take care of yourself
At times, Georgetown students can get entirely wrapped up in what we call the "Georgetown Bubble." Your entire world seems to be contained within Georgetown—your classes, clubs, sports, extracurriculars, and friends. This "bubble" can create stress and anxiety. A great way to relieve this stress is to "break the bubble."
Here are some suggestions for taking care of yourself:
Create a playlist of music that makes you happy. Play this music during down time, when you're walking around campus, or when you are spending time with friends. Allow this music to be peaceful and recuperative for you. (Suggestions: "My Type" by Saint Motel and "Rollercoaster" by Bleachers are sure to brighten your mood!)
Go for a walk. You have a whole beautiful city to explore! Try checking out Roosevelt Island or wandering around the Georgetown neighborhood–sometimes a simple change of scenery can make a huge difference.
Take advantage of all that DC has to offer: Smithsonian Museums, hiking trails, great restaurants, concerts, art fairs, and so much more.
Treat yo self. Sometimes taking a little nap, getting in a really good workout, or treating yourself to a nice coffee or tea (to actually enjoy and not just to keep you alive in Lau at 2 AM) can make all the difference.
This isn't a comprehensive list. There are tons of ways that you can take care of yourself here on the Hilltop, but hopefully these suggestions have given you an idea of where to start.
Create support systems for yourself
Spend time with your friends in a casual setting. While parties can be a ton of fun, going out can exacerbate tiredness and fatigue as opposed to lessening those things. Getting some friends together for a chill night of Cards Against Humanity and freshly-baked cookies can be a great way to relieve tension from busy life at Georgetown.
Call home. Trust us, your family loves when you call them rather than waiting for their call.
Your professors are rockstars both in and out of class. Take the time to get to know your professors. They are such an incredible people and want you not only to be a phenomenal student, but also a phenomenal person. They know better than anyone how stressful it can be to attend a prestigious university and strive for the best. They can become friends and mentors if you let them.
Chaplains-in-residence and community directors are very special people here at Georgetown. Their main goal is to be there for us students. You can come to them for a cup of tea and a chat or if you are having a tough time with something and need someone to talk to. They have the experience and the passion to help you thrive here at Georgetown.
 Who to turn to when your personal support system is not enough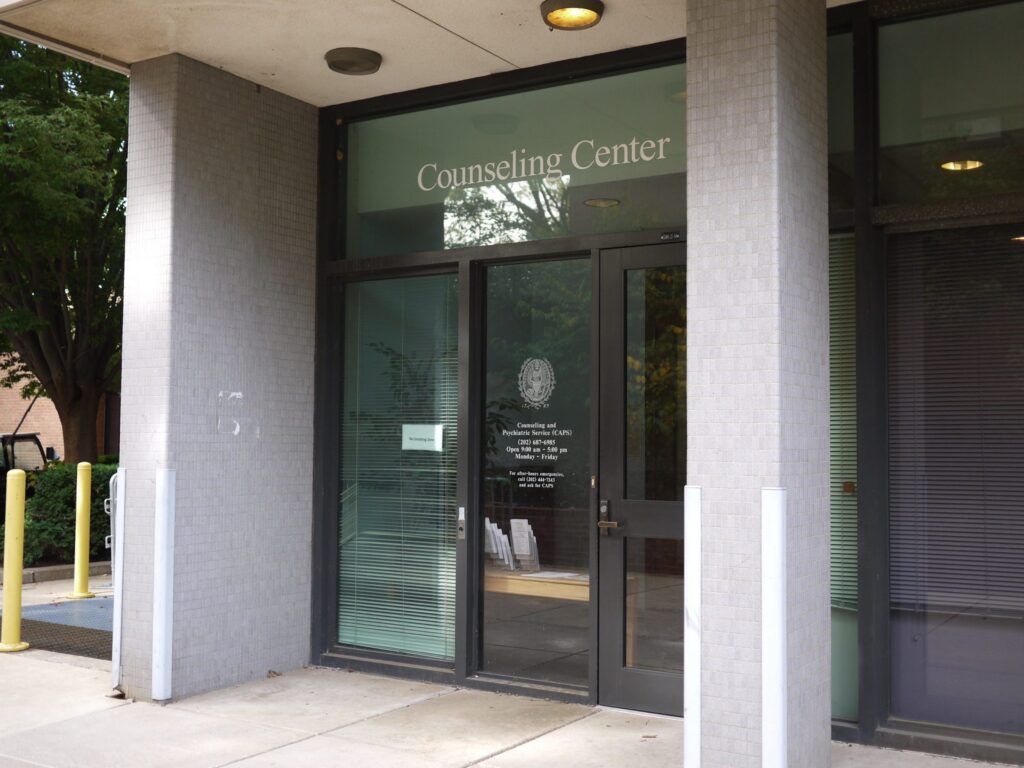 CAPS, which stands for Counseling and Psychiatric Service, is the main mental health provider at Georgetown. Offering a range of services from evaluations to one-on-one counseling to outreach programs, CAPS maintains confidentiality while helping students to improve their mental health. Primary evaluations and the first psychiatrist visit are free, but there is a fee if additional mental health services are needed. The CAPS office is located right behind Darnall Hall on your left when you walk up the main steps.
If you are looking for additional help outside of what Georgetown CAPS can offer, they can always give you a referral to a highly competent and passionate mental health professional in the DC area.
In the end, what matters most is you and your health. Georgetown should be your home and soft place to land when times get tough. Strive to be the best you here at Georgetown, and enjoy the strong and loving community that we share.
This post was updated in August 2017.