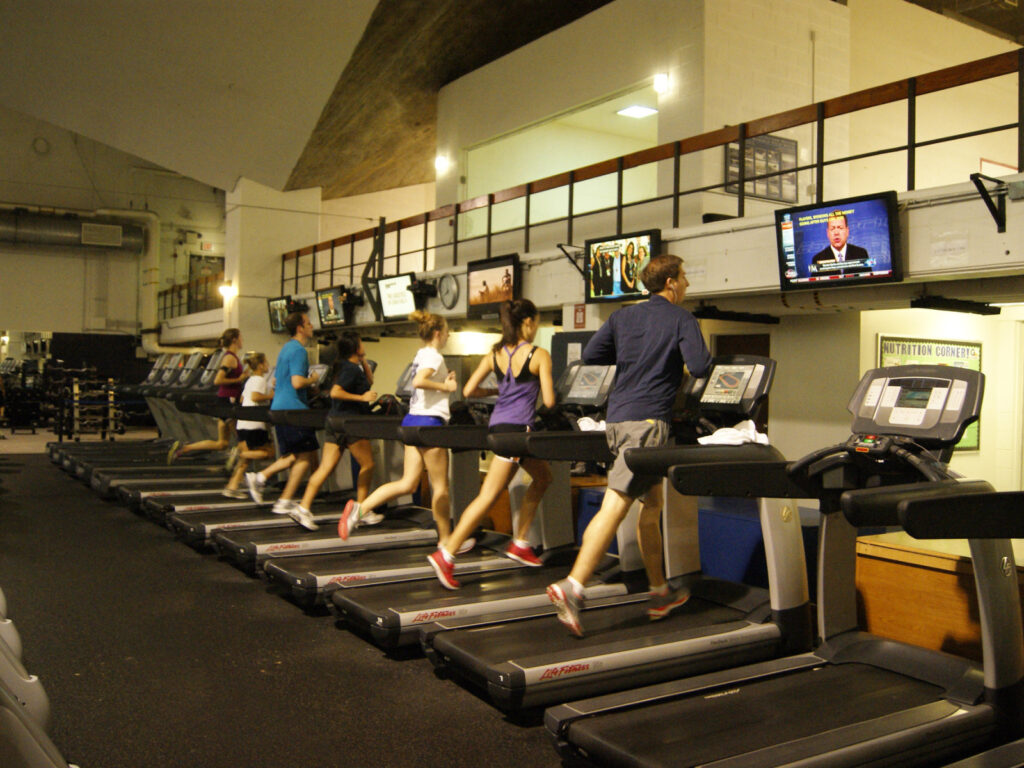 At Georgetown, students both work hard and play hard. While the more popular meaning of play hard will be covered later on in another preview, the more literal meaning refers to the fact that Georgetown students love their physical activity.
That love manifests itself in many forms. Whether it's intramural flag football games under the lights on the newly-renovated Cooper Field or lifting weights at Yates Field House, Georgetown students love to stay active. This preview will cover the various ways you can become involved in sports and also stay fit on the Hilltop.
Walk onto a varsity team
Like most universities, Georgetown has ample opportunity to continue playing the sport you love at a high level by attempting to walk on to the varsity team. The likelihood of making the team and the standards for making the team vary greatly depending on the sport of your choosing.
However, if you are serious about walking on to a team the first step is almost always to contact someone from the coaching staff. For those worried about the stigma of attempting to walk on, again it very much depends on the sport. If you are trying to walk on to Georgetown's men's basketball or soccer teams, which are two of its best and most popular teams, you risk looking like a fan unless you really have the talent capable of competing at the Big East level.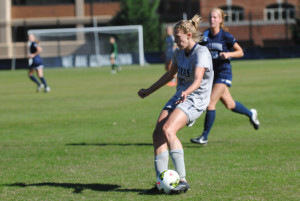 Less popular teams like track and field are more than welcoming if you can demonstrate your worth; for these smaller sports many of the coaches and players welcome any increased interest in their team. Furthermore, some varsity teams openly recruit walk-ons who become a major part of the team. The crew team is notable for openly recruiting both guys and girls to to join their team.
If you love a sport and are committed to it, being a walk-on is not a taboo or frowned upon endeavor. Even in basketball, some of Georgetown's favorite athletes, like John Caprio and David Allen, were or are walk-ons. Personally, I spent about a month of my freshman year with the crew team after a series of conversations with the men's crew coach over the summer about their tryouts, and I always felt welcomed. So ultimately if you really want to continue playing the sport you love at the highest level, opportunities at Georgetown do exist if you ask and work hard.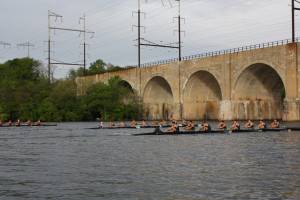 Club sports
If, like most of us, you find the constant commitment of a Division I varsity sport to be a little daunting, there are still plenty of club sports to satiate your competitive drive. From boxing to hockey to basketball to frisbee, Georgetown is packed with club sports, all of which range in competitiveness, and companionship.
Most of the club sports are Georgetown are fraternity-like, with initiations and team events other than practices and games. However, some club sports have much more rigorous tryouts than others; in fact, some club sports teams don't even make cuts. Other club teams, like the basketball and soccer teams, are extremely difficult to make and compete at a near varsity level. For reference, the former captain of the club basketball team, Riyan Williams, is now a member of the varsity team.
Overall, club sports are a tremendous way to meet people and keep playing the sport you love, but don't underestimate how competitive some of them can be.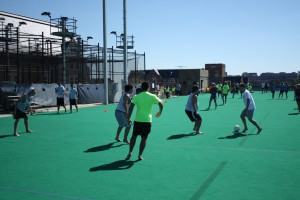 Intramurals
If you would prefer a more casual sporting time, intramural sports may be your best bet. The intramural department at Georgetown does a tremendous job of organizing numerous different types of intramural sports, all with different levels of competition.
Once again, competition levels greatly differ by division and sport, with the top division of intramural basketball essentially just match ups between friends on the club team. However, the mid and lower tiers of intramural sports are a great combination of messing around and competition. Co-ed divisions are also a plenty and are mostly made up of clubs and student organizations forming teams together; some even claim organizations such as The Corp take basketball talent into account in hiring decisions to keep their co-ed team top notch.
Overall, intramurals are some of the best things about Georgetown. Even if you intend to compete at another level, it's hard to avoid the draw of participating in intramurals on the hilltop.
Pick-up games

Georgetown actually has quite a solid pickup culture for certain sports, namely basketball and soccer. During the warmer months (and the cold for the committed) you can find soccer players forming pick-up games. Unfortunately, with Kehoe Field closed, space is limited If you're really into soccer, trying asking around on your freshman floor or in classes and within no time you'll surely find a crew who will regularly get together to play pickup games.
While the soccer scene is nice, the pickup basketball scene at Yates is an entirely different animal. The four courts at Yates are often packed with kids waiting to play after 5pm on weekdays. However, if you wait until closer to closing or on the weekends you can easily get a group of friends and play uninterrupted.
If you're lucky enough too, late in the spring you can catch some of the actual basketball players and play with them; I've been lucky enough to play with recent grads Jabril Trawick, Mikael Hopkins, Aaron Bowen, Joshua Smith and returning seniors D'vauntes Smith Rivera, and Bradley Hayes. Overall the pickup basketball culture is something that is extremely special and awesome if basketball is your sport of choice. Just beware the mid winter when intramural games book most of the courts during peak hours.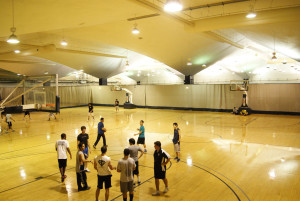 Yates Field House
If working out is your primary concern then you'll find yourself at Yates often. Fortunately, Yates has a plethora of options to fit most needs, and while not everything is as new as some fancier gyms, the options, convenience, and ease of access for students more than makes up for a few older machines here and there. Another gripe with Yates is that is might be a little thin on treadmills, especially with only a small 200 meter indoor track to accompany it.
However, considering the vast opportunities to run around DC and the other cardio options in Yates, the treadmills aren't a huge issue. Yates also has a pool open to students when the swimming team isn't using it, which makes for a great change of pace for cardio. As for lifting, Yates has a solid mix of free weights, benches, and machines to accommodate most needs. While the sheer number of some of the options isn't overwhelming, Yates's extensive hours (open until midnight on weekdays) keep the gym from ever becoming overly crowded.
In general, if you are trying to workout often, try to fit it into your class schedule rather than going at peak times between 4:30 and 7:30 p.m. Overall, Yates is far from perfect, but it is still has more than enough to meet everyone's needs.
Getting fit in the city
As mentioned above, D.C. offers a lot of special opportunities for exercise as well, mainly in terms of cardio. Besides more niche yoga or crossfit classes, D.C. offers a great scenery for running and biking when the weather is permitting. The monuments are approximately 2.5 miles away from campus which makes for a great and popular running destination. Similarly, along the waterfront you can rent stand up paddleboards or kayaks to enjoy the Potomac while getting a quick workout in.
Stay tuned in to DC and campus news to join in on the plethora of unique events that take place during the year, from charity 5ks and triathlons to obstacle races.