Washington City Paper and Whole Foods put on DC's 12th annual Crafty Bastards Arts & Crafts fair last weekend at Union Market.  For those who have never been up to the neighborhood before, Union Market runs a hip indoor shopping center year round and hosts frequent pop ups for the public.  ArepaZone's food truck (if you're searching for their Venezuelan goodies when they're not conveniently parked at the front gates of GU) and Buffalo and Bergen's Suburbia, a summertime airstream bar stocked with cornhole and DC Brau on tap, set up camp to provide food for the crafty, hungry crowd. The market itself was open and thriving throughout the festival and provided great food and drink in addition to the food trucks lined up within the fairgrounds.  
Crafty Bastards hosted an enormous team of talented crafters and artisans mostly based out of the DC area; there was truly something for everyone at this event.  Hand painted jewelry, porcelain cacti, both rice water and goat milk soap, organic bamboo t-shirts, un-killable bonsai trees, and more filled the aisles of the lawn with almost 200 booths of creative individuals.  Even without buying anything, there were plenty of samples to enjoy from DIY projects to craft, to creations to ogle at.
Starting out strolling along Needle Way brought me to Whole Foods' handmade Mason Jar arrangements.  A $4 purchase could get you a great deal for both a colorful assortment of fall blossoms AND a mason jar you could then tote around campus with your Yerba Mate or Kombucha.  The aromas drifting from one booth over could be attributed to Sumusu. The company uses rice water and essential oils to eliminate harsh chemicals from health care products, and their products  are sold in Whole Foods throughout the area.  Add their Cannelle Orange to your wish list because it smells like Christmas.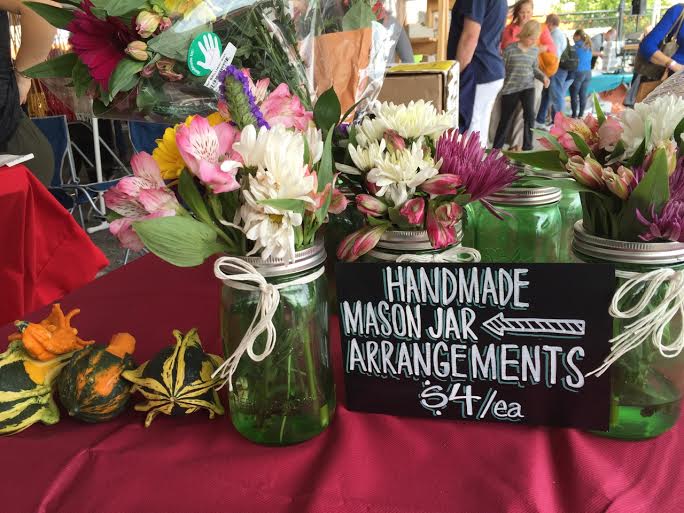 Marcella Art + Illustration's booth next door was stocked with gorgeous hand-drawn images of foods varying from Piña Colada recipes, artful slices of pizza, and colorful selections of vegetables.  Although the 9" x 12" prints were a little pricey at $20 each, her cookbook Mi Comida Latina is an incredible deal at $30: it includes over 100 illustrated recipes to various dishes from her travels through Latin America.  If the beautiful watercolors and hand-lettering aren't enticing enough, take a look at her authentic recipes for guacamole, fish tacos, and a decadent flan!  
Licorice Tree's booth had a DIY needle felting station set up.  Aside from stabbing your fingers while trying to fashion a blob of wool into a penguin or some other creature of your choosing, they also had plush skulls, puffer fish, and scarves available for purchase.  If you did perchance intend to hone in on those needle felting skills they also had a variety of kits to take home or gift to your artistically-inclined friends. Continuing onto Glitter Road, NikdApooh Designs had moss, succulents, and air plants sprawling out of terrariums and recycled light bulbs.  For $25 you could get what seemed to be a combination of a miniature chia pet and a pet rock. These moss creations also came topped with an adorable handcrafted clay figure. NikdApooh even allowed festival goers to custom order a dog-arium that looked like your own pup.  Monique also creates jewelry using preserved moss – necklaces you have to water!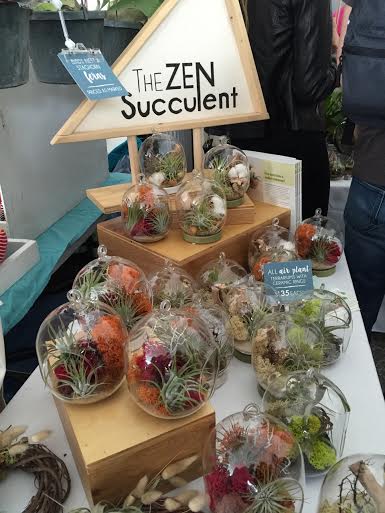 Sarah West's geometric jewelry, Linny's weavings, Greg Stones' watercolor book Sock Monkeys Have Issues, Vino Chateau's wooden boxed-wine covers, and Snarky Scout's hilarious "scout" badges were some other can't-miss booths throughout the festival. Kramerbooks of course made an appearance and had a selection of readings available. Next weekend Kygo takes over Union Market and will draw in an entirely different crowd, but Crafty Bastards remains an eclectic and west-coast evocative event for a culture of artful and inspiring individuals amidst the political capital of the country.