With the first round of this expanded, special-edition Copa América finished, it's time to take a look at where the teams stand and how well they did.
Group A
USA 0-2 Colombia
This was the best that the United States has looked in a competitive match since 2013 during World Cup qualifiers, and overall since the friendlies before last year's Gold Cup against the Netherlands and Germany. They took the game to the Colombians, and had a lot of possession in the final third, yet aside from a Clint Dempsey free kick (the third the Americans had in a similar position), never tested David Ospina in goal. No one was able to pick out the final pass, Clint Dempsey looked out of it as a lone striker, and Bobby Wood struggled out wide. None of Michael Bradley, Jermaine Jones, or Alejandro Bedoya looked likely to change the game in the midfield. Brad Guzan doesn't inspire the confidence that Tim Howard did for so many years as shown by a couple indecisive moments coming off his line that nearly led to Colombian goals. Christian Pulisic and Darlington Nagbe added a little more daring to the US attack, but in the end it was too little too late. Meanwhile, Colombia came out organized and scored on an early corner, an area where the United States was supposed to have an advantage going into the match. They punished a Michael Bradley turnover with a lightning quick counter and a penalty which James Rodriguez calmly tucked into the corner. It was a routine three points for Colombia in the end, their only possible worry being Rodriguez coming off in the second half with a shoulder injury, ruling him out for the next match per Sky Sports.
Costa Rica 0-0 Paraguay
The match had chances for both sides, but will be remembered for intense physical play in swelteringly hot conditions. From a yellow in the opening twenty seconds to a red card for Costa Rica's Kendall Watson in second half stoppage time, the two sides played a tough tackling, slightly dirty game. In the end, both sides seemed content with a draw, as goalkeepers Patrick Pemberton and Justo Villar were rarely tested, in part because of the tightly contested atmosphere in the middle of the park. Neither side will be disappointed with a result in the opening match and like their chances to advance from the most evenly matched group in the tournament.
Advancement and Elimination Scenarios
Colombia advances to the quarterfinals with a win against Paraguay. USA is eliminated with a loss against Costa Rica. Costa Rica and Paraguay can neither advance nor be eliminated.
Group B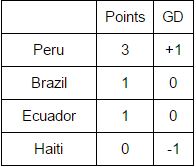 Haiti 0-1 Peru
The pain on Haitian striker Kervens Belfort's face sums up the heartbreak for Haiti. The Caribbean nation fought valiantly and was an eight yard header away from equalizing in stoppage time, but that lack of clinical finishing was the difference between them and last year's Copa América semifinalists Peru. Both sides had chances from corners, Peru hit the woodwork, and both goalkeepers did well in commanding their areas. The teams were separated when Paolo Guerrero, Peru's captain and, after his goal on Saturday, all- time leading goalscorer, scored a tap in for his eleventh all-time Copa América goal. As mentioned on the broadcast, this losing 1-0 has become a pattern for Haiti, and Belfort, who scored the goal to upset Trinidad and Tobago that qualified Haiti for the tournament will rue his missed chance to get Haiti started on the right foot in the tournament.
Brazil 0-0 Ecuador
Brazil seem incapable of playing without Neymar. In 2014, they were beaten 7-1 and 3-0 by Germany and the Netherlands after his injury. After his suspension in last year's Copa América, they were bounced out in the quarterfinals by Paraguay. This year, with Neymar resting in preparation for the Rio Olympics, Brazil was outplayed by Ecuador and were spared a loss by a questionable out of bounds decision by the assistant referee immediately followed by an Ecuador cross and a Robert Green-esque mistake by Brazilian goalkeeper Alisson that saw the ball in the back of the net.
Advancement and Elimination Scenarios
Peru advances to the quarterfinals with a win against Ecuador. Haiti is eliminated with a loss against Brazil. Brazil and Ecuador can neither advance or be eliminated.
Group C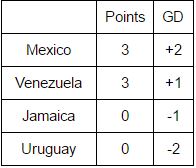 Jamaica 0-1 Venezuela
For long stretches of the match, Jamaica looked like the best team on the field. Their direct style of play, with Clayton Donaldson running onto flicks from strike partner Giles Barnes. Yet one bad giveaway in their own defensive third led to Josef Martinez slotting past Philadelphia Union goalkeeper Andre Blake for the only goal of the match. Later in the half, Rodolph Austin saw red after his follow through on a sliding clearance saw him catch the ankle of a Venezuelan player. The substitution of Premier League champion Wes Morgan in the first half improved their performance, his added physicality and organization giving the ten-man Jamaicans a boost. Despite being down a man and having manager Winfried Schafer sent to the stands, Jamaica will feel unlucky to have lost after hitting the crossbar in the first half and the post in the second while Venezuela will be pleased with the three points.
Mexico 3-1 Uruguay
Mexico established themselves as one of the tournament favorites after dominating Uruguay. A testy atmosphere at the stadium was only heightened after the Chilean national anthem was played for Uruguay instead of their own. After a flying start and utterly dominant first half, which ended with a second yellow for Uruguay midfielder Matias Vecino, Mexico only went into the break 1-0 up from an Alvaro Pereira own goal. Alfredo Talavera seemed to vindicate Juan Carlos Osorio's  choice to start him in goal over World Cup standout Guillermo Ochoa, while PSV midfielder Andres Guardado ran the match. The second half, however, flipped the script as ten man Uruguay then took the game to a complacent Mexico. Center back Diego Godin created a chance that Edinson Cavani squared for Diego Rolan to pull wide of the target. Andres Guardado then saw a second yellow for a tactical foul, and from the ensuing free kick Godin, as he so often does, headed in for the equalizer. Instead of Uruguay keeping the momentum, Mexico retook control of the game at ten men apiece. Substitutes Hirving Lozano and Raul Jimenez were both involved in the late goals for Rafael Marquez and Hector Herrera. This result is not a disaster for either side who are the favorites to advance to the quarterfinals from this group. Uruguay have an additional silver lining in that Barcelona star Luis Suarez didn't play. His return, should he recover in time, will provide a boost for the Uruguayans.
Advancement and Elimination Scenarios
Mexico advances to the quarterfinals with a win against Jamaica. Venezuela advances to the quarterfinals with a win against Uruguay. Jamaica is eliminated with a loss against Mexico. Uruguay is eliminated with a loss against Venezuela.
Group D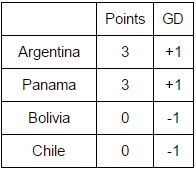 Panama 2-1 Bolivia
A Blas Perez brace helped Panama win their first ever game in Copa América competition against a Bolivia team whose only preparation game was a 4-0 loss to the United States. Bolivia was easily pressed into turnovers at the back by Panama, but showed well in a physical, hotly contested game in the Orlando humidity. Panama, who ended last year's Gold Cup semifinal against Mexico with a tirade against the referee, multiple times came close to losing their cool against a Bolivia side who was outclassed in the opening twenty minutes of the match but grew in confidence and had chances in the second half to take the lead themselves. Panama came away with a much-needed three points but did not look convincing in doing so.
Argentina 2-1 Chile
Argentina scored on two second half counterattacks, one for Angel di Maria and one for Ever Banega, to down the defending Copa América champions in Chile and avenge last year's loss in the final all without Lionel Messi. A frenetic, end-to-end first half only heightened in intensity when Angel di Maria broke the deadlock on a shot that seemed to catch Claudio Bravo off balance. Ever Banega's deflected shot minutes later put the Argentines on cruise control at 2-0 and took a little bit of air out of the game. Sergio Aguero, who also started on the bench, came on for a short cameo, but the Argentinians lost their clean sheet on a free kick in second half stoppage time that Jose Fuenzalida beat Sergio Romero to and nodded into the empty net.
Advancement and Elimination Scenarios
Argentina advances to the quarterfinals with a win against Panama. Panama advances to the quarterfinals with a win against Argentina. Bolivia is eliminated with a loss against Chile. Chile is eliminated with a loss against Bolivia.