Round two is officially complete. Where the teams stand, and what they must do to survive, are clearer now.
Group A
USA 4-0 Costa Rica
This was much better going forward for the United States than what they showed against Colombia. Clint Dempsey looked like the player that scored in thirty seconds against Ghana, Bobby Wood had a better impact on the game once he moved into the middle of the field, and Jermaine Jones looked five years younger than the thirty-four year old that he is. The Americans' back line was hardly breached and Brad Guzan was left untested. Gyasi Zardes still looks a step slow out wide, but he was the one weak spot in an American team that looked revitalized. Costa Rica, on the other hand, hardly looked like their minds were in the game. They gave away a careless penalty in the first ten minutes after what was, admittedly, a bright start, and never seemed to pick themselves back up from that. They were thoroughly outclassed by the United States, and one wonders if a healthy Keylor Navas would inspire more confidence in his backline so that they don't feel the need to push Bobby Wood in the back. He also certainly wouldn't be beaten at his near post like Patrick Pemberton was for Wood's goal.
Colombia 2-1 Paraguay
It came as a shock to everyone that James Rodriguez started for Colombia. He proved the difference in the end, providing the delivery from a corner kick for Carlos Bacca's goal and scoring another of his own to put Colombia a goal up. In the second half, however, Paraguay came out the better side, forcing David Ospina into two brilliant saves to keep Colombia's two goal advantage, but was later helpless against a Victor Ayala thunderbolt. The remainder of the match was an end-to-end affair with the momentum shifting back to Colombia after an Oscar Romero red card. Colombia, however, did not have the comfortable victory that they had against the United States. They looked nervous defending set pieces and were bailed out multiple times by the offside flag when a number of Paraguayan players were unmarked for headers. In the end, Ospina saved the victory for Colombia, but his unwillingness to claim balls into the box is a weakness for a Colombia team that often gives away unnecessary fouls in dangerous positions.
Advancement and Elimination Scenarios
USA: advances with a win OR a draw and a Costa Rica loss, draw, or win by less than six goals OR a draw in which the US scores within four goals of a Costa Rica six goal win (i.e. 2-2 and 6-0, 3-3 and 7-1, etc.)
Paraguay: advances with a win and a Costa Rica loss, draw, or win where the margin of victory is less than three goals better than Paraguay's
Costa Rica: advances with a win and Paraguay win where Costa Rica's margin of victory is at least three goal better than Paraguay's OR a win of at least six goals and a United States draw where Costa Rica scores five or more goals than the United States
Group B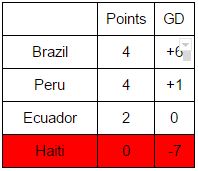 Brazil 7-1 Haiti
This won't heal the trauma that Brazilians feel when they see a 7-1 scoreline, but they're on the right side of the score this time as a Philippe Coutinho hat-trick saw off a lifeless Haiti. Brad Friedel mentioned on the FOX Sports broadcast that an expectation for Brazil when they play lesser teams like Haiti is not only to win, but to win pretty. Brazil did, but Haiti didn't make it hard for them. Brazil was able to win the ball easily, even at one point having Haiti goalkeeper Johnny Placide throw the ball right to Dani Alves. This match may be the one that helps build up Brazil's confidence, but hardly provides any insight into the tournament prospects of this team.
Ecuador 2-2 Peru
Peru's dream start to the tournament appeared to continue after taking a 2-0 lead against Ecuador, but Ecuador scored on both sides of halftime to tie the game at 2-2. It was a high energy game compared to the Brazil-Haiti matchup, but neither team looks all too likely to make a splash in the knockout rounds, should they advance. A stoppage time red card for Gabriel Achilier may affect Ecuador's chances of moving on in the tournament. It was an entertaining match that, like Brazil's match against Haiti, reveals nothing new about either team.
Advancement and Elimination Scenarios
Brazil: advance with a win OR a draw OR a loss and an Ecuador loss or draw
Peru: advance with a win OR a draw and an Ecuador draw or loss OR a loss and an Ecuador draw or loss
Ecuador: advance with a win and a Brazil or Peru loss OR a win in which Ecuador scores two more goals than Peru and a Peru draw
If Peru draws with Brazil and Ecuador beats Haiti by one goal and Peru and Ecuador and Peru have the same number of goals scored, lots will be drawn to determine which team advances to the quarterfinals.
Group C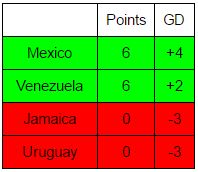 Uruguay 0-1 Venezuela
Venezuela was perfectly organized, and counterattacked well against a heavily favored Uruguay side. They  were rewarded when an audacious effort almost from the halfway line by Alejandro Guerra was tipped onto the bar by goalkeeper Fernando Muslera and striker Salomon Rondon tapped in the rebound from two yards out. Muslera made a great save in the second half to keep Uruguay in the game, but the half was dominated by Luis Suarez, who was listed as ineligible for the match, but taped his ankle, put on his shin guards, and warmed up with the rest of the substitutes, seemingly unknowing that he could not go into the match. A visibly upset Suarez was left to watch as PSG striker Edinson Cavani missed a sitter from twelve yards out to equalize as Venezuela deservedly ran off 1-0 victors. Why Suarez was even listed as ineligible in a tournament where the team can dress every man on their roster is unclear, especially with the player so keen to play. Uruguay could have used his clinical finishing to save their tournament lives.
Mexico 2-0 Jamaica
Mexico will not win the tournament without Andres Guardado. They looked a much lesser team without him dictating the tempo of the game at center midfield. At times, Jamaica outplayed El Tri, but striker Clayton Donaldson was unable to capitalize on his many opportunities in front of the goal. Mexican goalkeeper Guillermo Ochoa, like Alfredo Talavera did against Uruguay, came up with two big saves to keep a clean sheet for Mexico, leaving Juan Carlos Osorio with a difficult decision in goal for the remainder of the tournament. The quality of the Mexican strikers is what carried them through in the end, with Chicharito Hernandez taking a brilliant header in the first half, and Oribe Peralta clinching the match in the 85th minute. Andres Guardado's return after his suspension will only improve the Mexican performance, and they once again showed their title credentials in front of an energetic crowd at the Rose Bowl.
Group D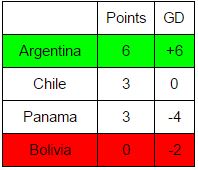 Chile 2-1 Bolivia
Again, Bolivia showed well in a game in which they were heavy underdogs, and again, they fell just short of a result, this time thanks to an Arturo Vidal penalty in stoppage time. It was a harsh handball to call, but in the end, Luis Guiterrez's elbow behind him did make him bigger, and a penalty was the right call. It was Vidal's second goal of the match, his first equalized by a stunning free kick from Bolivia's Jhasmani Campos. Both teams fought admirably through well over ten minutes of second half stoppage time, and it was Chile's little bit of extra quality that gave them the result in the end.         
Argentina 5-0 Panama
Nicolas Otamendi was left unmarked on a free kick in the first half to put Argentina one goal up. Two yellows in half an hour from Anibal Godoy left Panama a man down in what was a hotly contested first half with two more yellow cards for Panama and two for Argentina. But this match was all about the world's most gifted player, Lionel Messi. Whenever his face was shown on the jumbotron, the crowd at Chicago's Soldier Field roared. When Angel di Maria went down injured in the first half, the crowd chanted Messi's name. When Messi took off his warm up jersey to put on his number ten, the loudest roar of all in the first sixty minutes came from the crowd. Every touch from Messi was cheered, and the captain's first goal came when a Panama clearance deflected off of Gonzalo Higuain to Messi at the top of the eighteen. His second came from a trademark Messi free kick, the third from a brilliant touch and finish. Sergio Aguero's goal came from a defense splitting pass from Messi to Marcos Rojo. Before Messi's entrance, Argentina looked somewhat pedestrian, especially after the injury to di Maria. Once Messi was on the field, they looked unstoppable. They have the best player in this tournament by far, and if anyone doubted Argentina's status as favorites before, they don't any longer after Messi showed the world why the entire Chicago crowd cared more about a face on the big screen than the match itself for the first sixty minutes on Friday.
Advancement and Elimination Scenarios
Chile: advance with a win or draw
Panama: advance with a win