Group A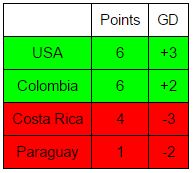 USA 1-0 Paraguay
DeAndre Yedlin complicated matters a little bit, but the United States were able to hold on and secure a hard fought 1-0 victory over a Paraguay team that gave them all they could handle. Brad Guzan had a statement match with a huge double save late in the second half, while the back line, save Yedlin and his replacement Michael Orozco, turned in a brilliant performance, especially John Brooks. Brooks, who no one knew about two years ago when he stepped in for an injured Matt Besler, gave his best performance in a United States shirt. Paraguay will be disappointed at their inability to break down the ten men of the United States, but for the Americans, this match is a sign of maturity. Good teams find a way to win even if not everything goes their way.
Colombia 2-3 Costa Rica
Colombia manager Jose Pekerman made ten changes to his lineup, and it cost Colombia the group. Costa Rica was playing only for pride and made it count with a goal in the second minute. The team looked freer with less pressure on them, and playing against a weakened Colombian side allowed the team to build up some confidence. Costa Rica was the better team on the night, but part of that is due to Pekerman prioritizing the next round of matches over the final group game against Los Ticos.
Group B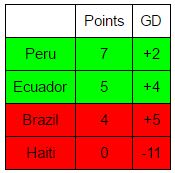 Ecuador 4-0 Haiti
Ecuador would have enjoyed seeing this match as their last of the group stage. They have always liked their chances to advance from the group, and playing their weakest opponent last has allowed them to build up some momentum going into their quarterfinal match. A comfortable 4-0 win over an outclassed and demoralized Haitian side was exactly what Ecuador needed.
Brazil 0-1 Peru
Any discussion about this match needs to be about the referee. He had already lost control of the match early, missing penalty calls for both sides and failing to produce cards when necessary to keep the game in line. Any contentious decisions were only going to become harder to manage since he'd already let the lid fly off the match. He then managed to miss what should have been a straightforward call. Brazil will feel hard done by the referee, and they should. He missed a full forearm that pushed the ball into the back of the net for Peru. Brazil, admittedly, was not at their best this tournament and did not field all of their best players. Their priority is the Olympics in Rio. Yet a call that looked obvious on an iPhone screen in real time should not be missed by an international referee, and it cost Brazil a spot in the quarterfinals.
Group C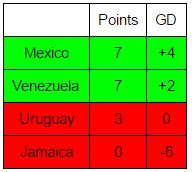 Mexico 1-1 Venezuela
Anyone that doubted Venezuela's credentials can look at this game and see that the team is for real. For most of the match against Mexico, they looked like the better side. They are organized, physical, and full of confidence. It's a team that has the look of playing without expectation, without pressure, and without fear. Yes, Mexico made nine changes from their normal lineup, including using their third different goalkeeper in three different matches, but this wasn't the same Venezuela team that was outplayed by Jamaica. The sheer brilliance of Jesus Manuel "Tecatito" Corona salvaged a draw for Mexico, and helped the team avoid a quarterfinal against Argentina by goal differential after a breathless, end- to- end, intense, physical, and brilliant match, the best match of the Copa América so far.
Uruguay 3-0 Jamaica
Neither team had anything to play for, yet the match began with a few dangerous tackles flying in. Thankfully, the intensity dropped, and the match calmed down and focused more on the play than on the physical battles often associated with competitive CONCACAF and CONMEBOL matches. For Uruguay, this was a match to regain confidence and get ready for World Cup qualifiers, which is why it's a little bit worrying for them that Edinson Cavani struggled throughout the tournament, including in this match. He missed another sitter from a distance similar to the one he missed at the death against Venezuela. The team will begin to think "What if Suarez was healthy?", but at least they leave the tournament on a positive note, although with a sour taste in their mouths.
Group D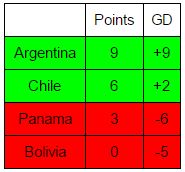 Chile 4-2 Panama
Claudio Bravo had a nightmare, but thankfully for him, his teammates showed much better than they have so far, with forwards Eduardo Vargas and Alexis Sanchez grabbing two goals each as Chile booked their ticket to the quarterfinals. For Panama, after a narrow win on the first day against Bolivia, their match against Argentina left four of their normal starters suspended for this crucial match. Chile also looked significantly better in this match than they have so far in the tournament, but they will need Claudio Bravo to put in the type of performances that he usually has for Barcelona if they hope to advance this tournament.
Argentina 3-0 Bolivia
The Argentines were on cruise control to the quarterfinals before Lionel Messi even stepped onto the pitch at the half, and he only came on because the Seattle crowd clamored for him. He didn't score a hat-trick this match, but he did nutmeg the goalkeeper on a play where he was offside. Bolivia had nothing to play for, and Argentina had already advanced to the quarterfinals, so the match was low intensity, with most of the squad players for Argentina able to make an impact on the match. Whether they will start the quarterfinal remains to be seen, at least one player will make way for Lionel Messi in the starting lineup, and Argentina still kept their momentum as the only team to win all three of their group matches in this tournament.
Quarterfinals
USA vs. Ecuador
Peru vs. Colombia
Argentina vs. Venezuela
Mexico vs. Chile