"You know it!?" asked Ace Cosgrove, half-surprised. After a quick nod, he passed his mic over to the fan and stepped back, letting him finish out several lines of his verses. This is the musical attitude of the Maryland-born rapper, showcased in his performance at Landmark Music Festival in September 2015. Sporting a Suffolk University baseball jersey, Ace spent most of the show off the stage, rapping from within the crowd and jumping around with the audience.
While New York has Governor's Ball and Chicago Lollapalooza, this was the first major, recurring music festival that the District could call its own. Landmark's goal was to raise funds to preserve the national monuments while showcasing local businesses and some new faces in the often unnoticed D.C. music scene. For the 25-year-old Ace Cosgrove, it was an opportunity to dramatically advance his career.
Ace is young, yet confident in his public statements. In a crowd, he's easy to spot; his unofficial trademark is the mess of dreads heaped on his head. Sitting at the Whole Foods near Washington Circle, he recalls the day five years ago he decided to never get his hair cut again. "I was broke; I lived at Poolesville so there's nowhere to get your haircut at. Anyway, I was like 'Yo I'm not trying to keep going out of town and pay $20 for a haircut; I'm not cutting my hair until I get a gig," said Ace. "And we had some little open mic gig at like the bar in Gaithersburg I was like, 'Yo this is horrible; I'm not cutting my hair.' I just never cut my hair." Although participating in the D.C. music circuit, including the annual All Things Go Fall Classic festival next month, Ace is a proud Maryland native, and wants his listeners to know where he comes from.
Born Adrian Aaron Eskridge Jr., Ace was raised in Gaithersburg. Despite his current pursuits, Ace never really thought much of rap as a career. "Nah, I mean I used to rap with my homies on the phone. Like you know we used to do little freestyle bullsh*t, but nah I didn't take myself serious," he told the Voice in between bites of a beef quesadilla.
Growing up in Montgomery County was not necessarily a dangerous, hardship-filled life, but it certainly had its difficulties. With his father incarcerated until he was in his early teens, Cosgrove was raised by his mother along with his younger sister. "I grew up in like not a bad neighborhood, but I grew up in a pretty f*cked-up, random sh*t would just happen it was just," said Ace. "It wasn't like strictly section eight, but it was not the best neighborhood to live in."
Through high school, Ace found a job managing a friend, Gino Cosgrove, trying to connect him with producers and set up gigs to launch his rap career. Gino passed away in 2011, and in the wake of the loss of his friend and work, Ace found himself living in a friend's recording studio. It was there he began to listen.
"I would just see bomb-ass people come through and I would say, 'Yo I could probably be better than them,' and I just picked it up and, yeah," Ace said. To honor his friend, he adopted Gino's last name Cosgrove as his own.
Although outwardly confident, Ace speaks with humility about his creations. He writes Facebook posts promising his fans that better music is coming soon, and he acknowledges that his music has evolved and could always improve. Ace released two mixtapes in 2014, Simple Criticism and Us vs. Robots, among a flurry of singles. With each step forward, he sees himself improving. "I mean just start writing and I'm like, 'I could probably do better, I could do better, I could do better, I could do better.' Now it's better than what the f*ck people in here are coming with," he said.
Cosgrove's rap has a peculiar, whimsical quality. It is youthful, emphasized in live performance by his lanky build and the sparse mustache on his upper lip as he speaks rapidly with enthusiasm and a willingness to laugh. In performance, his voice takes on strange manipulations, hitting high pitches, or breaking rhyming cadence altogether for the sake of getting his words across. In his most recent single "Platinum Golddigger," he raps, "Drunk driving, is not cool / It claimed the life of my homie Dale from middle school / Learning curve / What don't kill you, make you stronger like Crossfit."
Self-described as "Real-Life Rap," Ace is more concerned with his consistent message than with musical complexities. "I don't be trying to hit people with like crazy ass bars I be trying to just tell people how it is, you know what I'm saying? I try to make it like detailed, more than complex," said Ace. "I don't have time to just write dumb sh*t and spit; I don't have time for that sh*t, man."
Ace enjoys the work of Chance the Rapper, Kanye West, and Kendrick Lamar, particularly in this period of socially conscious, social justice-oriented rap. To him, these are the important rappers, the rappers speaking to what is going on in American society, but they are not the ones we hear on the radio.
He's looking for substance and recalls Lil Wayne as someone he connected with while listening to the radio as a kid. He thinks for a moment, then starts singing the hook to "Georgia Bush."
"That's not even the music I have a problem with. I have a problem with, 'Bitches, hoes, let's go to a party,' I have a problem with that sh*t. It's cool for one song, but no one wants to hear that sh*t," said Ace, laughing. "I wonder what their IQ level is. No substance, there's no substance, man. That sh*t was here today and gone tomorrow. It's bullsh*t, man."
Ace believes there is an inherent responsibility in being a musician, given the unique position in the public eye. More than news, more than political speeches, music can send a message to those who might not otherwise hear it. Ace sees the radio filled with repetitive wastes of opportunities for change, harming the social awareness, and even the intelligence, of the public. "If you're talking social justice sh*t like that a white person who doesn't experience that sh*t first-hand, they hear it in the music," Ace said.
Ace has honed his craft since he started rapping back in 2011, and his message is strongest in some of his latest work, including his September 2015-released album, Baby Need Food. Songs like "Black / Flawless" and "Freddies Dead," the latter of which refers to the Baltimore native Freddie Gray, who died while in police custody in April 2015, show that his rap is a message of change more than a concern for what type of music could bring him to mainstream fame. "I mean I'm black in society man; I'm trying to f*cking survive being black in society," said Ace. "And then you see us not surviving whether it's from police brutality or us killing our f*cking selves, really you know? I'm just trying to survive, make it in America. It's hard for black males, man."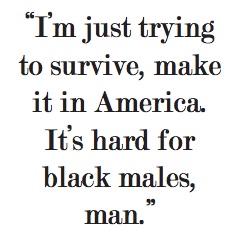 Morose stories of dead friends, loneliness, romantic trouble, and social injustice fill his songs. His album title for Baby Need Food is about providing for a child, a struggle every parent knows, particularly as half of Americans currently live paycheck to paycheck. With these issues in mind, Ace is concerned with the utopian idealization of life in mainstream rap, with its images of perpetual wealth, sex, and partying. Making art out of reality is his path. "I think that's all that comes out of my rap is that I've been in f*cked-up situations. That's all I talk about is f*cked-up sh*t, man," he said. The words mean more than anything, and sacrifices of conventional rap standards are a fair tradeoff.
You'd never peg Ace as a dark, introspective person. His tone never shifts to despair on these records, and sometimes after he spoke, he stopped to smile from ear to ear. After he finished eating we moved our conversation outside for a smoke break. We were soon interrupted by a fan. Ace greeted him with a full smile and gave him a cigarette before we continued.
He continued about his lyrics, "If you were to put that sh*t on rap genius it'd be some sad, like damn these guys are like, emo… and saying some pretty f*cked-up shit and maybe just in a happy way, turn a negative to a positive." There's an unmistakable influence of funk-style bass, reggae, and even '80s-esque new wave synth to keep his songs true to his inherently fun-loving, crowd-diving self.
Ace still plays with the same band that he came up with in his rap career, and his songs are written to be performed with the rich sound of saxophones, guitars, keyboard, drums, and bass.
In pursuit of his rap, Ace still resides in Gaithersburg, currently living in the basement of his friend and fellow rapper Uno Hype's mother, Ms. Clare. Hype and Ace are both members of Hostile Youth, an artist "collective" of rappers all hailing from Gaithersburg, hoping to succeed as musicians and foster an artistic community in their hometown. Ace and his band, in between practices for the All Things Go Fall Classic, are working on a new project called Ms. Clare's Basement. Although he is vague on the details, he described it as, "It's gonna be very like jazzy, but you can like dance to it. We're trying to include some sh*t that people can dance to but still be predominantly jazz and funk."
Ace knows that this is the time to keep working and stay loyal to what he believes in. "I just want people to be inspired, to know that someone is with them there in their f*cking struggles; that's all I want. That's all the f*ck I want. I don't have time to do this bullsh*t; I don't have time to bullsh*t with people, man. I'm trying to inspire people, man," said Ace. "If I can do it, you can do the same f*cking thing, if not better than me; you know what I'm saying."
Rap is not easy, but Ace is a small testament to persistence and the generosity of his genre. Rap can be whatever you desire with a creativity and tenacity. Although the rap scene in D.C. is small, there very well could be a new voice emerging as Ace's portfolio grows. Until then, he's rapping, living in a basement, and down to book house parties.