On a quiet, unassuming Tuesday evening in Northwest Washington, D.C., Gonzaga College High School defeated Dematha Catholic High School in a monumental men's basketball Washington Catholic Athletic Conference (WCAC) matchup. In front of a capacity crowd and packed student section squeezed into Gonzaga's Carmody Center near Union Station, the Eagles dealt Dematha its first loss of the season, 76-63. Featuring hectic, up-tempo play and exceptionally skilled players, the matchup was thrilling for those unfamiliar with the area's high school basketball scene.
"The environment is that everyone here is just basketball crazed and everyone wants to be the best," said Sean McAloon, head coach of St. John's College High School, the WCAC's defending champion.
The palpable enthusiasm surrounding the game was business as usual for seasoned fans of District of Columbia, Maryland, and Virginia (DMV) high school hoops. The local DMV area is rich with athletic basketball talent, representing a prime recruiting hotbed for college coaches. The game between Gonzaga and Dematha featured at least ten likely Men's Division I prospects. Six players are currently committed to play at college basketball's highest level and are set to attend schools such as the University of Miami, the University of Notre Dame, and the University of Connecticut. Of these six commitments to Division I programs, none will attend Georgetown University.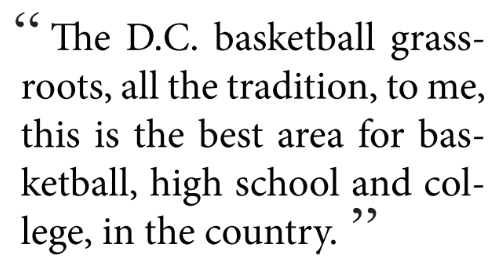 Since 2011, there have been 34 prospects from the DMV in Scout.com's Top-100 player rankings, excluding military academies, post-graduate prep schools, and boarding schools. Josh Hart, a member of the 2013 recruiting cycle and Villanova University's leading scorer during its 2016 National Championship season, attended high school in Washington, D.C. Markelle Fultz, a Dematha alumnus, was Scout.com's number three ranked prospect in the nation in the 2016 class, and Anthony Cowan Jr. of St. John's College High School was rated number 58. Fultz now attends the University of Washington and is projected as the top overall pick in the 2017 NBA draft by DraftExpress.com. Cowan Jr. currently plays for the University of Maryland, where he is averaging 30 minutes per game and 10.8 points per game (ppg) as a freshman.
Despite the large quantity of top talent concentrated in the DMV area, Georgetown has recently been unable to successfully recruit the best local prospects. Hart, Fultz, and Cowan Jr. are some of the latest examples of top local prospects opting to play elsewhere instead of accepting offers from Georgetown. Of the 34 Top-100 prospects from the DMV since 2011, only two ultimately decided to play at Georgetown as scholarship players: Tre Campbell of St. John's College High School in 2014 and Marcus Derrickson of Paul VI High School in 2015. If southern Virginia is generously considered part of the DMV area, Kaleb Johnson of Martinsville, VA could also be considered a member of that group.
The Hoyas haven't always struggled as mightily in recruiting local players as they have in recent years. Throughout the 2000's, Georgetown was a force to be reckoned with on the DMV recruiting circuit. During the 2006-07 season, the Hoyas' most successful in recent memory, six of the team's nine players that appeared in 29 games or more during the season attended high school in either D.C., Maryland, or Virginia. Four of the team's five leading scorers — Jeff Green (14.3 ppg), Roy Hibbert (12.9 ppg), DaJuan Summers (9.2 ppg), and Jessie Sapp (9.1 ppg) — graduated from a high school in the state of Maryland. The Hoyas finished the year at 30-7 overall and 13-3 in the Big East, won the Big East regular season and tournament titles, and made their first Final Four appearance since 1985.
Georgetown's last outright Big East regular season championship, the 2007-08 campaign, saw six of nine players appearing in more than 27 games hail from the DMV. That team won 28 games and advanced to the NCAA tournament as a two-seed. In 2011-12, Georgetown finished 24-9 and advanced to the third round of the NCAA Tournament. Again, the Hoyas were heavily reliant on local players, with five of the team's nine leading contributors in 2011-12 graduates of a local DMV high school.
More importantly, though, is that during the recruiting cycles leading up to Georgetown's most successful seasons, the Hoyas locked down top, cream-of-the-crop local talent. Green and Hibbert, both four-star recruits during the 2004 cycle, have gone on to successful NBA careers following their time on the Hilltop. Sapp was a four-star prospect during the 2005 recruiting cycle and Summers achieved a five-star rating in the 2006 class. Vernon Macklin, a forward who came off the bench for Georgetown during its Final Four run, was also a 2006 five-star prospect from Virginia.
In the 2007 recruiting class, Georgetown landed five-star shooting guard Austin Freeman and four-star point guard Chris Wright, both Maryland natives who factored as significant contributors to the 2007-08 run. In 2008, the Hoyas locked down four-star center Henry Sims and four-star shooting guard Jason Clark, from Maryland and Virginia, respectively. The 2010 class included four-star guard Markel Starks, and 2011 contained four-star forwards Mikael Hopkins and Greg Whittington, all three of whom attended high schools in Maryland.
The 2006-07, 2007-2008, and 2011-2012 Hoya rosters were skilled blends of the best talent from the DMV area. It's no coincidence that the Hoyas' best recent finishes have correlated with rosters comprised of predominantly local players.
"The D.C. basketball grassroots, all the tradition. To me, this is the best area for basketball, high school and college, in the country," said Glenn Farello, Head Coach of Paul VI High School in Fairfax, VA.
"It's as good of an area for talent as there is in the country, year in and year out," said Evan Daniels, National Director of Basketball Recruiting for Scout.com. "There's consistently a handful of players ranked in our Top-100 out of the DMV area each and every year."
The WCAC is certainly an important factor in boosting the DMV's prestigious reputation among basketball locales. "The amount of time and effort that kids' parents put into getting them better is, I think, higher here than any other area," said McAloon.
Featuring some of the country's most esteemed high school basketball programs, the WCAC has been a pipeline to Division I NCAA basketball for years. "The level of competition helps prepare these kids not just to get the exposure and get recruited, but also to be prepared as best they can be to get to that next level," Farello said.
In last year's 2016 recruiting class alone, the WCAC sent eight players to Division I basketball programs, according to Scout.com's prospect database. "They get really good coaching and are battle-tested," Daniels said. "Those guys play against other really good competition night in and night out… These kids come out of there ready, competitive, and well-coached."
Of course, successful teams and recruiting classes can't be judged simply on star power as ranked by scouting services. There are multiple considerations for coaches when deciding who to recruit, including how the prospective players fit in the team's system and how they would mesh with other potential recruits and players currently on the roster.
Similarly, a player growing up in the DMV may not be particularly drawn to local schools like Georgetown or the University of Maryland. There is a certain allure to top programs and conferences in other areas of the country that captivates prospects and would provide opportunities for new experiences during college.
"I think it's an individual decision by each family," said Farello when discussing the college recruiting process. "Some see the value of staying local and being able to play for such great programs. Others want the experience of being somewhere else in the country, based on maybe where other family members happen to be or whatever their interests are, so I think it's just specific to the family."
The puzzling element is that recent Georgetown recruiting classes have actually included many talented players, just not those with local ties. The Hoyas have consistently landed four-star Top-100 prospects over the past few years, including L.J. Peak, Jessie Govan, and Jagan Mosely, from South Carolina, New York, and New Jersey, respectively. Still, Georgetown's proximity to an area as talent-laden as the DMV allows unique access to high-quality potential recruits.
"[Local coaches] can see a game every Tuesday and Friday that they're in town," said McAloon. "Literally, the advantage is that you get a chance to see these kids from when they're freshmen to get a look at them earlier than maybe anybody else and get involved. You have a leg up on other places and other schools in other states."
"You have the opportunity to really get to know the families and the kids, to have them over multiple times for unofficial visits," Farello said. "The ability to just be around and for [coaches] to have the time to come and see the kids at their schools as well. The ability to be able to build those relationships and have that familiarity. It's really important to have those connections."
Georgetown possesses multiple other advantages to pitch to local recruits in addition to its geographic proximity, including academics, history, and new state-of-the-art facilities with the John R. Thompson Jr. Intercollegiate Athletic Center opening in 2016.
"Recruiting right now is an arms race," McAloon explained. "[Facilities] are definitely things that kids look for and want, families look for and want. I think [the Thompson Center] can't do anything but help."
"The effect that this building has is multifaceted," said Georgetown Head Coach John Thompson III at the team's media day preceding the 2016-2017 season. "It does have all the bells and whistles… It's the nicest in the country. That's a good thing. But then also, practically, it is easier to do your job, it is easier to teach, to coach, it's easier for the guys to get better." Georgetown Athletics declined to comment on this specific story.
"[The Thompson Center] is a nice thing for people to be able to visualize, that's tangible and you can see," said Farello. "But, we all know that what Georgetown brings to the table nationally from an academic and basketball standpoint is fantastic."
Georgetown is most prominently known for its golden age of basketball during the 1980's, when the Hoyas were arguably the best program in the country. Georgetown advanced to the NCAA tournament every year between 1979 and 1990 and won the 1984 NCAA National Championship. The Hoyas also finished as the tournament's runner-up in 1982 and 1985 and advanced to the NCAA Elite Eight in 1980, 1987, and 1989. However, it is unclear how effective history and previous success can be in persuading prospects to attend a school.
"I don't think that's a primary factor in recruiting," said Daniels when asked about the role a program's history plays in a recruiting pitch. "They're not going to these places because in 1978 they won a national championship."
"Most of the kids in the area now weren't around during the heyday of Georgetown," said McAloon. "So, for the kids here, certain small things [matter] like [the] Jordan brand obviously, the fact that they play in the Verizon Center, large venue, really good conference, great competition, the opportunity to play in front of your family."
"You have an unbelievable academic institution, an unbelievable tradition in basketball. You have players and coaches and proud alums that support the program. The Thompson Center is absolutely just a feather in the cap of Georgetown," Farello said.
Georgetown has now added the glamor of the Thompson Center to the substance of prestigious academics, the flash of previous historical success, and the challenge of playing in one of the best basketball conferences in the NCAA, among other advantages. Especially considering the Hoyas' success in bringing in talented players from across the country, their recent struggles recruiting locally is perplexing.
Yet, on a Tuesday night in downtown D.C., Georgetown Assistant Coach Akhbar Waheed was still in attendance, watching Gonzaga and Dematha ruthlessly battle for WCAC supremacy. Maybe it's a sign of further commitment to recruiting locally, or maybe it's continuing an effort to have a consistent presence in the area. Additional success in recruiting the local DMV circuit could provide the necessary boost that would catapult the Hoyas back to their previous national prominence.