Because I'm a bougie millennial, I spent part of my Spring break in New York with my roommate and beloved companion, Grace. We shared a bialy from Russ and Daughters; we braved the frigid wind gusts at Liberty Island; we listened to music with a headphone splitter like Keira Knightly and Mark Ruffalo do in Begin Again, except instead of playfully bonding over "Luck Be a Lady" we walked in hangry silence listening to "Vogue" until we got to a 2 Bros. and devoured some dollar slices.
The trip was, as trips to New York always are, jam-packed with overpriced pastries, triumphant subway rides, and the transcendent joy of being in a city that, to quote my English professor Maureen Corrigan quoting Walt Whitman, "contains multitudes".
But perhaps the most important thing to have happened to us—though we may not realize to what extent until many years from now—is that we saw Cate Blanchett, two-time Oscar winner, Hollywood royalty (but, like, in a classy, understated way), and literal (two-time) queen  perform in The Present, the Sydney Theatre Company's adaptation of Chekhov's first play Platonov in which the Russian widow Anna Petrovna (Blanchett) invites an army of guests over to her house for her fortieth birthday party. (Blanchett and the Sydney Theatre Company have come to New York before in productions of, most notably, A Streetcar Named Desire and Uncle Vanya.) A Vogue quote featured in a full page ad for the play in The New York Times proclaimed in bold letters: "There will be tears, sex and vodka — lots of vodka." Grace and I were beside ourselves.
We saw The Present our first night in New York. As we walked towards Times Square from the Flatiron District, we reassured each other that Cate would indeed be there and not luxuriating somewhere on her night off, far away from the Barrymore Theatre. We got our tickets at will call, found our seats, opened our Playbills and breathed a sigh of relief: no little white slip announcing "The role of Anna will be played by…" meant she was in.
We had fifteen minutes until the curtains rose and anticipation was running high. Being the internal type, I sat there silently trying to mentally and physically prepare myself while Grace, who expresses her emotions quite freely, kept looking over at me in five-second intervals and whisper-screaming variations of "Amy. Cate Blanchett is going to walk out on that stage. Amy. She's literally going to be right there. Amy." Though the empty seats around us made me nervous–did those invisible people know something we didn't?–it was probably for the best.
Then it began. Playwright Andrew Upton (Blanchett's husband) and director John Crowley give the people what they want: to enthusiastic applause, the curtain rises on Cate already standing casually on the stage as the bored, beautiful Anna. Honestly, I could have probably left right then and considered it reasonable bang for my buck but we still had three hours of Anna and her rotating coterie to enjoy (or endure?)
Anna has a lot of friends and we meet nearly all of them in the Act I. There's the roguishly handsome, womanizing Mikhail Platonov (Richard Roxburgh) in the midst of a midlife crisis. There's Mikhail's wife, Sasha (Susan Prior), Sasha's brother, Nikolai (Toby Schmitz), Nikolai's girlfriend, Maria (Anna Bamford) Nikolai's best friend and Anna's stepson, Sergei (Chris Ryan), Sergei's wife, Sophia (Jacqueline McKenzie) and Anna's older suitors (Martin Jacobs and David Downer). To call them Anna's only suitors would be disingenuous, I think, because basically every man on the stage wants her. Blanchett drapes herself over the men, offering her feet to be rubbed or giving a playful touch on the shoulder, eyeing them across the room while she ties a pink ribbon around her head or pours more drinks. And they lap it up.
The moments alone between unconsummated lovers Anna and Mikhail are some of the play's strongest and the best of them occur in Act II. Even though Mikhail has a baby and a devoted wife, I anxiously awaited his and Anna's hook up because there is no room for decency in this insane alternative universe. At a particularly passionate moment between the two of them, Blanchett is on the floor with her two white legs stretched upwards into Roxburgh's face as she pleads with him suggestively. (Later Grace would say, "I shielded my eyes, not because of how pale they were but because it was divine.")
Act II is The Present's most entertaining act, and not only because it includes Anna exasperatingly taking off her bra from underneath her dress. There are crazed gun shots followed by a frenetic dance party to "What is Love?" in which Anna grinds up on numerous male characters. (I now realize that all the struggles I have been through in my life were to prepare me to witness Cate Blanchett, drenched in champagne, gyrate to Haddaway.) There is Anna's legendary line, "Women know how to fuck" delivered with throaty wisdom. There is the small, sad moment post-aforementioned leg scene in which Anna and Mikhail almost kiss, but down a pair of shots instead. There are fireworks and an explosion. And, perhaps most fittingly, someone has a seizure.
The intermission was a much needed space for Grace and I to debrief, meaning it was a time where Grace said things like, "Literally Cate Blanchett's a vision. She's a beacon. She's a statuesque figure. I love her. I just love her. She is so important to me." I was in recovery mode, digesting the consequences of what we had just witnessed, nay experienced, while Grace rattled off epiphany after epiphany. We agreed that the play was absolutely nuts but, as Grace said eloquently, "In the extremity of crazy there is truth." We held on to each other as the lights dimmed.
If only The Present had quit while it was (miles) ahead. Act III opens with Mikhail sitting on a chair in the middle of an empty stage while waves of rolling smoke curl at his feet. Characters wander in and out as he reflects dejectedly on his life with a bottle in hand. Everything is blurry and maybe a dream; at one point, one of the actresses comes running out in a quasi-slow-motion so affected that the audience titters. After waiting for eons, Anna finally appears, now randomly dressed in equestrian gear; I was half-convinced that Mikhail was dead and that Anna was going to usher him off into heaven on a white stallion. Act IV didn't do anything to make sense of Act III's meanderings and, by the time the play reached its tragic conclusion, I was almost too flummoxed to care. The audience murmured and clapped hesitantly as the stage faded to black, eventually getting to its feet and applauding excitedly for three encores (one for each hour the play chugged on). I was baffled, something I expressed to Grace in stronger terms as we stood clapping for two minutes. "This is for Cate," I said. "For Cate," she agreed.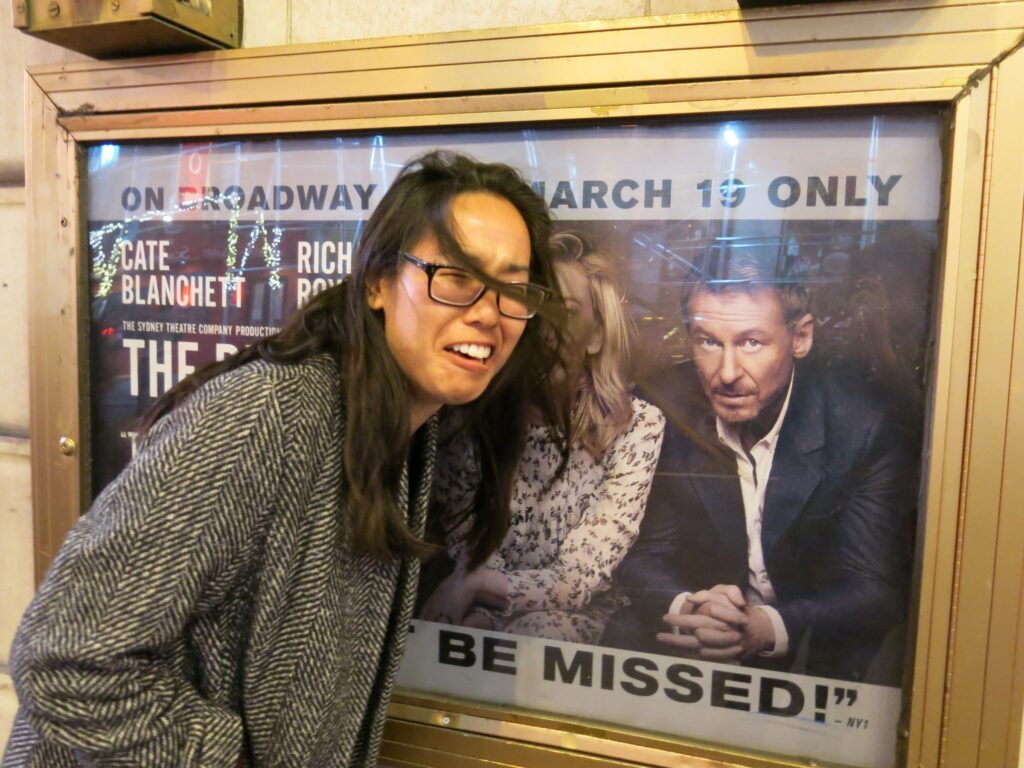 This is a picture of me weeping as the northern winds howl.
It was bitterly cold as we navigated our way out of the theater, but my sheer confusion about what had just occurred kept me warm. A crowd gathered around a theater exit door where Cate would presumably be whisked away in a large black car to her life of patrician splendor. For half a second, Grace and I pondered joining them. Then we realized that in no world would Cate Blanchett ever want to interact with us, two anthropomorphized trash cans, so we decided to walk on the other side of the street in order to avoid mistaken contact, an event that would require me to gouge out my eyes.
We eventually found ourselves at a café that, thankfully, had crayons and paper menus that translated nicely into some DIY art therapy. We ordered desserts and discussed our conflicted feelings further, the buzz of the fizzy post-theater crowd in the background. We had seen Cate Blanchett in real life, Acting with a capital A. Isn't that all that really mattered? Our incredible waiter handed us the check with a flourish and exclaimed, "Ladies, it has been an unadulterated pleasure."
Truer words had never been spoken.