In the first film he's both written and directed, Synecdoche, NY, Charlie Kaufman employs one of the most common archetypes of our time: the sad, unattractive, pot-bellied, middle-aged husband who doesn't feel like his life has a drop of significance. But where other films find the usual fixes in new jobs or women, Synecdoche enters into a different reality altogether. Phillip Seymour Hoffman's Caden Cotard watches his body deteriorate and his world become less and less like the one we actually live in, as Kaufman creates an alternate world where the normal laws of society, time, and physics don't apply. The viewer must likewise abandon logic and reason, but the reward will be an emotionally challenging and visually astounding journey.
Caden, a local theater director, lives in Schenectady, NY with his gorgeous wife Adele (Catherine Keener) and four-year-old daughter Olive (Sadie Goldstein). As he struggles to discern what disease is attacking parts of his body (pupils that won't dilate, an inability to salivate, pustules on his face ominously called sycosis), and keep his marriage together despite Adele's desire to "only be around joyous, healthy people," tiny slices of his world begin to slip off of their usual hinges. He sees a man smoking pot and swearing on a children's cartoon show his daughter watches; his doctors' offices are inexplicably located in dank boiler room basements of old buildings; the feisty redheaded box office worker at his theater, Hazel (Samantha Morton), decides to buy a charming bungalow that's eternally filled with flames and smoke.
At this point, the film turns to the truly unreal. Caden wins a Mac-Arthur Genius Grant, and moves to New York City to stage a play in an abandoned warehouse. His play employs hundreds, then thousands, of actors, who act out their own lives in a set that grows daily into a replica of the actual city outside. Kaufman's craftsmanship in the details of each scene creates a strangely believable alternate universe-at points one believes the characters to be in the real world, only to see them emerge from a half-constructed elevator shaft in the microcosmic warehouse universe.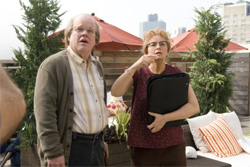 Leaps through time occur frequently, and nonsensical storylines abound. Kaufman clearly wants to play with dualities of all sorts, from the film's title (a play on both Schenectady, the real town, and synecdoche, the storytelling device), or the characters themselves, who acquire doppelgangers in the theater-universe as Caden directs his own double, acting out scenes from his own life with actors playing his girlfriends and wives in his warehouse. Hoffman's performance is inspiring: he navigates this uncanny new world with the same emotional depth necessary for dealing with broken hearts and longing in the actual universe. Accompanied by playful interludes by composer Jon Brion (with titles like "Sex Based Decision Making" and "Tacky Entrance Music"), Synecdoche weaves between the funny and the sad, the logical and the illogical, and arrives at something applicable to all sorts of realities.
The actors in Caden's living theater eventually start to ask when they're going to really stage their play. It's reminiscent of the quote from Paul Valéry that "poems are never completed-they are only abandoned." As Caden's play grows to try to encompass the entire spectrum of emotions, it becomes apparent that he will never be able to contain the whole of everything. But trying, just as many other artists do, proves to be an exhilarating subject, and Synecdoche proves to be an exhilarating film.