We Georgetown students work hard all week. On Sundays, there's no better way to serve the Lord than taking in some football. For those of us over twenty-one, the best scenery is a sports bar—a frosty pitcher and an order of wings can work wonders for post-party recovery. But which bars are bumpin', which have the best deals, and which are packed with Pats fans? Although I usually stick to my column's spot in the sports section, after weeks of meticulous research, I am proud to present: Bakk's Guide to Sports Bars.
Tombs (1226 36th Street) is the closest there is to a university pub. The food is delish, the beers frosty and inexpensive, and by senior year you're likely to know just about everyone there, patrons and servers alike. Ultimately, though, Tombs is no sports bar; the kind of boisterousness that takes hold of every fan after a few beers is strongly discouraged, as is, unfortunately for this author, vomiting on the floor. Save Tombs for Monday night trivia.
Affectionately known as "The Pumphouse," Rhino (3295 M Street) is the gold standard for Georgetown sports bars. Between the 25 cent wings, eight dollar pitchers, and the two massive projection screens upstairs, Rhino has all the hallmarks of a great sports bar. The only problem is that Rhin-bro seems to suffer from a little bit of an identity crisis: between April and October, it's a Red Sox bar; on Saturdays it belongs to Ohio State fans; and on Sundays it's filled with displaced Philadelphians. Come winter, everyone bellying up to the bar will be wearing orange. That's right, Rhino management also supports Syracuse. Wear your blue and gray just four blocks from campus and you'll look as out of place as Tom Brady coming off the plane at Heathrow Airport. Any other time of year, Rhino is the place to get rowdy.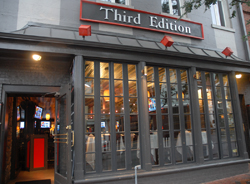 Third Edition (1218 Wisconsin Avenue), known to no one as anything other than Thirds, is equally rowdy from Thursday to Saturday—a pseudo island-themed freshman sweatbox patrolled by a Serbian pituitary case who used to play basketball for GW. Don't let that turn you off for Sunday afternoons, though—the bar fills up with sports fans of all stripes. The food and drinks are a little more pricey than other options, but the wings recently won the Buffalo Battle for best sauce in Georgetown. Plus, at halftime the dance floor is opened up so you can dance away those football blues, Redskin fans.
Like many members of the senior class, I have fond partial memories of weekend nights at Chadwicks (3205 K Street). Something about the Spartan décor, dance-music playlist, and two dollar Coronas made Chaddies a great place to go if you were trying to "hook it" with a classmate you would never have the nerve to talk to sober. In terms of Sunday football, Chadwicks' main drawback is that it doesn't have Sunday Ticket, so viewing options are limited to whatever games Fox and CBS are showing. If you support one of the metro area's two teams, though, Chaddies might be the place to drink away your next year.
Garrett's, Guards, et al: Apparently these are the names of bars, but I wouldn't know, I've never been across Wisconsin. Visit at your own peril.