Casey Distaso (NHS '14, M '18) used to stand on the Georgetown tennis complex next to McDonough Arena and look. He looked over at Multi-Sport Field, and then beyond to the surrounding dormitories. He captained the Georgetown varsity men's tennis team to wins and losses against some incredible teams on those courts. Standing there, he felt like he was in the center of campus, at the heart of Georgetown.
Distaso managed to stick around the Hilltop as a student at the Georgetown School of Medicine, but he'll never stand on those courts again. The space next to McDonough where the eight courts used to be is under construction, now the site of the brand new Thompson Center for Intercollegiate Athletics.
Slated for completion at the start of the 2016-17 academic year, the $60 million, 144,000 square foot facility will house two basketball courts, one for the men's and the women's varsity teams, locker rooms for the basketball, lacrosse, and soccer teams, team meeting rooms, and coaches' offices for men's and women's basketball. The building will also have a state-of-the-art weight room, a training room, an area for sports medicine, and a student-athlete academic center.
But not tennis courts.
"Tennis is a vibrant sport here, year-round, " Georgetown Tennis Head Coach Gordie Ernst said. While Ernst leads the university's varsity team, he also understands the impact the removal of the outdoor courts has had on the Georgetown tennis collective.
"The impact is not only on us but the whole Georgetown community," he said.
Distaso and Ernst are two of many. Now that these courts are gone, without replacement, all those who play tennis on the Hilltop have to vie for what little space is left, or find somewhere else to play altogether.
---
Ernst knew it was coming.
"You'd have to be a complete nitwit not to come to this campus and see this very little space, where facilities are beginning to age and people want to build new things," he said.
Various members of the departments of Development and Athletics had been telling him the courts were going to be removed for years. But Ernst always believed there was a plan for life after the outdoor courts. But nearly a year after their removal, an on-campus solution has yet to be found, forcing the coach and his players into unusual circumstances.
"It's had a tremendous impact on the program and the teams," Ernst said, who is in his tenth season at Georgetown.
The teams now practice outdoors on the courts of Georgetown Visitation Preparatory School, the all-girls high school that borders Henle Village on the northwest end of the university's campus. The school's four courts are only a short walk from the site where Georgetown's tennis facility used to be, but it does not have the same homey feel as before.
"The kids feel like they're guests and do not feel like it's their own," Ernst said.
It's also affected the team's ability to host matches. Now, the team only plays one match on campus, at Yates Field House, during their year-long season. Last season, the men's team played two matches near campus, one at Visitation and one at Georgetown Prep. The women's team played two matches at the Arlington, Va. YMCA and one match at Bell Haven Country Club in Alexandria, Va. Otherwise, the team spends the rest of their season playing away matches, away from fans and familiar territory. The increased travel has placed an academic burden on the tennis team.
"It's nice to get a reprieve from Georgetown every now and then," sophomore Peter Beatty (COL '18) said. "But it puts a lot of pressure on us because we miss more class. We have to leave the night before for a match instead of being able to walk down [to McDonough]."
"I know so many of my friends, my teammates' friends want to come and watch and experience a tennis match but they never have the chance to … It does suck," women's varsity tennis captain Victoire Saperstein (COL '17) said. "I wish we had a home-field advantage when we're technically at home and we don't."
Some other varsity sports, such as softball and baseball, play their home games off campus, but the teams use a consistent venue for home games. The tennis teams are the only varsity programs on campus, except teams such as track and field and swimming and diving which compete in meets, without a regular site for home matches.
"I think what it does is it takes the Georgetown element out of sports. These players practicing at Visitation and playing on the road, they're sort of separated from the university and the university is separated from them, and I think that's what is so important about sports," Distaso said. "Especially in college, here at Georgetown, when you're not making money, it's important that the university and the teams are always together."
"Virginia, Stanford, Duke, those are top tier schools, they all have phenomenal tennis facilities, I mean Yale's indoor facility was kind of a dump indoor situation, but they raised some money, and now they have that world class facility," Ernst said. "Harvard's got a phenomenal one, Princeton isn't great, but what Princeton did was they built the indoor courts underneath the basketball gym. So Jadwin gym, that's where Princeton plays, down in the basement 2 or 3 floors down, are these indoor courts that the teams practice in and, you know, and their outdoor courts are a lot more phenomenal, because they have a lot more land, don't forget, so they have a beautiful tennis facility."
Ernst and his players know that they can't have the university meet all of their demands, but when they play at other facilities, their daily inconveniences caused by having no outdoor courts are further brought into frame. Saperstein described her recent experience traveling to University of Colorado Boulder earlier this year and playing at their picturesque facilities.
"It was a bit of a B-slap," Saperstein said. "Just being like, 'oh we have to go back to reserving courts now.'"
But Saperstein and her teammates try not to dwell too much on their unfortunate situation.
"Now we obviously have to move on. It's over. We lost our courts."
---
Two years ago, Georgetown Club Tennis was made up of over 300 students. In the absence of an intramural program, the team welcomed serious players looking to compete below the varsity level, as well as students looking for regular recreational play.
This year, because of the lack of courts, the club turned 140 players away during tryouts in an effort to cut their roster to 40 players. Fifteen of these players are part of what Club Tennis President Max Roder (COL '17) calls a "social team." The club team, social team excluded, practices on three courts at Yates twice a week from 10 p.m. to midnight. The gym's fourth court is always left open for members. This three-court system combined with a late time slot is less than ideal for full-time students.
"The main issue is the practice times. People want to take that time to study or sleep and they don't really want to have to go and practice at night," Roder said. "So, we have a 10 p.m. time and an 11 p.m. time and our 11 o'clock time is usually pretty sparse because people don't want to play at 11 at night."
Practicing is inconvenient for current members of the club team, but for all those turned away from the team in its new format, finding court time and a hitting partner is even more difficult.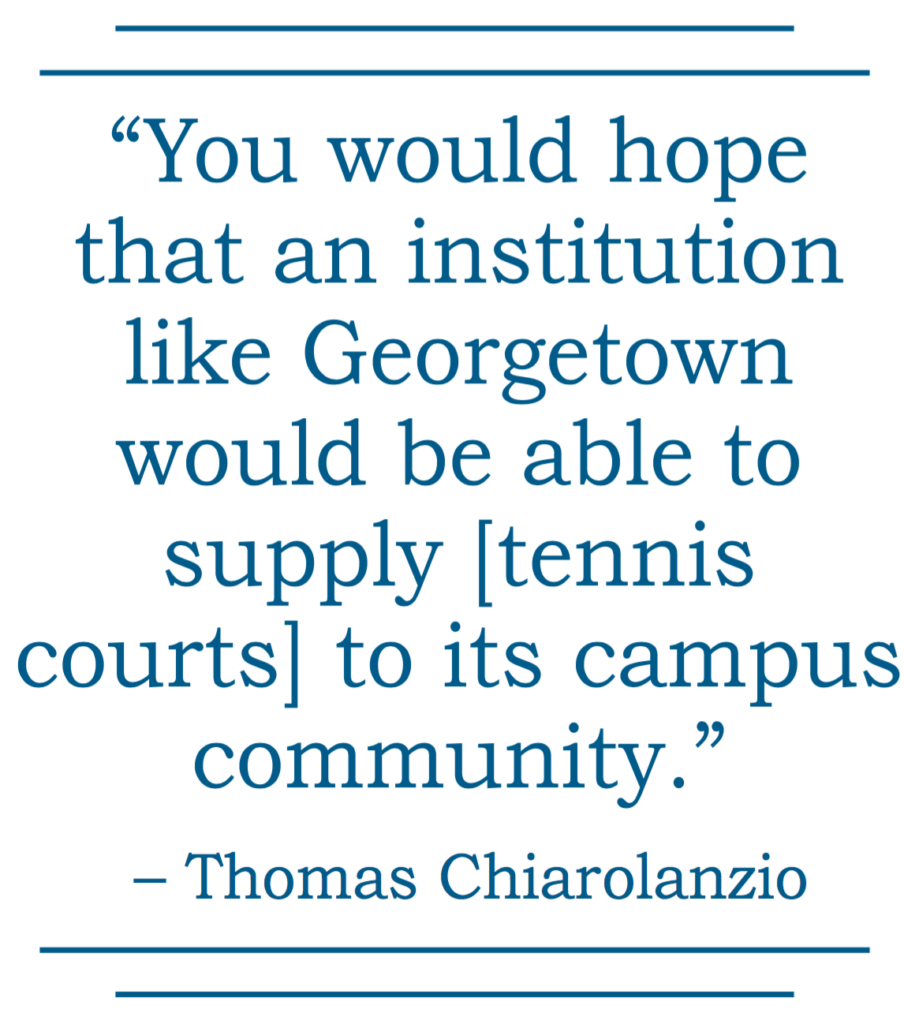 "They can still book courts at Yates and hit, but it's not the same if you can't have an organized team or play outdoors. We share courts with Men's Varsity, Women's Varsity, and outside members," Roder said. "I taught (at Yates) as a teaching pro last year, and I didn't teach a single Georgetown student. Mainly it's outside people coming to Yates. Everybody is using four courts, so it's not easy to get court time."
Each year, the club tennis team hosts "The Duel in the District," a tournament for club tennis programs across the country held in honor of Michael Jurist, a member of the team who was killed in 2007 after being struck by lightning.
"Last year was the first year we couldn't have it on campus. Last year we hosted 16 teams. It's a big thing. We always hosted it outside on the old courts," former club president Elizabeth Kelly (NHS '15) said."People would come watch their friends play, and people who didn't know anything about club tennis would be able to come and hang out for an hour."
Now, the team rents space at Rock Creek Park Tennis Center, a tennis facility about seven miles from Georgetown's campus which hosts the Citi Open, a part of the ATP and WTA tours' US Open Series, each summer. Though the facility manages to meet the tournament's needs, renting the space creates financial and travel-related issues for the team. Moreover, the off-campus location of the tournament makes it unlikely that many students will attend what used to be an easily accessible sporting event.
When Georgetown had outdoor tennis courts, the Club Tennis team had a large footprint on the university campus. Without facilities, the team has been brushed aside.
"What used to be the biggest club sport on campus has now dwindled to [40] people. And no one is ever going to see those matches," Kelly said.
---
Thomas Chiarolanzio, a senior associate dean in the College, has worked at Georgetown for the last 20 years. For the last 15, he has been playing tennis.
"I was relatively new to the tennis scene, but I would connect with different faculty that play. We could get together and play outdoors when it was available," Chiarolanzio said. "The outdoor courts, for me, during the day were generally available. So you always had court space to get out there and hit the ball. At that time, I had no complaints."
Chiarolanzio isn't the only non-varsity or club player looking for court time. Each year prior to the excavation of the outdoor courts, Ernst hosted a tennis camp for grade school-aged kids.
"I had 300 kids in my camp last summer [in 2014], and a lot of the kids were children of professors, children of ambassadors. You've got the Obama family out here. They were in my camp, Malia and Sasha. I've given lessons out here to the First Lady,"  Ernst said.
Now, due to a lack of courts, Ernst is not able to host his camps, the effects of which are twofold. First, Georgetown will no longer be able to attract future Hoyas through the tennis camp which hooked Peter Beatty (COL '18), a current member of the men's varsity team.
"You think about what an opportunity that is to have all these young kids, potentially future Hoyas, to be right there at Georgetown, coming to tennis camps and thinking, 'Hey I want to come to Georgetown when I'm applying to colleges,' that's another loss," Distaso said.
Ernst will also not be able to share in the revenue generated by the camp, which previously was an important financial source for the coach. Ernst said that losing the camps has been a "big financial hit" for him and his family.
Though the teams on campus which need court time in high volume may struggle to find areas for practice and competition, the tennis community at large, full of more casual players, is substantial at Georgetown.
Last week, with rain making the courts at Visitation unplayable, the varsity team was forced to move indoors for practices. Chiarolanzio, who plays tennis during his lunch hour, tried to reserve courts at Yates, but was unable to due to the needs of the varsity team combined with the already-high demand for court time. With thousands of community members between undergraduates, graduate students, faculty, and staff, it is likely that many others had a similar problem. There simply isn't enough court time to go around at Georgetown.
"It's a great sport and I love to play it. I play it all the time. You can play until you're 80 years old. You would hope that an institution like Georgetown would be able to supply that to its campus community,"  Chiarolanzio said. "It does to a certain extent, but it's really limited, and that's unfortunate."
---
Caught between all these pressing demands of groups starved for court time is Jim Gilroy, the director of Yates Field House, the on-campus recreational facility which has the only four tennis courts on campus, all of which are indoors.
"The whole reason for Yates being built was to give non-varsity athletes a place they always know they have access to," Gilroy said. "We try to uphold that model."
Opened in 1979, Yates was designed to meet the needs of an undergraduate population that was roughly 5,000 students. But with the growth of the university to approximately 7,000 undergraduates, a now sizeable graduate student population that uses the facility according to Gilroy, and an outside community that comprises a substantial part of Yates' 10,000 members, Gilroy and his staff have been forced to juggle the various needs of their respective members.
"On a typical day in 1986, we might have had a thousand people come through," Gilroy said. "Yesterday, we had about 2,300. So it's more than doubled every day, the number of people that use Yates. So we need something just to keep up with our peers."
Gilroy and his staff have heard complaints from members about the increased use of the tennis courts by the varsity and club teams.
"We're trying. We're trying to find times for the tennis. We're trying to find time for the club team," Gilroy said. "At the same time, we want students to be able to walk in the door and know they'll be able to play tennis or basketball or jump on a treadmill. It's not easy. But I'm trying."
The answer to the logistical quagmire Gilroy and staff find themselves in is simply defined but right now unobtainable: a new building.
---
The administration, in response to the removal of the outdoor tennis courts and the additional stress put on Yates, has sought options to replace the existing fieldhouse with a new building and a tennis facility. Right now, however, it has not been viewed as practical, according to administration officials, due to the cost associated with such a project and the limited space on campus.
"Finding enough space for enough tennis courts has just been a difficult proposition because there have been plans for academic space that is more important than the tennis courts. There are plans for other living spaces because of our goal to put more undergraduates on campus," Director of Athletics Lee Reed said. "It's just 104 acres, and we've exhausted what we can build on campus. I think people underestimate the size of tennis courts. How much space do you really need to have multiple tennis courts out there? Now, could we do a one-off and place a tennis court, one here and one there? Maybe. But I think even that has been challenging. I really don't have an answer for the long-term on this one."
As a result of limited space on campus, the roof on top of Yates has so far been identified as the only viable location for replacement courts. But the cost surrounding such an endeavor has prevented the idea from taking off.
"We've looked. So we have a complicated issue which is the roof of Yates. We've got to replace that roof, we've got to replace that field. Right now, it's been cost-prohibitive to be able to do it, but when we've looked at that, we've also looked at what would it take for us to put outdoor tennis courts as part of that renovation," University President John DeGioia said. "And we've got some ideas there, but right now we haven't been able to execute any of it for cost reasons. That would be I think the only place on campus we could imagine outdoor tennis."
Excluding tennis courts, simply replacing Kehoe Field, which sits atop the roof of Yates, and its deteriorating synthetic turf surface would cost anywhere between $10 to $15 million, according to Gilroy. "We need to start thinking about a new facility," he said.
Reed has held "preliminary conversations" with prospective donors around building tennis courts, but the uncertainty of the University's future plans for Yates has complicated those discussions.
"We're all aware of the need, but it's a matter of coming up with the right construct to make it work… Would it be short term? Long term? Because now you have to think about the future of Yates," he said. "How much longer will Yates be around? If you're going to dump 17, 18 million dollars into a facility for tennis courts, I would hope that it would be part of a larger effort. So, I think the campus planning process helps us think through these kinds of challenges."
But while cost and space have stood in the way of the construction of new outdoor tennis courts, the University has found ways to meet other athletic needs. On October 6th, the University announced the receipt of a $50 million donation from Peter and Susan Cooper, parents of three former Georgetown football players, to complete the unfinished Multi-Sport Field, the home venue for the varsity football, lacrosse, and field hockey teams, and expand a student-athlete leadership program. Among the improvements for Multi-Sport Field, which will be renamed Cooper Field after its completion, will be new locker rooms and seating areas.
According to The Washington Post, $10 million of the Coopers' gift will be used to enhance the facilities of Multi-Sport Field for students and visitors. New seating areas around the field as well as new locker rooms, among other improvements will be completed in the next 12 to 18 months. Multi-Sport Field is also home to university-wide events, such as Relay For Life, and is used by students engaged in club and intramural sports.
In a conference call with media announcing the donation by the Cooper family, Reed pushed back against the suggestion that the project, which will do little to improve conditions for the tennis community at Georgetown, implies that constructing tennis courts are not a priority.
"We will have time … That's not to say that Kehoe Field or our tennis courts are not important to us, because as I've said earlier this week they're extremely important projects to us, but this was the next one that was ready to be moved forward," Reed said. "It was important from a strategic standpoint, not only for varsity athletics, but for the university and the community. This is the project that makes the most sense at this time."
Speaking before the announcement of the donation, Ernst hoped that the University could organize a fundraising effort for new courts. He acknowledged that tennis, like any of the other 27 varsity sports at Georgetown, is in a fierce competition for limited funds.
"It's just tricky, you have this thing that everyone is fighting for, everyone's fighting for a certain amount of dollars," Ernst said. "I want to believe that at some point [the administration]said, 'Oh maybe if we did this or thought about fundraising in this way we could have done it on the roof or in the basement (like Princeton). Or out front here.' That would've been really cool."
But Ernst understands the dynamics of present-day intercollegiate athletics. A varsity hockey player while at Brown University, Ernst knows more mainstream sports naturally receive more attention and focus than tennis.
"With universities, no one's buying a ticket to tennis, so it's not a revenue sport," Ernst said. "And I completely get it. Don't forget I was a hockey player too. But it's not like football, lacrosse, soccer, hockey, those bigger sports…I certainly understand it all."
The players understand as well.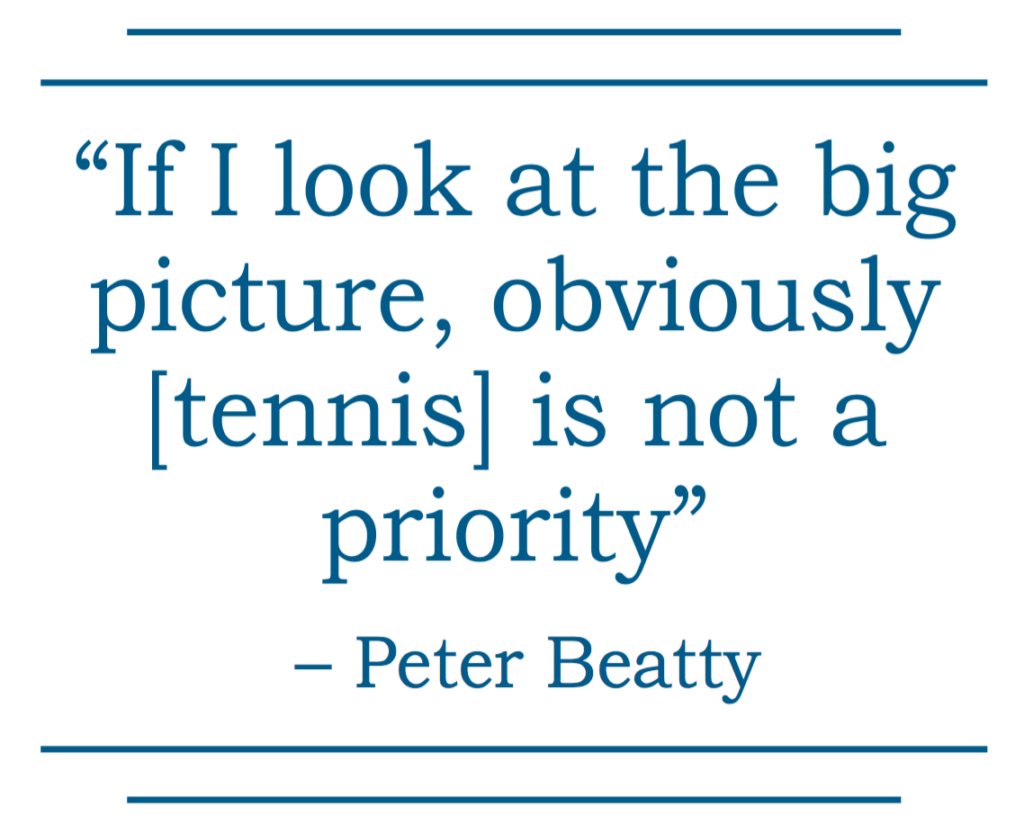 "I'm used to that. I don't know if it's a priority at most schools. If I look at the big picture, obviously it's not a priority," said Beatty. "Obviously, I'm bummed out about that. But I understand that Georgetown is not all about tennis. Athletics is a whole group of a bunch of different sports. I understand."
Reed insists, however, that tennis is just as important as all other varsity sports.
"Absolutely, I care about tennis," Reed said. "Every single student athlete and coach that comes here, I want to…my job is to provide them with the absolute best experience that they can have, to put them in the position where they can have a really, really positive experience. That's not lost on me that now they don't have a place to play."
Priority or not, nearly a year after the removal of Georgetown's tennis courts, there are no concrete plans for an on-campus replacement.
While Ernst and his team still feel sour about the loss of their courts, they have found ways to persevere. For the first time since Ernst arrived over a decade ago, both the men's and women's teams have defeated ranked opponents while the women even defeated Syracuse for the first time in team history. Ernst has also been able to assemble his best recruiting classes as of late.
"We're just finding ways to get it done. It's all about finding the right kids who get it," Ernst said. "We don't have courts, okay? But they get the fact that they're going to be at Georgetown on a great team and deal with it. We're building a lot of character."
The community, from students to staff, is hopeful that the university will eventually find the space and the funds necessary to construct a tennis facility that's worthy of Georgetown. "It's a sport of a lifetime… It's a sport like golf, it touches a lot of people in all aspects of life," Ernst said. " I think it's a shame that more places don't understand how tennis can be a more integral part of a university community. Because it really is, in so many indirect ways."
Additional reporting by Chris Castano and Daniel Varghese