It's not often that you hear about Georgetown students and the Georgetown neighborhood agreeing about a noise problem. However, this past summer, the Georgetown University Student Association (GUSA), the university, and seven local neighborhood associations, including the Citizen's Association of Georgetown, took legal action against the Federal Aviation Administration (FAA) by filing a petition for review in the U.S. Court of Appeals for the District of Columbia.
A recent change in air traffic over the Potomac has raised noise levels in communities from Foggy Bottom to Foxhall, and all nine organizations are working together to fight it. According to Ari Goldstein (COL '18) GUSA secretary of campus planning, the group of organizations recently chose the name D.C. Fair Skies Coalition, and their website, which GUSA is helping to build, is to be up and running this week.
The changes moved flights from over Rosslyn and Arlington to over the Potomac, increasing the aircraft noise in the east bank as planes clip the bank when turning over the narrower parts of the river. FAA ran a pilot for these new routes from March to May of 2015, and the changes were adopted permanently on June 25, 2015.
Noise about Noise
For those in and around Georgetown, at least some airplane noise isn't new news.
"Everybody is on the same page about the way air traffic is affecting our communities," Goldstein said. "I mean, if you stand outside anywhere on campus, you hear every few minutes planes passing overhead. Phone conversations have to be stopped, events have to be stopped; so the impact of the noise is significant."
The Georgetown University administration has also shown concern about the impact of airplane noise. Chris Murphy, vice president for Government Relations and Community Engagement wrote in an email to the Voice that the university "has expressed concern about the impact of airplane noise to historic buildings on campus as well as the disruption it causes to students, faculty, staff, and other members of our community."
However, not all Georgetown students agree that this type of disturbance warrants so much attention.
Marlene Cox (COL '16), believes that given the gravity of recent events, airplane noise is a relatively minor issue. "During Rugby practice, sometimes it's hard to hear my coach when airplanes fly over our practice fields. That's all," said Cox. "Airplanes flying over campus seem a little arbitrary."
Cassidy Gasteiger, (SFS '18), said her impression of noise on campus has changed drastically over time.
"When I first got to Georgetown I thought I would have to transfer because I hated the aircraft noise so much …  But now I don't even notice them, so I think I've adjusted," said Gasteiger.
However, to some of the university's neighbors, noise is a serious issue. The August petition for review comes after two years of attempts by Georgetown-area neighborhood groups to work with the FAA to address growing air-traffic noise and the impact of FAA decisions on air traffic through Reagan National Airport (DCA).
When Roberto Vittori, an Italian air force officer and European Astronaut Corps astronaut, moved to Georgetown in 2013, he received no warning about the noise issue. After moving in, he realized that aircraft noise was a disturbance in his new home. "There is a very significant issue here in Georgetown with aircraft noise."  
"There's three elements: annoyance, health impact, and safety," he said.
According to Vittori, high levels of noise generated by air traffic over residential areas beneath their flight paths are both an annoyance and a health risk, interrupting sleep and increasing stress.
The changes being contested in the petition for review raised noise levels in the Georgetown area because they moved flight paths about half a mile to the east. This change has, according to Vittori's calculations, caused a doubling in sound intensity (3 dbA increase) in the Georgetown area.
"Noise is a very tricky beast … You sleep, you may not even wake up, but the noise, the vibrations are bombarding you. And so you get up, and you are tired, or confused, or you don't perform well, and you think it's just a bad day. In reality it's an unhealthy environment," said Vittori. "A student usually takes it lightly, because it's a temporary situation, but it's really important … For you, it's an investment—you pay to go to college—so you should be in the best condition to perform."
There is growing evidence that negative health impacts are associated with noise pollution.
The World Health Organization's 2011 publication, Burden of disease from environmental noise: Quantification of healthy life years lost in Europe, lists increased risk for cardiovascular disease, sleep disturbance, and cognitive impairments as some outcomes suggested to be associated with noise pollution, and concludes that "there is overwhelming evidence that exposure to environmental noise has adverse effects on the health of the population."
Air pollution is another environmental concern, particularly for those living directly under low-altitude flight paths as aircraft arrive to and depart from Reagan National.
"Engines, those large engines, burn a lot of fuel, and the byproducts are heavier than air," said Vittori. "You won't see it, you won't feel it, but you will get [it] in your lungs."
However, according to Sandra Borden, president of the Crystal City Civic Association, noise pollution around DCA is decreasing. She noted that Reagan has been using quieter and cleaner engines over the course of her 30 years of living right next to Reagan.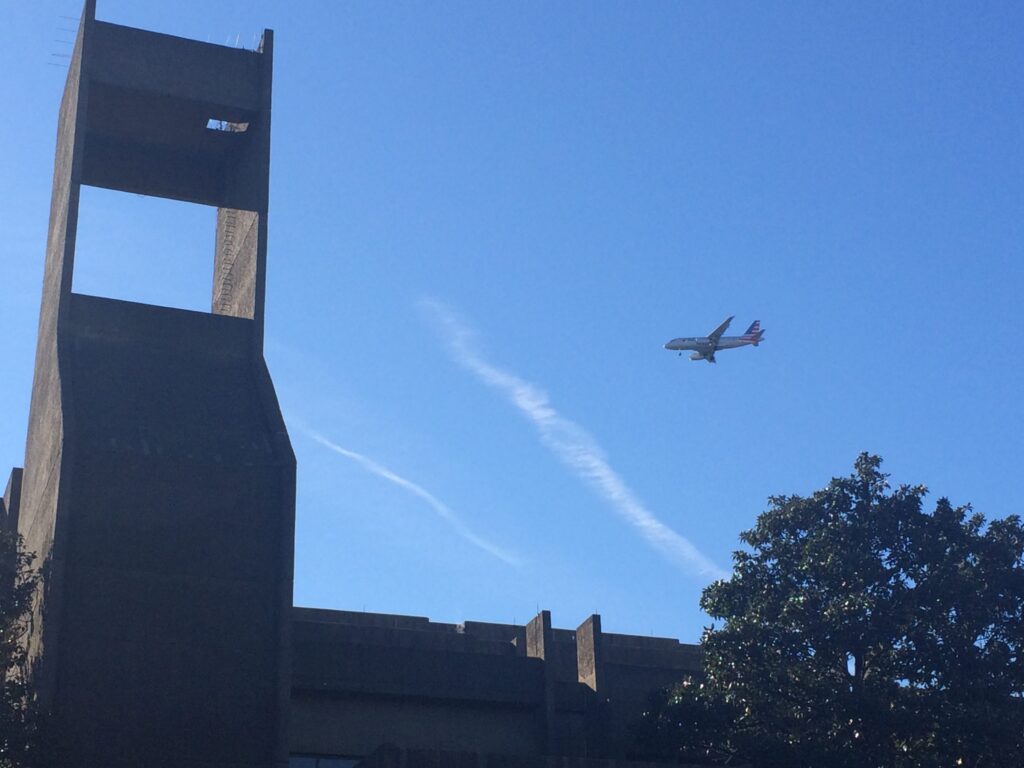 Action against the FAA
The petition for review concerns the decisions made by the FAA to change flight paths through DCA  "without addressing—and, in some cases, without even responding to—significant concerns raised by Petitioners and their members," according to the petition. The Voice obtained the entire docket with copies of court filings at pacer.gov.
The petition argues that, "the University, its resident students, and the Neighborhoods and their residents have suffered — and will continue to suffer significant, adverse impacts as a result of the FAA's flight arrival and departure routes."
GUSA was initially one of the petitioners but were removed from the petition in September. "As we are student group at Georgetown and not a registered non-profit or otherwise we do not have the ability to sign onto lawsuits," wrote GUSA President Joe Luther, (COL '16) in an email to the Voice.
No decision has been made yet on the petition. Concerned parties can appeal FAA decisions by filing a petition for review in the U.S. Court of Appeals, as the Georgetown-area petitioners did, but there is a 60 day limit on appeals. In October, respondents at the FAA filed a motion to dismiss the case for lack of jurisdiction, arguing that the petition is invalid because they claim it was filed more than 60 days after FAA decisions made to the routes in question. As of now, the petitioners have until December 31 to respond to this motion for dismissal.
The growing community action on this issue has been mirrored by district representatives. Over the past few years, Rep. Eleanor Holmes Norton has been a part of the effort to work and address airplane noise in D.C. neighborhoods with the FAA.
"We have gotten [the Metropolitan Washington Airports Authority (MWAA)] to set up a working group, comprised of residents from D.C. and Virginia with the FAA participating, to craft best flight path procedures going into DCA." she wrote in an email to the Voice. "I strongly support the petition filed in August by nine location (sic) organizations.  We must surround the noise issue to have a fair chance of contesting this perennial issue."
Rep. Don Beyer, whose district includes Arlington County, agrees that noise is an issue for communities on both sides of the Potomac. "I look forward to continue working with the FAA on a durable long term solution that does not come at the expense of local homeowners in Virginia or in D.C," he wrote in an email to the Voice.
Local residents can also express concern about aircraft noise by submitting a complaint online.  According to Vittori, MWAA determines whether or not there is a noise problem at an airport by counting the number of complaints submitted, and a letter from a congresswoman does not count any more than a complaint submitted online.
NextGen: A National Problem
The FAA's Next Generation Air Transportation System (NextGen), is a national program that aims to increase safety and efficiency as air traffic surges by using satellite-based, rather than radar-based, technologies for navigation and communications. The FAA's implementation of NextGen routes, however, has been accompanied by complaints about increased aircraft noise in multiple cities and neighborhoods across the United States, including Phoenix, Baltimore, and Palo Alto.  
According to Kevin Terrell, a founder of the MSP FairSkies Coalition, a similar group in Minneapolis-St. Paul, the group is not opposed to everything about NextGen.
"We are opposed [to] the way it is being implemented near airports… The process is flawed, the FAA is tone deaf, and it needs to be reeled in, immediately," wrote Terrell.
According to Terrell, this is a nationalized issue. "The situation is slightly different in every city. But, the essential elements of the story are the same, which is a lack of local interaction by the FAA," said Terrell.
This story is familiar here in the District, where air traffic noise has been a growing concern for local communities over the past two years. Individuals from both sides of the Potomac believe that the FAA should communicate more clearly with the public.
"We, as the communities, feel like they have not been forthcoming with the changes that have happened," said Andrea Ramirez, a Foxhall resident.
The larger issue, according to Vittori, is that the expansion of DCA's airways over surrounding residential areas occurred without adequately consulting the affected residents. "Georgetown was founded in the 1750s. Georgetown University is also an historical landmark," said Vittori. "There must be some kind of compromise between the expansion of residential areas and the expansion of airports."
"What we're looking for is not a ridiculous change in flight paths but really a rational solution to a problem that is affecting us all," said Goldstein.
The FAA declined to comment on the issue given the pending lawsuit.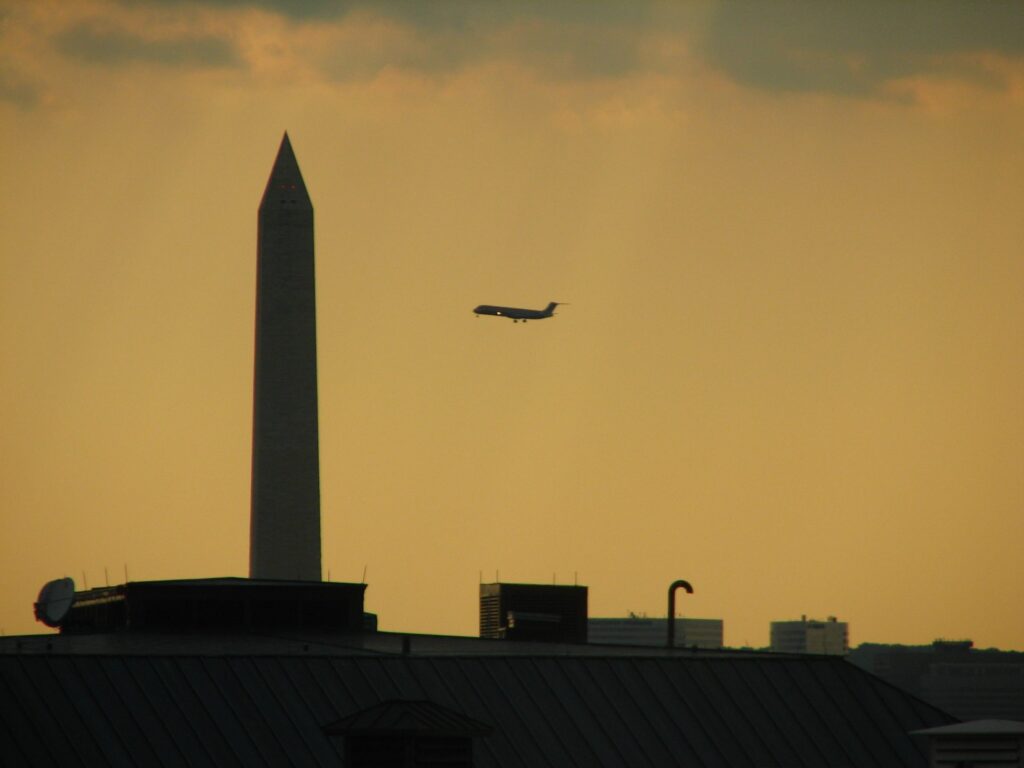 Over the River
Before the change, the route went over Rosslyn and Arlington in Virginia on the opposite bank of the Potomac, so while reversing the changes made to flight paths this summer would benefit the groups who filed the petition, it would move the planes back to the west bank of the Potomac and over Arlington.
Arlington County does not support a reversal to the old flight paths, according to Stephen Geiger, a representative of Arlington County on the Working Group set up by Rep. Norton.
Communities in Virginia have been concerned with aircraft noise from air traffic through DCA as well. The recent changes made to routes through DCA have affected both groups, and any future changes will as well.
According to Geiger, Arlington still experiences more aircraft noise than the Georgetown area communities.
"One of the areas of consciousness for this group has been to allow space for all these groups to operate independently and not obstruct each other," said Goldstein.
"The key objective, as I see it, is to avoid a zero sum game contest between the citizenry on opposites sides of the river," wrote Joseph Pelton, another representative of Arlington County on the working group, in an email to the Voice.
All these concerns about aircraft noise haven't put everyone in opposition to the airport itself.
"The vast majority of people, including those experiencing aircraft noise, are supportive of National Airport," wrote Geiger.
The Future of Flight
Dec. 31, 2015 is the deadline for the next move in the legal battle between Georgetown area organizations and the FAA. However, the petition for review is not the only factor deciding the future.
The expansion of DCA is a factor that will affect both sides of the river. According to Ramirez, MWAA claims to want to move air traffic and passenger flow into Dulles rather than expand Reagan.
"I would say the biggest next change coming is that DCA, Reagan is expanding their terminal further," said Ramirez. "If they don't want more passengers at Reagan, why are they building a new terminal?"
Borden, though, noted the importance of DCA for its economic benefits.
"The airport is an important economic engine for Arlington and D.C. … I find them a good neighbor," she said.
Bigger, louder planes in the sky, though, could mean more noise complaints and community action. The continuing development of the D.C. Fair Skies Coalition could have an impact on how Georgetown-area organizations move forward with concerns about air traffic.
On campus, GUSA plans to run an information campaign as part of the group's effort by educating students and providing a venue for people who want to take action. "I don't think it'll be a pressing issue for students on campus because so much else is going on, but it's sort of another good way to keep students engaged in the community," said Goldstein.
Goldstein feels that this student-community engagement might move the relationship between students and the neighborhood away from its rockier past.  "I hope it will be part of a more constructive tone as we enter the next campus planning process."