My Georgetown application was intended as a joke. After wrangling with the Common App for weeks and submitting more essays, SAT scores, and portfolios than I can count, I grew increasingly apathetic, and knew that my chances of getting into Georgetown were limited—I was never the president of any clubs, much less my school, or enrolled in an IB program. I never played a sport, or interned at a company, and I barely scraped the fifteen hours of community service required for my diploma. I didn't know what Vineyard Vines was and had no interest in interning on the Hill.
I had planned on spending four years giving stick and poke tattoos, inhaling charcoal dust, and buzzing off my hair in strange patterns at art school.The lingering doubt that art wasn't the right career path for me was what prevented me from applying exclusively to art schools.
In the spirit of sticking it to the man, or what I imagined to be a WASP'y admissions officer, l submitted to Georgetown an art portfolio almost entirely composed of satanic symbolism. All my image sizes were 666, I had thirteen pieces, and many were either subtle or blatant criticisms of religious institutions. In my SFS essay, I cited abortion as an effective solution to many global issues, including gender disparity and climate change.
Looking back, I question why I wasted an incredible amount of time, energy, and money on a school everyone knew I might get rejected from. But, in the haze of existential crises and emotional trauma that come with college application season, I had convinced myself that, at the very least, my future art friends and I could laugh about sending an anti-religious application to a Jesuit university.
My Georgetown application was all fun and games until I received my acceptance letter. The information was so unexpected that for a week after its arrival I was convinced that someone was trying to scam me into paying a 900 dollar deposit, or that an admissions officer wanted to reform me. What I did next was even more unexpected—I payed the deposit to Georgetown instead of RISD, the design school I had dreamt of attending since childhood.
My image of Georgetown as a wading pool for future politicians and businessmen was solidified when I arrived in August. I couldn't fathom how six thousand students all wanted to be president, or why bagging groceries and serving coffee was the most prestigious activity on campus. By the end of my first month at Georgetown, I told myself that I would transfer if someone mentioned Plato's Republic one more time.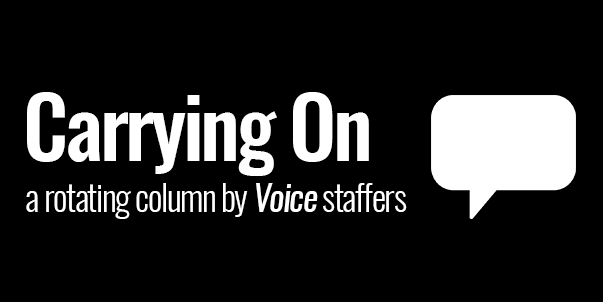 In a school seemingly stuffed to the brim with type-A, pre-professional government majors, I stood out more than I hoped to. But I also made the mistake of convincing myself that I was not as intelligent, successful, or competent as other students because I didn't fit the mold. I was scared that others viewed me as an imposter—because of my joke application and because I didn't belong. I was more scared that they were right. My insecurities were telling me that wanting to be recognized as something more than my talent as an artist was foolish.
When people ask me why I chose  Georgetown instead of art school, I am never sure how to respond. I always say that I have a habit of pursuing what I'm bad at—I believe that living without challenges is not living at all, and I take pleasure in feeling overwhelmed. But I don't push myself due to some internal need to do well—I want to demonstrate to myself, and to everyone else, that I am not less capable than others just because I am not the typical Georgetown student.
I still don't own any apparel from Vineyard Vines, and never will. I maintain that quarter zips are the work of the devil, and I don't understand what GUSA is or how it works. I don't even know why I was accepted. But I like to believe that I belong here just as much as anyone else, because of the place I have carved out at Georgetown for myself.