If you live in Village A, you might occasionally see something out of place. On days when the weather is warm and the sun shines, two small girls, dressed as carefree princesses, might be found dancing around on a rooftop, oblivious to the stresses and problems that absorb the students who surround them. The two girls will call from their rooftop terrace to students below, looking to find fellow Sesame Street fans and to make new friends. The presence of children in a space usually reserved for springtime keg races may seem odd, but it is a part of one of the most unique and integral aspects of Georgetown life: having chaplains-in-residence.
When students first move into their dorms the last week of August, they don't expect to find a small family of four as their new next door neighbours. Families, they might think, will impede their self-expression, forcing them to turn down the music or avoid cursing. However, for the chaplains-in-residence (CIRs) the goal is to avoid such confrontation and allow as much freedom as possible, only stepping in to help when asked.
These chaplains are trained pastoral ministers who live among students on Georgetown's campus. They come from different denominations and represent various faiths. While 14 of the 25 chaplains are Roman Catholic, Protestant denominations, such as American Baptist and Presbyterian are well represented, as well as Islam, Episcopalian, and Hindu faiths. Brahmachari Vrajvihari Sharan, the Hindu chaplain, arrived last year and is the first Hindu chaplain at any school in the United States.
Despite their religious backgrounds, chaplains stress that they are available for anyone who needs to talk. By having many different faiths represented amongst the CIRs, campus ministry hopes to give every student the opportunity to speak with someone who worships the same way. Diversity among chaplains allows for more students to find someone with whom they feel comfortable. Chaplains see themselves as beacons, where people can find themselves when they are lost.
"For the most part, how we see our role, is that we get to support the students. And we get to help them to see that we think they're valuable, that we really exist to cheer them on," said Joel Daniels, a Protestant CIR who lives in Henle. "So we're not there to critique. We're there when they get critiqued to be able to come to us and to talk about what that means, how that makes them feel."
In a place where students often feel isolated from their friends and family, it can be difficult to find someone to communicate with on a deeper level. Whatever students are struggling with–relationships, job opportunities, or family issues–chaplains pride themselves in pointing students in the right direction.
"I always say our real purpose is to be there when students enter modes of depth, depth of thinking about themselves, their identity, depth of thinking about their faith and what they most believe, thinking about their values—their own sense of right and wrong," said Father Matthew Carnes, S.J., a Kennedy CIR and associate professor, also known for his class on comparative political systems.  "And we can walk with them through those conversations as they think them through."
Campus ministry asks that CIRs have regular opportunities to meet with the students. CIRs offer programs such as open doors that usually occur at the same time every week, where chaplains offer desserts, quesadillas, or other treats.
In addition to setting weekly hours, chaplains offer special programming throughout the year. During Heritage Week earlier this semester, Carnes held a fireside chat, where students spoke with him about Jesuit heritage and identity. Once every fall semester, Carnes guides a secret Jesuit tour of campus.
"I think it's one of the really special things about Jesuit schools is that you have Jesuits living that close to students, where they can really have this informal interaction that then leads to deeper and richer interactions," said Carnes.
CIR applications are similar to Georgetown applications for ordinary students. Chaplains are generally expected to finish four years of residence before they apply for each individual year thereafter. The application process includes professional letters of recommendation, an interview with Georgetown officials, and an essay about why they feel they would be a good fit for the Georgetown Chaplain-in-Residence program.
"The Georgetown value of the whole person [cura personalis] goes into this too," Daniels said. "I appreciated that aspect of caring for me as an applicant, not as though it's some detached application."
Chaplains fill a wide range of identities and demographics. Some chaplains are professors at Georgetown, some are graduate or Ph.D. students themselves. Some are nearing the end of their time at Georgetown, some are experiencing the Hilltop for the first time. Some live alone, some have young families adapting to life on a college campus.
For chaplains with families, such as Rev. Katie Francis, who is a Presbyterian chaplain in Village A, Georgetown presents a unique home and play area for young children. "They do think they live in a castle. They're all girls, so they think this is a real castle. And that we live and work in a kingdom. [Copley] Lawn is their front lawn," said Francis.
For some CIRs, their interest in education matched well with their passion for ministry.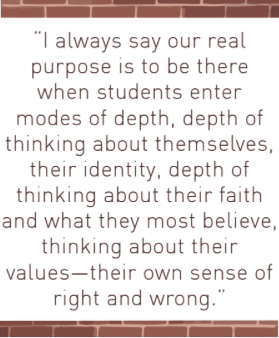 "When I was in high school, I thought about becoming a pastor, but for whatever reason, never became one. I trained to be one, I got my Master's of Divinity, but I also ended up teaching in different schools and decided I really loved academic life and wanted to be a full-time professor," said Easten Law, a Church of the Savior chaplain, and the other Village A CIR.
Francis, in a story similar to many other chaplains-in-residence, happened to stumble across her job. An opportunity to serve as a chaplain-in-residence coincided with her desire to raise a family. A normal ministry job is hectic, and requires many late nights and weekends to help with various crises. In her apartment in Village A, however, she has found the opportunity  to help students while taking care of her three daughters, the youngest of whom recently finished her first trip around the sun.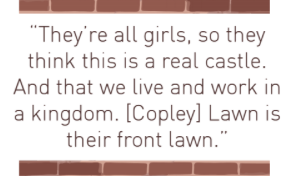 "I remember reading the description over and over again and thinking, 'this can't be real,'" said Francis. "Ten hours a week in exchange for rent in Georgetown, living with students, hosting open houses. It just sounded so fun."
For the most part, young students and chaplains' families get along without any problems. Students seek help when they feel they need it, and chaplains are ready to listenwhenever an issue arises.
One would expect  this to change on the weekends, though, when tension might arise between the chaplain's families and students who are looking to blow off the week's stress. Chaplains, however, say that parties are rarely a burden on their relationship with students.
"The partying usually gets started after the kids are asleep, and they're pretty heavy sleepers, so it hasn't really impacted us at all. We've been thankful for that," Law said.
CIRs recognize that partying on campus is part of life when choosing to live on campus.
"When people are doing more of that socializing or heading out, I'm usually back in my own space. It's not like I'm wandering the halls when they're going to parties," Carnes explained. "I think that gives them the space to be who they are at the age they are. It gives me the space to be who I am at the age I am. And each of us to be happy in the building."
"We don't police the neighborhood. Similar to if we lived in Georgetown and somebody was too loud. We have amazing students, and for the most part there's never been a problem," Daniels said. "And even if they are louder, it's a college experience, that's an expression of what it means to be in college and we acknowledge that and are grateful that they have that the space to do that."
In some cases, it has even made the bond between chaplain and student stronger.
"I've even had a couple students come to my apartment, and they're like, 'We're gonna host parties, here's our number, put it in your phone. If your kids wake up, if it's too loud, text us.' It's amazing," said Francis.
On Halloween weekend, one party had gone back-to-back nights with a DJ. On the second night, Francis texted the students, asking if they could lower the music as Francis' mother was in town.
"In like fifteen minutes they turned the music off. I felt bad, I was like, 'You didn't have to turn it off, you can turn it down.' It was just so cool, just the respect people have for our family here," said Francis. "That really meant a lot to me, and we've been kind of close to that apartment, and they've stopped by for breakfast Saturday morning. So, it hasn't been bad, it's been really good."
Francis fosters a particularly strong connection with her students. Ozette, her youngest daughter, was born during last year's snowstorm. Her residents, worried that she may have trouble getting to the hospital, texted her asking for updates. At one point, Francis and her husband were having difficulty getting their van out of their parking spot. Students walking past saw Francis in labor, and promptly called a GERMS ambulance.
"It was fabulous, we had so much support … the students came by and brought presents and meals and it was really cool," Francis said.
The type of interactions that chaplains will have with their residents can rely heavily on where the chaplain is placed. The different housing options on campus can lead to far different experiences. The problems that freshman students face, are often different than those of upperclassmen, who have already adapted to living away from home.
"That freshman year is really that moment that a lot of people are trying to build relationships, so I know a lot of the CIRs and JIRs [Jesuits-in-Residence] in freshman dorms, tend to function as a centering place for relationship building," Daniels said. "Most likely students don't know each other at that point. Everything is new."
Freshman students tend to have similar problems every year. While homesickness exists at every school, the atmosphere at Georgetown often promotes an increased sense of pressure and competition, leading students to question their ability and their place on campus.
"There's a lot of people who have done super well academically in their high school, they barely even compete. Then they get here, and they're like, 'Oh, there are other people just as smart as me,'" Francis explained. "So then academic wise, and if they're trying to get into clubs, starting to party, if their grades [drop] … they get really upset."
While younger students often struggle with making new relationships, upperclassmen tend to have more difficulty dealing with their current ones. Living with people in a close, confined space can strain any close friendship.
"People have friend relationships, they're living with roommates, and in Henle now they're really in this intimate setting," Daniels said. "You have your kitchen there, you have your bedroom, sometimes they're connected, they're not the biggest rooms, and so when people have some questions and thoughts and maybe even struggles we get to support that, as opposed to intervening in a correcting way."
CIRs may sometimes seem out of place and imposing. In reality, the purpose of the position is just the opposite. Chaplains care for their communities. When students get pushed off their path, chaplains are the ones who show them how to get back on track. They make meals, they talk through problems, they make students feel at home. They exist to communicate, to guide, and to remind students of something that sometimes gets lost at Georgetown: everything is going to be okay.