Faith Woodard is trying to leave a legacy.
The women's basketball senior forward played her final regular season home game at historic McDonough Arena on Feb. 19, helping the Hoyas secure a 81-63 win over Big East opponent Xavier.
Woodard has been an instrumental part of a Georgetown team that completed one of the best turnarounds in college basketball just a season ago, improving from a 4-27 record in the 2014-2015 season to a 16-14 record in 2015-2016. Despite graduating five seniors following last season the Hoyas have improved upon their success with a 17-11 regular season record as they head into postseason play. Georgetown women's basketball prides itself on being tough and scrappy on the court, and according to Head Coach Natasha Adair, that begins with Faith.
"She's pretty scrappy now, I mean she is involved in a lot of those gutsy plays," said Adair, "You know, early on in her career she might not have been the one that you would say is gonna battle on the boards; she was more finesse, but she has prided herself on being tenacious and being tough, and being that warrior and that scrappy kid out on the floor and I think it's been contagious for her teammates," Adair said.
This warrior mentality was evident in the final seconds of Georgetown's home game against Providence on Feb, 3. Trailing by three with just seconds remaining on the clock, Georgetown sophomore guard Dionna White missed a game-tying three pointer, but Woodard grabbed the rebound, dribbled out to the three point line and hit a buzzer beater to send the game to overtime. The Hoyas would eventually prevail in the extra period.
Woodard has been a dominant force in her senior season, averaging 13.9 points and 7.8 rebounds per game. She has averaged 33.2 minutes per game, more than any of her teammates, and she has been named to the Big East Honor Roll twice. She has also reached several milestones, amassing over 1,000 career points, 500 career rebounds and 100 career blocks, becoming just the fourth female Hoya to ever do so.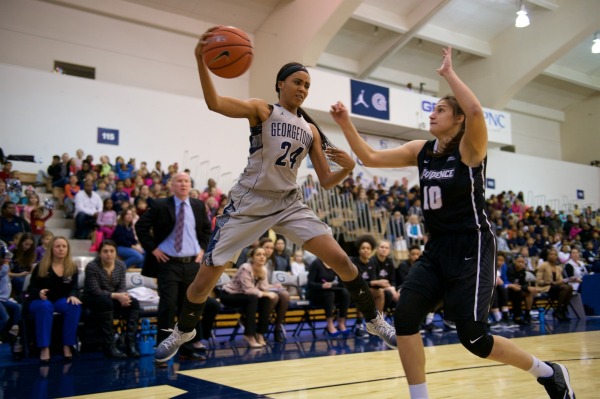 "It's just something that I tried to focus on and something that I really wanted to get and to do that, to get that done with all my teammates, is really great," said Woodard of reaching her 1,000th career point. "I think that milestone in general is good for any player, but especially in the Big East, because it is so competitive…it's anybody's ball game."
The loss of the class of 2016 left a void in the team's production that Woodard has readily filled. On the court, Woodard leads by example, but as a senior captain, her leadership extends off the court as well. Adair remembers Woodard coming to her prior to her senior season and saying, "'Coach, I want more. I want to embrace this leadership role.'"
And that she has.
"She is the voice when I need to send a message, or if there's things that they have to hold each other accountable for, I go to her,' Adair said. "If I want to send a text to get to the team, it's through her."
Despite her tremendous success as a Georgetown basketball player, Woodard has expanded her horizons far beyond the hardwood. On campus, she is a member of Georgetown Buzz, a broadcast journalism group, with which she frequently covers events on Georgetown's campus. This past summer she interned at NBC News in New York. Now, as she finishes her final season of basketball, she is simultaneously interning at USA Today.
When Woodard was first offered the internship with NBC News, she came to Adair cautiously, knowing that it would mean missing summer workouts and training.
"Some coaches might not have been supportive, but I'm like 'that's awesome!'" Adair said.  "I get excited about it and it's not facetious, but I did say 'there's a responsibility now. While you're out and you're in New York, stay in contact with your teammates, check in on the freshmen, make sure you're still holding up your end of the bargain as far as training' and (Woodard) said 'I won't let you down.'"
Since coming to Georgetown, Woodard has pursued a major in English and minor in Journalism with the dream of one day entering the broadcast journalism industry. She admits that it can be tough at times to juggle the demands of Division I basketball with internships, extracurriculars, and Georgetown academics, but, as Adair noted, she has handled it beautifully.
Adair credits Woodard's success outside of basketball to her incredible work-ethic. "[It comes from] who she is from a confidence standpoint and just knowing what she wants to be," said Adair, "she's always talked about broadcasting and being that face. We've talked throughout her career about what her path is gonna be to get there…she really drives herself academically, athletically, socially, professionally, and what an example as a teammate. She just has it all."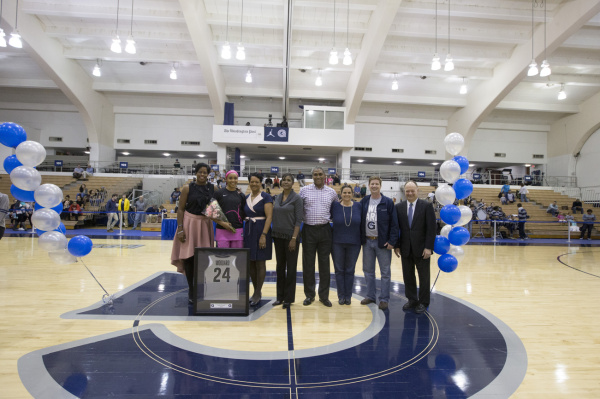 Due to her success in the classroom, Woodard was named a Big East academic all-star in 2014, 2015, and 2016. Recently, she was accepted to The UC Berkeley Graduate School of Journalism. She is still waiting to hear back on other schools, but she remains excited about any open door.
Although her remaining games as a Hoya are limited in number, Adair believes that Woodard's presence will be evident in the coming years.
"When she does leave, she will leave a legacy," said Adair. "Her teammates have someone to always refer to and she's always gonna be there for them…I'm sure there's gonna be so many points of references in conversations; 'hey, you know what, Faith would have done it this way,' or 'how I can I step into that role?'"
Woodard is more hesitant to look back. "I hope to finish (the season) with a Big East Championship, and just with a healthy squad and a motivated squad for the next year coming in," Woodard said.
The Hoyas are currently an NCAA Tournament bubble team, according to ESPN's Charlie Creme. With the Big East Tournament set to begin on March 4 in Milwaukee, Woodard could have plenty of basketball left to play in her career.
In her final regular season game on Feb. 26, Woodard scored a career-high 31 points and grabbed 11 rebounds, but the Hoyas were unable to prevail against conference leading No. 19 DePaul. The 69-60 loss guarantees the Hoyas a 6-seed in the Big East Tournament, where they will take on 3-seed Marquette in the quarterfinal round.
When the Hoyas head to Milwaukee, Woodard will attempt to add a Big East championship ring to her already-stellar Hoya resume. But before a game is played at the Al McGuire Center at Marquette, Woodard will have already cemented a legacy as an outstanding student-athlete, and incredible Georgetown women's basketball player.