When Joe White toed the line for the 800-meter NCAA championship on Saturday, he brushed shoulders with future professionals and Olympians.
Texas A&M's Gilliam Indoor Track rocked as the gun exploded and the six-foot-one junior tucked into the pack for the near half-mile race.  Elbows flew and spiked-feet stumbled as White battled for space on the tight 200-meter banked track, finally settling in at fifth place. Virginia Tech senior Drew Piazza broke the rhythm and bolted from the pack with 300 meters to go, and the rest of the field surged in pursuit, leaving White in sixth.
The bell rang for the last lap and White took off, swinging out into the second lane for the final turn and slingshotting down the last straight. After dusting two runners from the pack, he leaned through the line just inches from Piazza and the University of Texas at El Paso's Emmanuel Korir's backs, finishing third in the nation at 1:47.79.
For White's fellow All-Americans, the race was the culmination of a near decade-long devotion to track, from youth races through high school and college competition. However, for White, the Georgetown indoor record-holder and a former Big East champion, it was just the latest unforeseen result of a high school injury.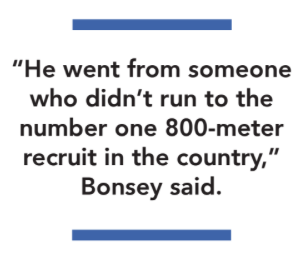 Before White was breaking track records or making the semifinals at the Olympic Trials, he was a baseball player at New Jersey's DePaul Catholic High School. White joined indoor track his sophomore year to satisfy DePaul's requirement that all students join a sport. He wanted to get in shape for baseball, and had no interest in running.
That all changed one snowy day in 2012 when he broke his left wrist wiping out while snowboarding.   
After sitting out his sophomore baseball season due to his injury, White rejoined indoor track his junior year, this time trying out longer distances.
"The first 800 he ever ran in high school he ran 2:07," said Georgetown Middle Distance Coach Brandon Bonsey. "Within three months he had run a 1:50, which is an amazing time for a high school junior."
DePaul didn't have a track, so White ran in the parking lot.  He barely trained, running between 10 and 15 miles per week, Bonsey said. Instead, White relied on his natural speed and his fiery will to win.
"He's certainly supremely physically talented, but I think his biggest asset is just his competitiveness at the end of races and how he deals with [fatigue]," Bonsey said. "He just fights really hard at the end of races. He's always had really good finishing speed."
That spring, White left baseball behind for outdoor track. Less than eight months after his first 800, he was the New Jersey state champion.
"I didn't know how far running would actually take me. My high school coach, I think, saw it before I did. She sat me down one day and she said, 'I think you can go pretty far in this sport,' and I didn't even know what that meant then," White explained. "A lot of people just thought I'd go to a DIII school and grind it out there, but I had different plans."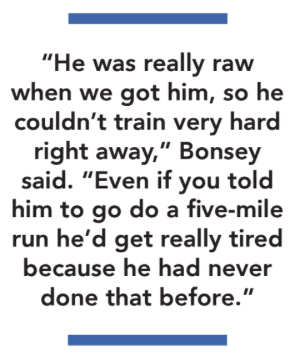 "He went from someone who didn't run to the number one 800-meter recruit in the country," Bonsey said.
Though White had his pick of the top collegiate middle distance programs in the country, Georgetown, with its track history, academic reputation, and culture, emerged above the rest.
"Georgetown just has a history of great athleticism and great athletes, and a great history of winning," explained Georgetown Director of Track and Field Julie Culley. "You come to a place like Georgetown to be successful because the teams have always been successful, and that's the expectation. It's not a program where we hope to make the NCAA championships. It's a program where we expect to make the NCAA championships."
Throughout his tour of college visits, the close friendships of the Georgetown team stood out, White said.  "I know everybody says this and it's going to sound a little cliché, but we are like one big family."
Bonsey and Culley could not train White like their typical incoming freshmen. While most Georgetown recruits had trained for the punishment of competitive running for years, White's body was still new to the sport.
"He was really raw when we got him, so he couldn't train very hard right away," Bonsey said. "Even if you told him to go do a five-mile run he'd get really tired because he had never done that before."
Bonsey focused White's training on aerobic development, pairing him with both the 400-meter runners and milers in order to work on both strength and speed, as well as versatility.
"He's got great, great camaraderie with the team," Culley said. "The men's team has just a really good thing going. The guys want to be good. Joe sets the tone for that."
The training worked, slowly during his freshman year, as White managed to train more and more with each season, Bonsey said.  White was now training year-round for five to six months of competition.
"The workouts in September, those are probably the toughest for me because I know I'm not going to be able to manifest whatever that is until January," White said. "That's definitely the biggest challenge for me. Especially over the summer when I'm home my friends just want to hang out, but I still have to run every single day."
Everything clicked towards the end of White's sophomore indoor season, when he breezed his way to three Big East titles, blowing out the field in the 800 and sparking a historic calendar year of running. He had only been competitively running for three years.
"I just think this breakthrough season of his is really just more of his development, it's a long time coming," Culley said. "He's just a phenomenal athlete and has really just had a chance to grow and get stronger and mature and that's the athlete you're kind of starting to see right now."
Bosney also attributes the jump to a consistency of work, as well as a newfound confidence.
"I think I just kind of matured," White explained. "Throughout workouts, being able to listen to my body and know what I can push and when to call it a day and when to cool off in workouts. I feel like I'm much better at racing with this competition now… Good guys can beat guys that are better than them every time if they know how to race."
After defending his conference title in the outdoor season and running a then-personal record of 1:46.66, White qualified for the USA Olympic Trials at Hayward Field in Eugene, Ore., the Mecca of American track and field.  White placed second in his preliminary heat with a time of 1:48.68, earning a spot in the semifinals, all before his 21st birthday.
White's junior indoor season picked up where his sophomore season left off.  He broke the Georgetown indoor record for the 800 at the Iowa State Invitational, running 1:46.44. With a trip to the NCAA championships on the line, White broke his own record just one week later as the 800-meter leg of the Distance Mixed Relay (DMR) at the Alex Wilson Invitational in Notre Dame, Ind., in 1:45.80.
"The DMR at Alex Wilson was a really stressful race," senior 1,500-meter leg Scott Carpenter wrote in an email to the Voice. "It was our last chance to qualify for nationals after we missed the first time at Penn State. Joe's 800 leg was probably the most impressive performance by anyone who has been on the team since I was a freshman. He brought us back into contention in that race and actually gave me the baton essentially in the lead…Everyone else on that relay ran solid races, but Joe was excellent."
"I was just trying to get the nationals time," White added. "I knew that I was more fit than I was in prior years. I've grown into my body a bit more this year. It's something I definitely think about, but when you're fighting for the team like that to get the DMR into nationals, I definitely wasn't thinking about the record, I was just trying to make sure we got that time."
Georgetown has featured several Olympians in middle distance events throughout the years. Rich Kenah, a previous indoor 800-meter record-holder, went on to earn a world medal. For Bonsey, this puts White in good company.
White's eye is now set on the outdoor season and a trip to the USA Track and Field Championships in Sacramento this spring. There's also another school record to be considered.
"I know he's really eyeing that outdoor [800] record," Bonsey said.
"Joe, I expect him to break all the records at Georgetown," Culley laughed. "I think all of us feel very excited to be along for the ride in his journey and to be a part of that. He's one of those very, very special athletes that doesn't come along very often…Beyond Georgetown, Joe has the potential to continue to compete at a high level. And I really feel like the sky's the limit for someone like him."
White plans to run professionally after graduation and continue to pursue USA Championship titles, as well as spots on world championship and Olympic teams.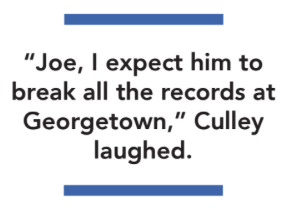 "Joe is already a very confident athlete, so I don't think I need to say anything too extreme to get him to believe in himself," Carpenter wrote.  "He sees himself staying in the sport as long as possible as a professional athlete, and I see no reason that won't happen."
Still merely four years into the sport, White's future in track appears bright. Any future on the slopes, however, might be a very different story.