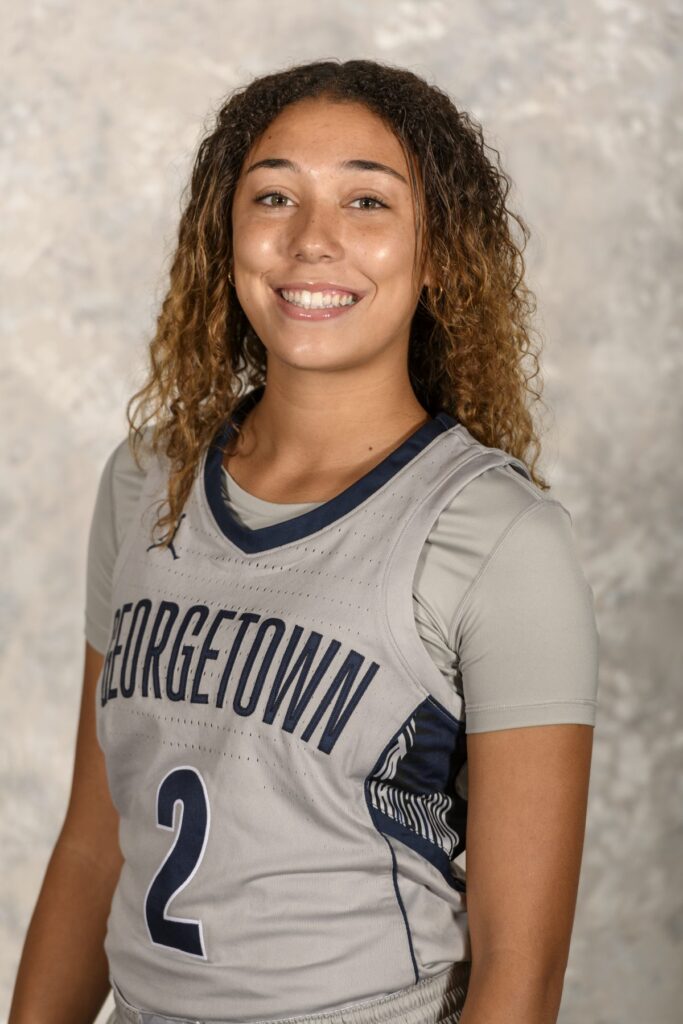 Cassandra Gordon — 5'10" guard
Cassandra Gordon comes to Georgetown from Santa Barbara High School, where she was a four-year starter at the guard position and earned Second Team All-California Interscholastic Federation honors in 2017. She averaged 16.3 points per game in her senior year on 42 percent shooting from the field and 71 percent at the line. After Gordon signed her letter of intent, head coach James Howard had high praise for her skills. "Cassandra is an athletic guard with a smooth midrange game," he said, "who also brings great energy on the defensive end."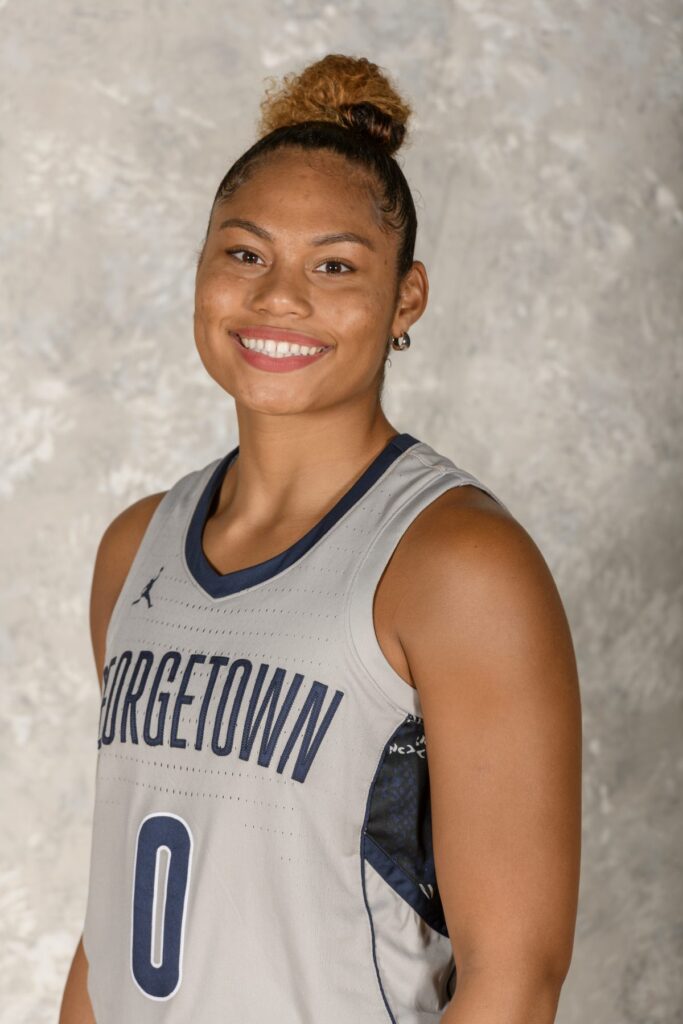 Brianna Jones — 5'9" guard
Brianna Jones transferred to Georgetown from Louisville last fall, but was ineligible to play in the 2017-18 season because of NCAA transfer rules. In 2015, Jones was ranked 40th overall and eighth in her position among her high school class by ESPN. In her senior year of high school, she was selected to play in the first women's Jordan Brand Classic, an all-star game featuring the best high school basketball players in the country. Jones did not see much playing time at Louisville, averaging 6.3 minutes per game off the bench over two seasons. As a senior at Georgetown, Jones is expected to be a leader on the team and to make a contribution both on and off the court.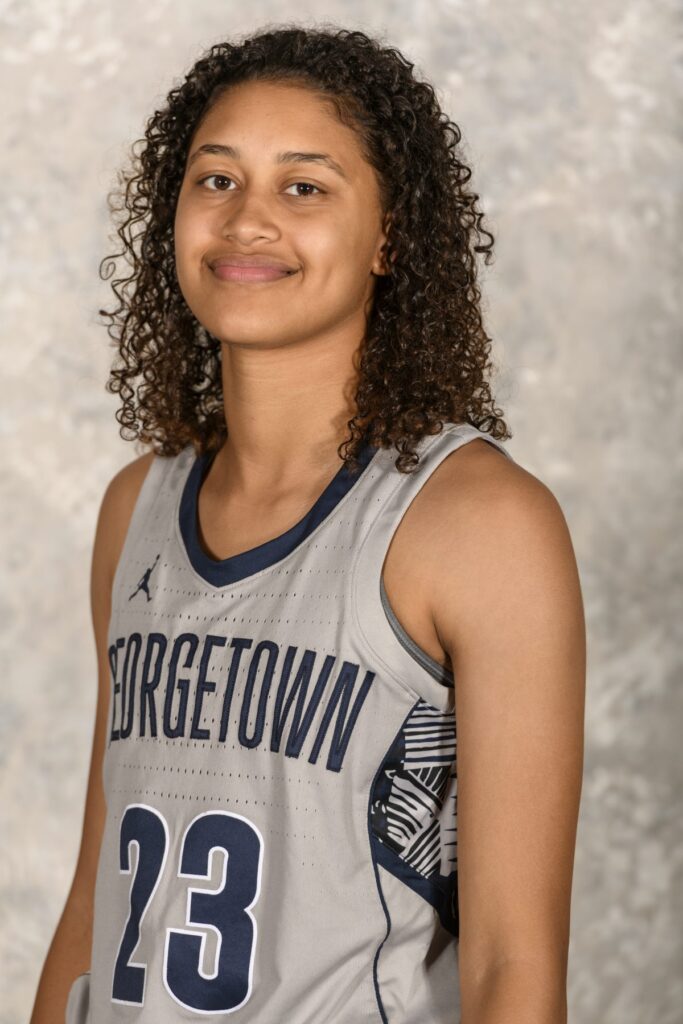 Tayanna Jones — 6'2" guard
Tayanna Jones joins Georgetown having already made history twice in her basketball career. Last spring, Jones became the first basketball player in Kenny, North Carolina's North Johnston High School history to move on to a Division I program. She also helped lead the team to the second round of the North Carolina state playoffs for the first time. In high school, Jones averaged 17.8 points per game as well as 7.1 rebounds, two assists, and two steals.  Jones has a huge advantage on the court, as her length and accuracy make her an effective player anywhere on the floor. She is confident in her jump shot inside the paint and can still lead the team from outside the perimeter, which will make her a valuable addition to this Georgetown team.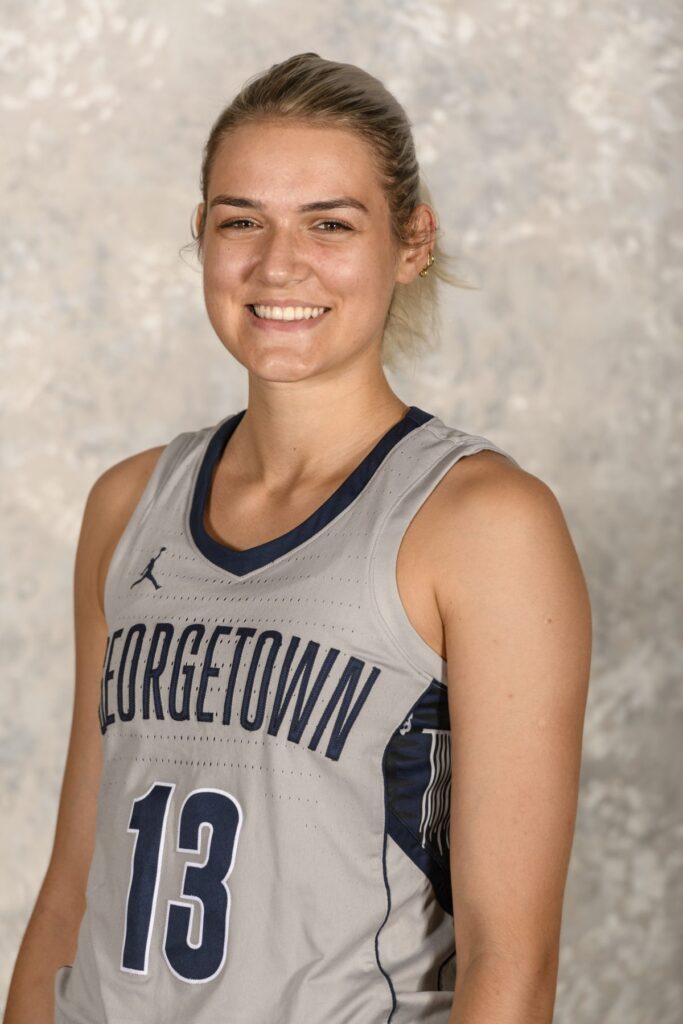 Anita Kelava — 6'3" forward
Having transferred to Georgetown from Maine last fall, Anita Kelava is ready to hit the court as a Hoya this season after sitting out last season due to NCAA transfer rules. Before joining Maine's team as a freshman, she played on the U-14, U-16, U-18, and U-20 Croatian National Teams, leading the rebounding effort of the U-18 team with an average of 8.8 per game. Kelava was ranked a four-star recruit out of high school by Blue Star Europe. Howard sees Kelava as one of the players who is ready to step up and take on a larger role this season, especially as one who can reliably score 3-pointers.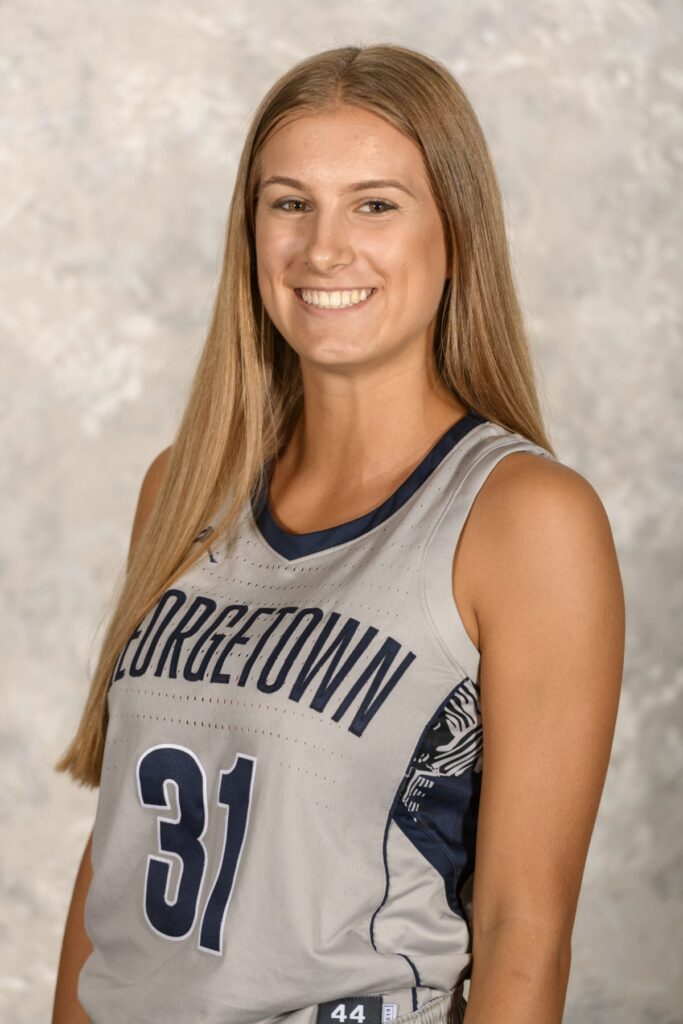 Nikola Kovacikova — 5'11" guard
Hailing from Levice, Slovakia, Nikola Kovacikova joins the Hoyas after compiling an impressive resume overseas. Kovacikova was a member of the Slovakia National Team for the past four years and recently played for UKF Nitra. While in junior leagues, Kovacikova was the top scorer for six seasons and received team MVP honors five times. In the 2015-16 season, she won league MVP in the European Girls Basketball League after finishing as the top scorer. Kovacikova also won the world championship in a high school 3-on-3 basketball tournament. "We are excited about the addition of Nikola to the Hoya family," Howard said when Kovacikova committed. "She has the ability to score at the combo guard position and it will add more depth as we head into the upcoming season."
Courtney Meadows — 5'5" guard
Courtney Meadows begins her career on the Hilltop after starting at three different high schools, leaving her mark at each stop. During her sophomore season, Meadows received First Team All-Conference honors and set the Davidson Day School single-season assist record. The following season, Meadows transferred to Rocky River School and set the single-season assist record there. She finished her high school career at Concord First Assembly, where she averaged 11.3 points per game. Howard believes Meadows will be a defensive boost. "Meadows is one of the best on-ball defenders in the nation. Her speed and toughness will play a valuable role next season," he said when she committed in 2017.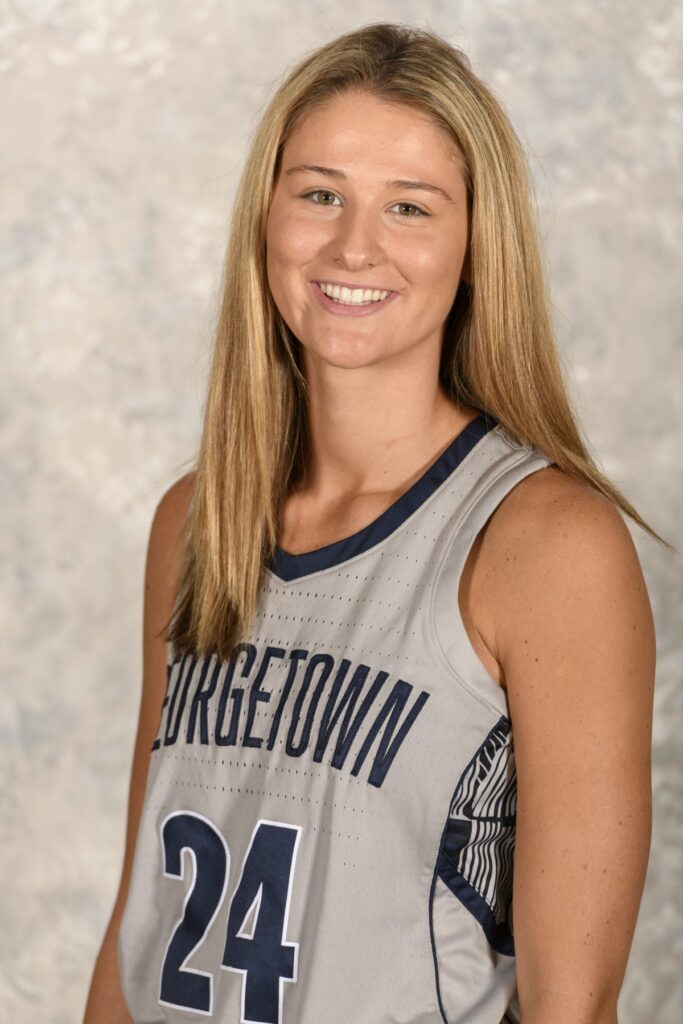 Lilly Wehman — 6'2" forward
Lilly Wehman arrives to the Hilltop from Loyola Academy in Wilmette, Illinois. Wehman, who holds the all-time blocks record at her high school, looks to bring the Hoyas the same athleticism and defensive prowess that she exhibited in high school. Wehman has battled numerous obstacles during her career: She tore her ACL in 2015, forcing her to miss her sophomore season, and was only able to start playing again the following summer. During her senior year, she led Loyola Academy to a regional championship while playing through a stress fracture in her left foot. As a rim protector and player who can stretch the floor on offense, Wehman will be a valuable addition to the Hoyas.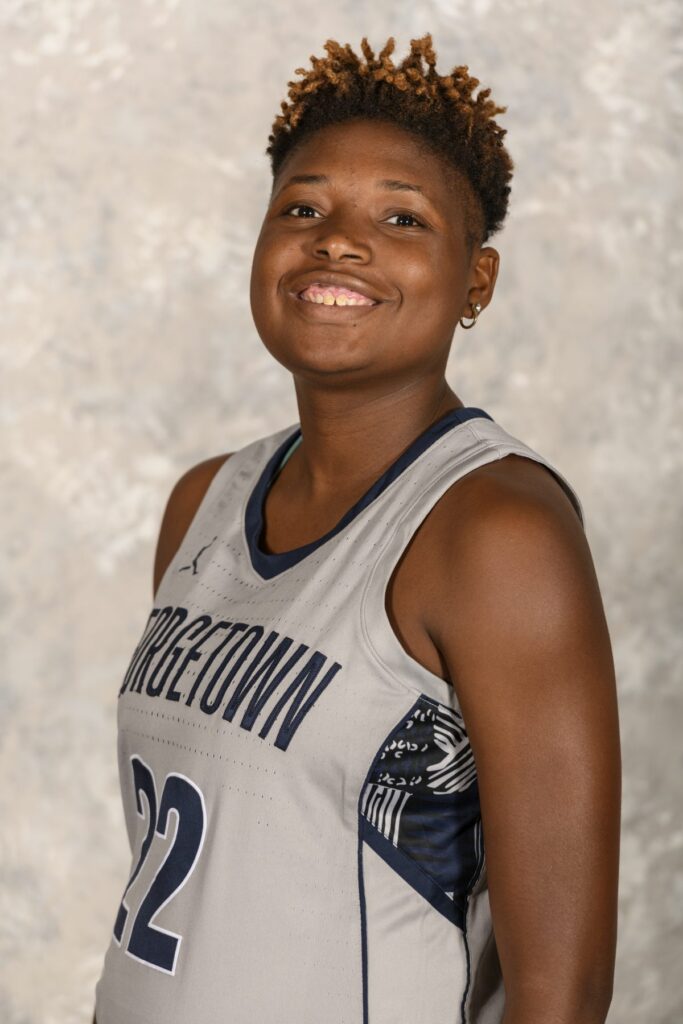 Shanniah Wright — 6'1" forward/center
Shanniah Wright, a graduate of Polytechnic Preparatory Day School from Brooklyn, New York, joins Georgetown as an established scorer and four-star recruit. ESPN ranked Wright as the 83rd best recruit in the nation and the 16th at the forward position. In her high school career, she averaged 24 points and 16 rebounds per game. Her other accolades include three First Team All-State selections, as well as four First Team All-League selections. According to Howard, her footwork is of particular note. Wright could make an immediate impact, both in the paint and on the glass for the Hoyas this season.