Books are alive, and they remind readers what it means to be so. An opening page emits a promise of adventure and fulfillment. An author will reveal stories only to those who have the courage to venture into a world beyond their own. Books enhance your mind and touch your heart. It is no wonder, therefore, that a giant event devoted solely to celebrating their value has continued for the past two decades. 
The Library of Congress hosted its 19th annual National Book Festival on Aug. 31 at the Walter E. Washington Convention Center. The event, which former First Lady Laura Bush initiated in 2001, promotes books and literacy and has historically featured countless notable presenters. Humanitarians, poets, authors, journalists, literary critics, and more have appeared at the event to sign copies of their books and present about their fields. In addition to hosting public figures that spark adults' interests, the festival includes a multitude of activities and speakers specially catered to captivate the attention of younger attendees. Its continued presence and success are clear evidence of the relevance and importance of books to our society. 
 Keisha Siriboe, director of content and programming for the children's literacy non-profit Reading Is Fundamental, summed up the value of the event in a few words: "It's all about loving literacy and just the power of a great story." 
At first glance, the festival felt almost overwhelming, a buzz of energy permeating the event space as people, with noses deep in brochures, walked to and fro, sometimes congregating around the giant information booths. Despite the hectic air that filled the rooms as people rushed to and lined up for presentations, the festival committee's careful planning and experience were evident. The brochure map highlighted a "lost children" section, and coffee carts were stationed prominently around the venue—an important feature for a festival that opened its doors at half past eight in the morning. 
An 11:30 a.m. presentation featuring Supreme Court Justice Ruth Bader Ginsburg, who inspires fervent cultural awe, resulted in widespread excitement. According to a bystander, festival attendees began lining up at 7:45 a.m. to hear Ginsburg speak. The Librarian of Congress Carla Hayden and the enormous 4,000-person audience eagerly welcomed Ginsburg, who discussed her autobiography My Own Words, her experiences in law school and as a judge, her traveling adventures, and her ongoing battle with cancer.
For attendee Denise Neary, Ginsburg's presence proved that books give readers a chance to see a broader narrative about familiar figures. "I think that sometimes people think that, for example, Ruth Bader Ginsburg was born a Justice. But she has a story. And every person has a story. And that gives people hope," she said. "It's a little sense of, 'Oh, you, someone who is flesh and blood, are a writer and somebody that, if you're a little kid, I could be.'"  
Besides Ginsburg, other featured speakers included chef José Andrés, graphic novelist Raina Telgemier, and historian Henry Louis Gates, Jr. 
If books themselves are the main actors, the variety of people and their diverse stories hold the crucial supporting roles. Holly, a mother and a self-professed "literature person," has fond memories of the National Book Festival stretching all the way back to its humble beginnings when the event was held outdoors. She reminisced about a time when she saw Hoda Kotb of the Today Show after wandering into her talk. Kotb left such an impression on Holly that she still remembers the lingering respect she felt for the host and her life. She ended her anecdote with a recommendation to keep an open mind to all that the festival offers. 
Ultimately, her experience captures the valuable essence of reading: the expansion of beliefs, understanding, and delight that inevitably follow after turning the first page of a new book. "Books teach us a lot about the world and about other people's experiences that we might never experience," Holly said. "That's a huge value in people reading more." 
Every year, the event draws newcomers and old-timers alike, but the reasons for coming are universal. The enchanting nature of what hides between covers eventually captures all people, be it a memoir of an inspirational figure, a collection of eye-opening poems, or a transfixing work of fiction. Besides their unique allure for individuals, books also possess the ability to bring people together. Neary, who has attended every festival since its inception, sees it as a family tradition. "It was something to take my children to … when they were little," Neary said. "It's just something that's been a wonderful habit."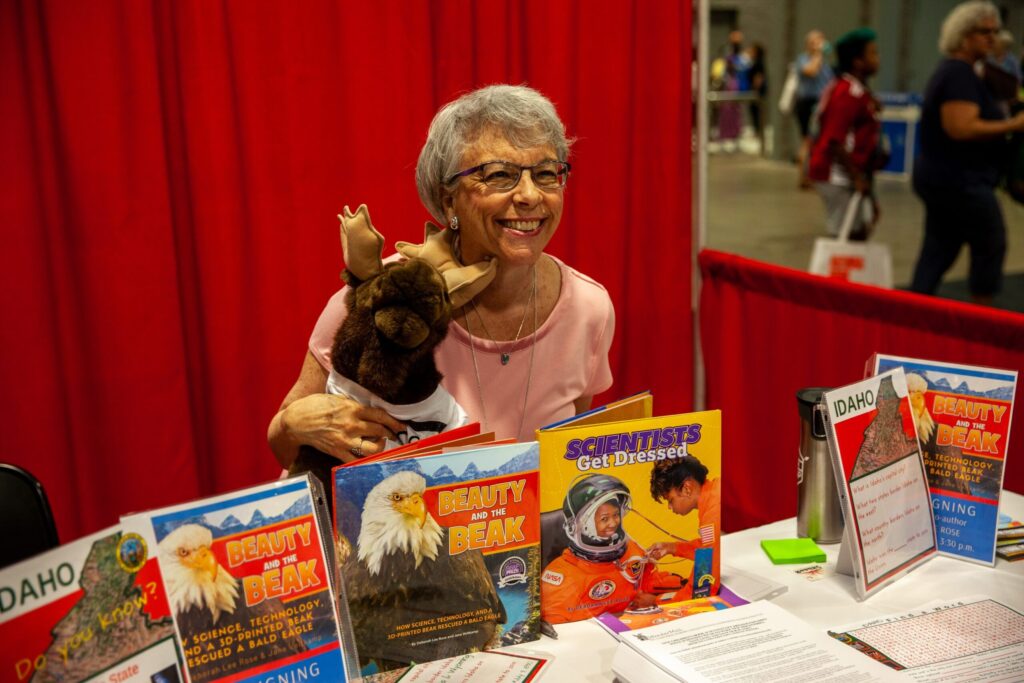 Despite the ways in which the National Book Festival remains a familiar institution for many, there were some noticeable differences from previous years. Neary recalled the first year the event was held, when tents full of authors were set up on the National Mall, between the Capitol building and the Washington Monument.
Today, the National Book Festival exists because of a cohesive team of committee members, sponsors, and organizations, many of whom were present at this year's hub: the lower level, which was a home to book signings, children's activities, state exhibits, book sales, and food booths. Local and national sponsors were present in support of the festival. Wells Fargo had a station where doting parents could take pictures of their little ones riding in a covered wagon, and Scholastic gave books to children for free. The event was largely made possible due to an important figure on the D.C. scene, local philanthropist David Rubinstein. While the Library of Congress, which did not respond to requests for comment by press time, hosted and oversaw the event, Rubinstein underwrote a major portion of the fees, a little-known fact that Neary admires. "I feel really lucky. I'm aware that while it's free to me, someone else is paying for it."
In addition to making the event financially accessible, this year's festival also aimed to accommodate attendees of all abilities and ages. The floor of the lower level featured a Library of Congress stage, where workers discussed the availability of special-needs library services. The staff informed attendees of a service for people with disabilities that would provide reading materials, such as braille novels and audiobooks.
The event provided a plethora of activities for children. Hundreds of families roamed the floor of a festival within a festival. The children's area was a perfect counterpart to the events occurring directly above. Two different stages featured presentations of children's authors and graphic novelists, including Molly Brooks, author of Sanity and Tallulah, a children's sci-fi graphic novel.
During her presentation, Brooks unveiled her latest book and shared the journey of its creation. Afterwards, she answered questions from the children who listened to her talk in a special area laden with toys and comfortable chairs. Many families are spurred on by the hope that the festival will help children to understand the importance of reading, or, at the very least, find entertainment for the day. The massive number of parents present indicated quite strongly the consensus on the importance of teaching the future generation the value of reading. 
Kai Bird, executive director for the Leon Levy Center for Biography, emphasized an overarching wish that the festival can keep the power of words alive. "This festival and other book fairs around the country demonstrate that the book is not dead—despite Twitter, despite all the words on social media, readers are still hungry for real stories, artfully told." The throng of festival attendees certainly supported his point: The book is definitely still a vital part of society. 
While the event is simply described as a book festival, it clearly is more than that. The long-standing tradition of the National Book Festival is a haven for those who love to learn, want to expand their horizons, and seek to pass down the tradition. At the National Book Festival, bibliophiles are not only present behind the scenes; they are the people walking through the doors. 
For one attendee, the festival is more than an event: It is evidence of unity in an ever-divided world. "Just look at everybody here. Just look at all the families that are here. It's like, what problem in the world? It's nice that they're down here. [It's] just a good thing to bring everybody together." 
Another visitor echoed the same sentiment. "Words matter. Now more than ever, it's so important to be able to communicate openly and kindly with one another and to understand people of different backgrounds. Books and reading can be such a powerful tool for building empathy and learning how other people see the world." The festival showcases the dichotomy of books: They are art, but they also hold profound truths.
That simply is the way it is with books; they unify. They present perspectives one might not otherwise have. They force the widening of notions and of possibilities. Books allow us to escape, but they urge us to grow. The existence of the Book Festival is a gift that spreads as it reaches more people, subsequently bestowing upon the public an infectious adoration for stories and the people who tell them.
Image Credits: Nathan Posner