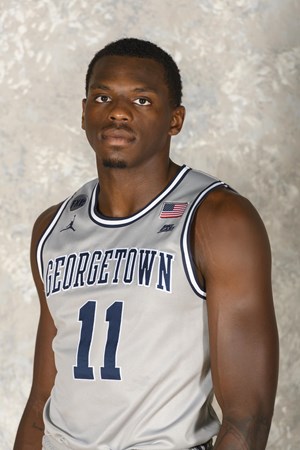 Georgetown Athletics CommunicationsGalen Alexander: 6'6" Forward
Hailing from Breaux Bridge, Louisiana, Galen Alexander was recruited by current Georgetown assistant coach Robert Kirby to Louisiana State University in 2017. At the time, he was a four-star athlete and ranked 79th overall in ESPN's class rankings, playing for Lafayette Christian Academy. By January 2018, Alexander had signed a letter of intent to transfer from LSU for undisclosed reasons in the midst of a quiet freshman season. But this did not seem to slow Alexander's basketball motor. He spent his sophomore year playing at Jones County Junior College in Ellisville, Mississippi, where he averaged 17.2 points and 8.4 rebounds, frequently notching double-doubles. His knack for rebounding and his shooting efficiency will be welcome additions to the team. As an athletic small forward, Alexander has a shot at filling the hole left by Greg Malinowski and Kaleb Johnson, who both graduated last spring. He is eligible to play immediately, and will have two years left with the Hoyas.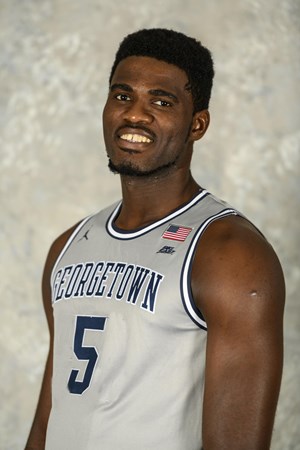 Georgetown Athletics CommunicationsTimothy Ighoefe: 6'11" Center
Timothy Ighoefe was born and raised in Nigeria and attended Africa's NBA Academy. Despite being head coach Patrick Ewing's first recruit of the 2019 class, not much is known about Ighoefe's game. His measurables, however, are hard to miss. Ighoefe supplements his towering height of 6'11" with a 7'7.5" wingspan, 8'11" standing reach, and a 10'11" one-step vertical. If nothing else, his size alone will certainly intimidate opponents. In July 2018, Ighoefe and NBA Africa competed in the NBA Academy Games, where Ighoefe scored 14 points and snagged nine rebounds. He will be competing for playing time at center with senior Omer Yurtseven and freshman Qudus Wahab. Ighoefe may not have confronted top talent on the court like many of his teammates have, but he will likely be able to use his size to his advantage and add more shot-blocking to the roster.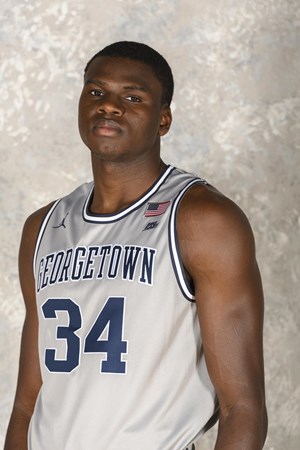 Georgetown Athletics CommunicationsQudus Wahab: 6'10" Center
Qudus Wahab is a four-star recruit hailing from Nigeria who played high school basketball in Oakton, Virginia. ESPN ranked him as the fourth overall recruit from Virginia in 2019. "Qudus is the more advanced of the [three freshmen centers]," Ewing said of Wahab, the final center to be recruited for the 2019-2020 season, "He had a great high school career, and I expect him to start his college career off with a bang." Wahab is athletic, and can run the floor well for his size. His offensive game is still developing, but he has key instincts as a shot blocker and will be able to shift the role of center to a more defensive one than former center Jessie Govan offered last season.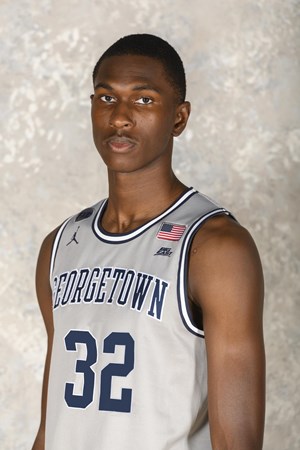 Georgetown Athletics CommunicationsMalcolm Wilson: 6'11" Center
A Columbia, South Carolina native, Malcolm Wilson adds further depth to the center position for the Hoyas. Listed at 6'11' and 205 pounds, he is known for protecting the rim, but may need to bulk up in order to succeed in the college ranks. Wilson averaged 6.3 points in his final year at Ridge View High School, when he made the All-State team, but may provide more of a contribution on the boards; he led Ridge View with nine rebounds and 5.2 blocks per game in the 2018-19 season. A self-proclaimed fan of NBA center Tristan Thompson, Wilson shares much of his skillset—speedy and strong on defense, but not a threat from the perimeter. Given the noted competition at center from Yurtseven and Wahab, it's unlikely Wilson gets many minutes off the bench in 2019-20.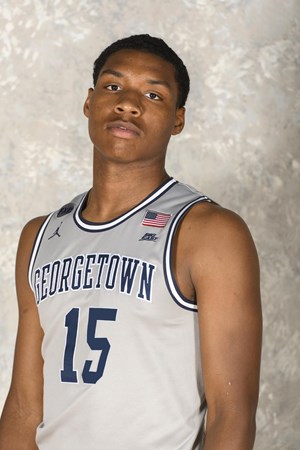 Georgetown Athletics CommunicationsMyron Gardner: 6'6" Forward
Myron Gardner is one of the two incoming forwards for the Hoyas, along with Alexander. Gardner is a Detroit native, but attended SPIRE Academy in Ohio, playing alongside high-profile point guard prospect LaMelo Ball. In his senior year, he averaged 19.4 points and 9.6 rebounds per game, and ESPN designated him a four-star recruit, ranking 37th in the nation among small forwards. Gardner boasts an imposing vertical, filling YouTube highlight reels with flashy dunks from his time at SPIRE. With impressive speed and agility for his size, look for Gardner as an exciting transition option for the Hoyas. Gardner shines with his presence on the inside but maintains an impressive mid-range game as well. His position in the Hoyas' rotation is unknown, as he'll compete for playing time with both fellow newcomer Alexander and established sophomore forward Josh LeBlanc.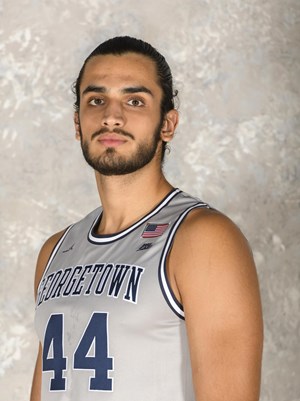 Georgetown Athletics CommunicationsOmer Yurtseven: 7'0'' Center
Omer Yurtseven will be playing his first season for the Hoyas as a senior and is expected to be one of the team's upperclassman leaders. He transferred from North Carolina State last year and sat out the season due to NCAA transfer rules, maintaining two years of remaining eligibility. Yurtseven is originally from Istanbul, Turkey, and played basketball for Fenerbahçe, an elite team within his home country. At Fenerbahçe he earned his classification as a five-star prospect, making FIBA's under-16 All-Tournament team in 2014. In 2016, he was named to FIBA's All-Star Five after Turkey received bronze in the U-20 European Championship. Yurtseven established himself as a force within American collegiate basketball during his sophomore year at N.C. State, averaging 13.5 points on 57.2 percent shooting, while logging 23.8 minutes per game. Like many other recruits, the opportunity to play for Ewing drew Yurtseven to Georgetown. "I don't see anyone in the country that can do the things that he can do at the position…shoot the ball from the perimeter, post up, defend, rebound. So I expect a lot from him," Ewing said.