Somewhere at the intersection of bedroom pop, EDM, and hip hop stands Tiffany Day, the 23-year-old singer-songwriter currently embarking on "The Gratitude Tour." Aptly named, these 19 shows are an ode to Day's fans, with a setlist showcasing her artistic evolution as she's steadily grown in popularity. The cozy DC9 nightclub, whose stage is about a foot and a half elevated from the ground, was packed to the brim on the night of St. Patrick's Day. The lucky crowd was gifted two hours of 2000s nostalgia, dubstep, and emotional peaks and valleys as Day took the audience through her limited yet sophisticated discography.
In contrast to when I saw her perform a year earlier—almost exactly to the date—it was clear that this time around Day wanted to give her fans a night of joyful escapism rather than one of anger and wallowing. She of course paid homage to her sadder hits, but she didn't linger there long; instead, Day treated them as distant memories, dancing and smiling as she briefly re-embodied her past self. 
Less than three weeks before her tour's kickoff in San Diego, Day released THE GRATITUDE PROJECT (2023), the last installment in a series of four EPs titled as "projects": RECOVERY (2021), DEPENDENCY (2021), RENEWAL (2022),  and GRATITUDE. The covers of all four depict a tie dye-esque swirl of colors, and GRATITUDE's light pink and yellow hues—coupled with the EP's titular emotion—indicate a brighter mood than its predecessors. In an Instagram post on Feb. 18, the day of THE GRATITUDE PROJECT's release, Day called the project "a love letter to those i care about most: my friends, my family, and the supporters of my work." This gratitude was palpable as she performed, hugging and holding hands with concertgoers—she even took a few lucky fans' phones onstage and posted their BeReals.
Before Day graced the stage, though, opener Alex Porat set the tone with her soft pop melodies. Most of her songs are highly produced with lots of mixing and synths, but she was accompanied only by a drummer and keyboardist on stage, allowing her beautifully airy voice to shine. She began with "bubblegum," the first song off her 2021 mini album Miss Sick World; with her ethereal falsetto she sang, "You chewed me up … boy, you spit me out." This easily digestible wordplay and her blissful twirling around the stage created a fun—if one-note—pop set. By the time she got to the deceptively titled closer, "happy for you," the audience was completely enchanted by her stage presence and stunning vocals that sang, "It's hitting me harder than I thought / I say, 'I'm happy for you' / I'm not that happy for you." 
During a brief intermission, Porat's drummer and keyboardist aided Day's drummer, Ross Murakami, in preparing the stage for Tiffany. Because DC9 has no "backstage," they had to change out the drum set and prepare a prop bed by moving through the audience, which only added to the excitement of seeing Day perform. As the mattress crowd surfed up to the stage, we got to feel like part of the show, as though we had a helping hand in realizing Day's vision. 
The bed adorned with two Squishmallows and a plush pink blanket created a nostalgic Y2K dreamscape through which Day's bedroom pop traversed turbulent relationships and her rise to stardom. The audience expectantly waited for her appearance, and Day let the anticipation build. Before she took the stage, the lights remained off while the opening to "DREAMS ABT OPTIMISM" from THE GRATITUDE PROJECT played through the speakers. Then suddenly the music cut out, and the crowd parted to let Murakami through. He played a light percussive beat as strobe lights kicked in, and Tiffany ran to take her place at the mic stand for the song's opening lyrics. 
Wearing a lime green baby tee with two teddy bears, white parachute pants, and bleach-blonde pigtails embellished with star barrettes, Day was a 2000s vision come to life. Her neon outfit and choice to start with "DREAMS ABT OPTIMISM" made it clear that we were in a for a fun night as she sang, "I guess I'm so much more secure than I thought … So I'll have a good time and I know you'll be back for me." Similar to her opener, Day forwent the vocal distortion featured on this track, making her hopefulness much more sincere in the live performance. Energy remained high as Day performed "PARTY W OUT ME," which (ironically) is a lively party hit about having FOMO that vulnerably asks, "Why'd you have to throw the party without me?"
Three songs in came fan-favorite "CALONE," which was surprisingly early in the setlist considering it was the encore of her show last year. (Multiple concertgoers at that show had periodically shouted "play CALONE!," only to end up waiting for the show's postscript.) Day turned her back to the audience while she sang the opening lyrics, but instead of being accompanied by the song's iconic, blood-pumping rhythm, it was only her voice and the track's light background vocals at first. But then she turned around, grinned, and said, "if you know this one, sing along," and the song restarted as the crowd screamed the first lyric at the top of their lungs: "My boyfriend doesn't like me!" Though the live version lacked the thrumming bassline, Murakami's drumming matched the energy, turning this groovy dance hit into a cathartic scream-sing.
Day then slowed it down a little, breaking out Yolk—her pastel yellow electric guitar. After hearing the story of Yolk's significance on her last tour (the guitar was supposed to be a rental, but Day couldn't part with it once she named it), I knew there was going to be a change of pace. One of the songs Day played was for the OGs—"TWFNO" (which stands for "time waits for no one"). Her vocals on the slower tracks were viscous like honey, flowing effortlessly from word to word; it was hard to believe these vulnerable slow jams were from the same artist who performed the electropop hits just minutes before. 
She also sang "NIGHTS W U" and "HANNA," which were part of THE DEPENDENCY PROJECT along with "CALONE," and Day admitted she had written these about "a stupid boy." "HANNA" in particular stood out as Day's raw voice cracked with pain in some moments, letting herself re-experience the insecurity and heartache from the time when she wrote the song, sharing it with the whole crowd.
But Day didn't let us steep in sadness for long; she put her guitar down, the room went dark, and red strobe lights started up as she shouted, "You thought I was a fuckin' simp? Fuck that shit!" Harsh drumming and heavy vocal distortion complimented the angry, vengeful lyrics of this unfamiliar—presumably unreleased—track. Day jumped around the stage until she ended up on the bed, perched on her knees and leaning her head back while screaming into the mic. The red strobe lights behind her made her silhouette flash in and out, making everyone in the room feel her rage with this disorienting sensory overload.
Day continued down this EDM path when she asked, "Does anyone here like dubstep?" She acknowledged that her fascination with this genre may seem surprising since most of her discography is indie pop, but as evidenced by her last two EPs, she's certainly been dabbling with much heavier electronic sounds. Day then put on a pair of tinted black sunglasses and headphones, and stepped into her alter ego "DJ Monolid." As she began her "10-minute mini-rave"—which completely omitted her vocals and her songs—Day was transported to another world from behind the turntable. The dance break was a fun change of pace, but the barrage of harsh EDM sounds was admittedly headache-inducing.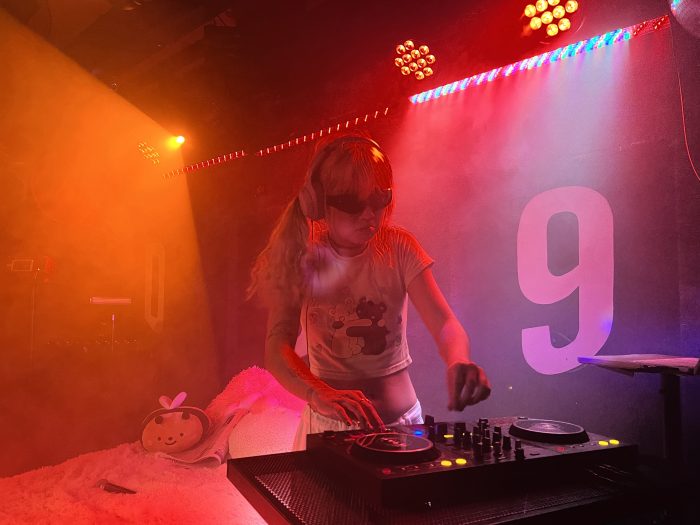 Though she allocated precious time for this intermission, Day still hit all the highlights of her discography. The crowd roared to life for her most-streamed hit single, "IF I DON'T TEXT YOU FIRST." Bringing it full circle, she closed off the (pre-encore) set with "HEART TO HEART IN THE TATTOO PARLOR," the final song on THE GRATITUDE PROJECT, which was inspired by a fan who got a tattoo of her lyrics. She was played off the stage by the final lines, "Thankful for the things that I've been given." 
Of course, she returned to the stage and said the exact words that prefaced her encore last year: "It's not over 'til I say it's over!" Day launched into THE GRATITUDE PROJECT's first track, "SAN FRANCISCO SIDEWALK." This song is an ode to friendship, but as she sang the lyrics "We may be lonely, but we're never that alone … I may bе moving, but I'll always be your home," it felt like she was addressing the audience, extending that support to us through her music.
When the lights came up, I saw the tear-stained but smiling faces of fans around me, who were still reeling from the emotional rollercoaster we had just experienced. A tangible joy hung in the air as everyone seemed grateful for a night of singing, dancing, and escape. After witnessing Day's electric, infectious energy that evening, I can't imagine why anyone would throw a party without her.