After a five-year-long hiatus from the stage, the electro-pop group Dragonette returned to the spotlight on March 23 at Union Stage for the third show of their "Twennies" tour. Expectations were high for Dragonette to bring the same early-2010s pop energy that catapulted the band's career more than a decade ago—and bring it they did. Dazzling vocals and quality instrumentation cultivated an electric sound, evoking the parties and raves of college kids and 20-somethings. For a show titled "Twennies," it was certainly appropriate.
I spoke with the frontwoman of Dragonette, or as her family and friends know her, Martina Sorbara, before her D.C. show to discuss her return to the stage. "It's exciting," she said about the comeback tour, adding that it was also "daunting and totally nerve-wracking." Sorbara's break from the stage was due to a number of factors—most notably the birth of her first child in 2018 and the pandemic that began in 2020. Yet throughout that time, Sorbara experienced what she described as "vintage woman problem": "Am I not doing this because of a guy and a kid?" she asked herself in reference to her hiatus. With the fall 2022 release of the Twennies album, 2023 was primed for her grand comeback.
If there were any concerns or worries about Dragonette's ability to replicate the energetic vibes of their older songs, those anxieties melted away in the first few minutes of the set. Outfitted in a cropped white blouse and green-striped pants, Sorbara emerged to the applause of her admiring fans. You certainly can't say her fans aren't dedicated—some of those in attendance had been following the band for over a decade. Those fans were just as stoked during the opening numbers, the throwbacks "Easy" and "Body 2 Body," as if they were hearing them for the first time. Sorbara understands her audience, and her set was expertly crafted to sample every era of Dragonette. With every song, she was able to embody and exude a vibrant, youthful energy, lighting up every corner of the underground theater.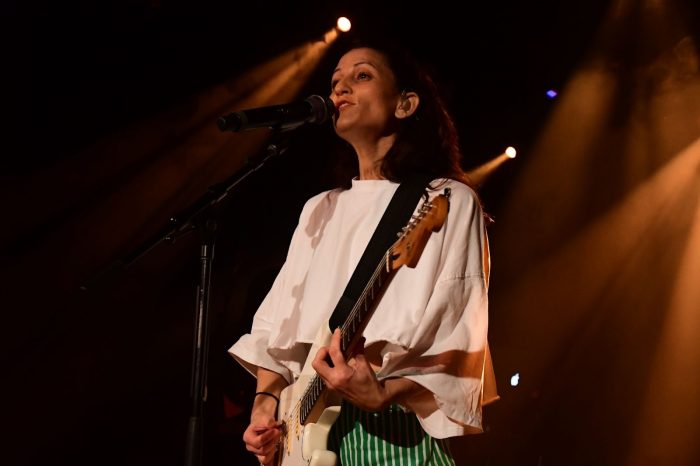 Although her set began with mostly throwback songs for the OGs, Dragonette smoothly transitioned into showcasing her latest album, proving how seamlessly these newer bops fit into her discography. "T-Shirt" and "Good Intentions" gave us gritty electro-grooves to close our eyes and sway to, whereas "Run Run Run" and "Winning" offered an upbeat pop aura to bask in. Perhaps the vibiest song of the set was "Tokyo Nights," the perfect track to stand in the skylight of your friend's car as they cruise down an empty city street at twilight.
These songs were only the warmup before Dragonette turned up the dial for the second half. Dipping into the more electronic, dance-heavy pieces from her discography, like "Outlines" and "I Get Around," Sorbara twirled and whirled across the stage, with the crowd following suit. The bass was booming, the floor was thumping, and shoulders were shimmying as every body moved to and fro. "Drag me into the twennies, I'm too cool to try," sang Sorbara during "Twennies"; like a seer speaking her words into reality, she brought everyone back to their days as 20-year-olds, when there was zero responsibility and unlimited potential. During those two hours, everyone rejoiced like they were on top of the world.
Creating that atmosphere seemed to be one of Sorbara's goals going into the show. In fact, the name "Twennies" has a dual meaning: It references both her experience in her twenties as well as the current decade, the 2020s. To Sorbara, "Twennies" encapsulates a spirit of living in the moment while also having perspective about the past.
"I think I loved my twenties, I mean, I loved my life. But there's a lot of reassessing and a lot of adjusting that's happened now. It turns out that I was living in a little bit of a fake world," Sorbara said when asked about her experience in her twenties. Since then, Sorbara has been able to grow and mature, both as an artist and as a person, without forgetting where she started. "That's one of the good things about getting older—learning about yourself and learning about the world and having perspective about your experiences." During the show, Sorbara did a phenomenal job of embodying that spirit—her set was expertly crafted to evoke the old Dragonette while still showcasing the band's modern evolution.
The culmination of this throwback ambiance was Dragonette's performance of "Hello," the lighthearted dance track that was a global smash hit in 2011. There is a good reason why this song is undoubtedly the most recognizable of Dragonette's entire discography—it's an absolute banger. If this song has ever mesmerized you at a house party or club, then you are not prepared to experience it live. As Sorbara boogied across the stage, the front row completed the iconic lines for her, belting out, "I just came to say hello!" When the chorus arrived, feet left the floor in unison as everyone bounced to the beat. It was certainly a highlight of the night.
As spirited and lively as many of the set pieces were, Sorbara was sure to showcase her musical range with more subdued, controlled moments. 
"We've made a lot of intimate moments, because I'm a grown-up now and I'm allowed to do that. I don't just need to dance in front of everybody for two hours. And I'm playing a lot more guitar than ever, which is really fun," she teased before the show.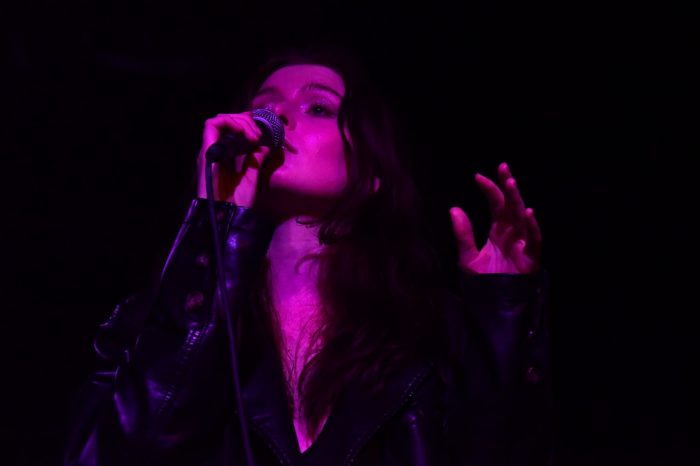 For songs like "This Is All You Get" and "Stormy," Sorbara planted herself center stage and mellowed out the crowd with soft, melodic lyrics, all while strumming along on her guitar. These short breaks from the high-intensity numbers were a welcome addition to the show and an impressive display of her sonic breadth.
I would be remiss if I glossed (wink-wink) over the opening act, GLOSSER. This D.C. pop duo started the night off right with a slower, low-key retro sound that was an excellent appetizer to Dragonette's main course, and an interesting contrast to the higher energy hits of the main act; if Dragonette was the extrovert hitting up the clubs every weekend, GLOSSER was their introvert relaxing on a rooftop watching the stars at night. With a little more experience and technical skill under their belt, GLOSSER will be headlining shows like this one day.
As much as it would have been nice to escape to Dragonette's secret paradise forever, all good things must come to an end. Every 20-something has to go back to their job or their family—that era of life cannot live forever. But by the end of the show, if Sorbara had proved anything, it was that you don't have to be a 20-something to be in your "Twennies." All you need is some timeless music, a drink in your hand, and some friends by your side to bob to the beat.