Georgetown is a political place and its most famous alums and affiliates are political figures. Kings and queens, presidents and congressmen all have ties to Georgetown. Georgetown boasts a significant global student body and claims to have over 2,500 students and faculty members from over 130 countries. With no large or famous music program to speak of, Georgetown neither creates nor attracts any famous musical performers.
But one student in particular holds the distinction of being a massive pop star in his home country, so much so that Georgetown is his personal escape from the fame and busyness of his first home.
Looking like any other student, Kim Sang-woo, a sophomore in the McDonough School of Business, entered an MSB breakout room in a simple Georgetown sweatshirt. As his interview began, Kim's powerful, resonant voice and confidence only hinted at the other side of his life.
A native of South Korea, Kim Sang-woo is more commonly known by his stage name, Roy Kim. For the last two years, Kim has managed to balance not only his studies at Georgetown but a musical career that's produced two full-length albums and three number-one singles on the Korean charts.
Although he started his studies at Georgetown in 2013, Kim has returned to campus this spring for what is only his third semester. Any time spent away from D.C. is dedicated to touring, writing, or recording his music. During his gap semester last fall, Kim released Home, his second full-length album, and traveled across Korea to promote it, making stops in Seoul, Daegu, and Busan.
Now that he's back in D.C., Kim hopes to unwind and recharge, because, unlike the average student, he uses Georgetown as the place where he takes a break and focuses as much on rest and recovery as he does on his studies. On top of that, and perhaps more relevantly, he wasn't allowed to take any more time off.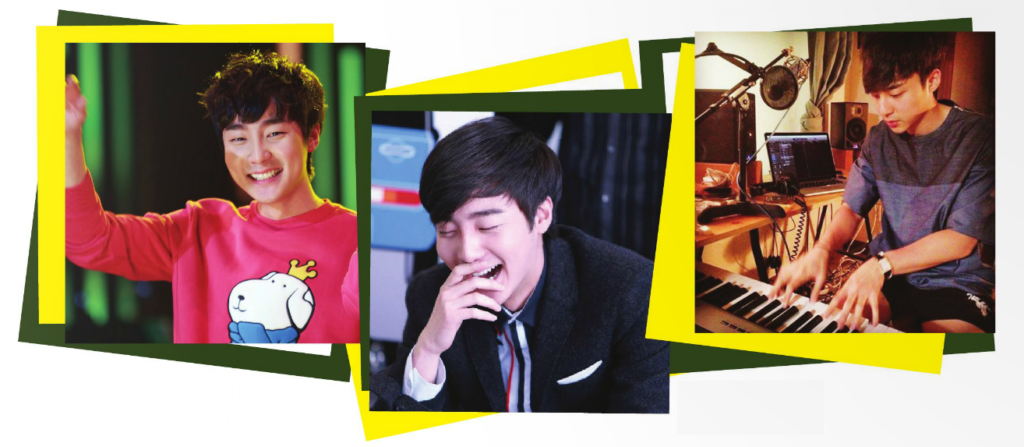 "[The administration] wouldn't let me take any more gap semesters," Kim said. "I just needed a break because so many things happened in such a short time. If you live as a singer or a celebrity—it may be different in other countries—but in Korea, you sing and you do performances just because it's in the schedule."
Kim finds that such a busy touring schedule leaves little time for reflection or even feeling normal. From the end of October to the end of November last fall, Kim performed six shows in five cities across South Korea.
"I was losing myself," Kim said. "Singing and performing is [being] myself, but people only saw me as a celebrity and not as a person. I was more accustomed to the personal and student life, so I just wanted to go back to where I would have been before and think about what I've done and think about what I should do."
Kim earned his professional start in music in 2012 through a South Korean annual television talent show series, Superstar K—akin to American Idol in the U.S. First in 2009 on Mnet, Superstar K has increasingly gained more attention and has become one of the biggest audition programs in South Korea. Each season of Superstar K hopes to find the next big sensation in K-pop. Each week candidates are eliminated, based on a combination of the scores given by judges and votes from viewers.
Kim made it to the final round and won a head-to-head battle against the band DickPunks in the show's finale. Kim sang Leessang's "Who Are You Living For?" and, as in his previous performances, arranged the song to another style, this time hip-hop. Kim donated 500 million won, the equivalent of US$460,596 at the time—the entirety of his prize money—to a Korean music scholarship foundation.
Kim's success on Superstar K earned him a contract with CJ E&M and he went right into work on his first professional material. His debut single "Bom Bom Bom" stayed on the K-Pop Hot 100 chart for three weeks, making it the seventh biggest single of 2013.
While Kim got his career started through Superstar K, he loved music for most of his life and saw it as an escape from the competitive and busy culture of his home country.
"I always liked singing and playing the guitar," Kim said. "Before I got into Georgetown, I hadn't done anything that I really wanted. I think it's generic for any yoo-hak-sang [Korean term for international students] to spend time in Korea studying SATs or doing things just for college. That's how I got into the show Superstar K, and it went on from there. At first it was just for the experience, and I didn't know I would make it into [the] top ten. But when I was given the option of taking a gap year and continuing with the show, I thought it could be worthwhile."
Kim has found live performance to be the most enjoyable part of his entire career because that is where he gets to connect to his fans.
"It's not a place to show off, but it's just me with my audience talking through the whole show, talking about how I wrote this song," Kim said. "It's a very intimate and fun experience for me. That's one of the reasons I think that my fans like me. I don't just consider myself as a TV star but just a student and fellow guy who wants to sing in front of a big crowd and is nothing different than the audience themselves."
Of course, as a young, male K-pop star, a large part of Kim's audience is female, but he embraces that fact and also insists that he has all kinds of fans.
"I think it's an inevitable thing being a male musician, there are more female fans," Kim said. "But there are male fans too. Girls tend to be more fanatic, following wherever I go, rather than guys."
Kim's desire to relate to his fans and come across as a normal guy inspired many of the songs on Home.
With its comforting, ethereal sound, Home is characterized by light guitar strumming, soft piano, Kim's strong-but-subtle vocals, and orchestral strings, all put together by three-time Grammy-winning producer Marc Uselli.
On the track "Hold On," Kim softly croons to comfort a person in distress and tells them to just come to him and be. While it's never quite clear if Kim is singing to a lover, a friend, or even a stranger, the ambiguity makes the song that much more universal and open to interpretation.
"I see people even crying during the show," Kim said, "which shows that they've went through similar things that I went through."
Home also represents a musical shift for Kim from Love Love Love, his first album.
"My first album has a faster tempo and high pitched sounds. It's more cheerful compared to the second one," Kim said. "My career had been blossoming and I was more into happiness than other emotions. I just wanted to tell people 'don't worry, be happy, it's all going to be all right.' I realize that's a really immature and idealistic way of wanting other people to be happy. Just because I say 'be happy,' it doesn't really change anything."
"My second album was kind of realizing that and taking it to another direction of soothing and writing songs that talk about people's lives that don't simply tell them to be happy but provide sympathy with stories that anyone could easily be a part of," Kim said. "And my student life definitely had a part in it. I mean most of my second album was written here in Village B."

Kim's musical influences include Ben Howard, John Mayer, Jason Mraz, and The Beatles. He explained that he follows those artists, because he sees them as just people who sing their own songs with guitars.
After all his touring and national attention in Korea, Kim thinks of Georgetown as his second home.
"At first, I didn't know anything about Georgetown when I got here, but I realized I really like it here. Everyone's really hardworking here, and that's what I really like about it," said Kim. "I usually spend my time writing songs when I don't have anything to do. Everyone tells me to join a club, but I'm a very lazy guy so I like to stay at the dorm and do nothing. I have seven more semesters here, so I could do anything."
Kim is not involved with any major extracurricular activities at Georgetown, but during his freshman year, Kim briefly participated in the Chimes, an all-male a cappella group. After appearing on a Korean radio show last October, K-pop news outlet All K-pop quoted Kim as saying that he quit the Chimes because of their "unfriendliness towards outsiders." However, Kim denied that he ever said that and apologized to the Chimes.
"I auditioned for an a capella group and I got in," Kim said. "I really wanted to do it, but I hadn't held a pencil for a year, so the workload for me was very hard. I saw this article of one of my interviews in Korea, and they said that I got out of the a capella group because I didn't like their way of treating other people, but I didn't say anything like that."
"Probably that a capella  group is very pissed at the moment. All I said was I couldn't handle it because it was overwhelming. I probably said then [that] I didn't want to be treated as a singer but as a fellow student who wants to be in an a capella group. So I want to say sorry to them. If you're pissed at me, don't be."
Because Kim's fame is confined mainly to Korea, he feels comfortable in Georgetown, and his music career rarely comes up during his everyday life as a student.
"When they do figure it out, they think it's kind of cool but aren't as fanatic as other people may think of it. Usually how they find out is that I'm in the same class with them and then they somehow hear the news that this guy's name is Roy Kim and they think 'oh there's this guy named Roy Kim in my class.' They don't bug me or anything. Georgetown takes me as a part of its community."
"This is one of the places that I feel most at home and happy," Kim said. "I feel home at my literal home in Korea, and here in LXR. It changes; I don't think home has to be a physical thing. It could be a cafe with tight friends, anywhere you can be true and honest to your thoughts."
In Korea, Kim's privacy is a totally different story.
"My second album acknowledged that even when you reach your dreams, it's not all about happiness, there are other emotions that follow."
"In Korea, drinking coffee at a cafe could be a very disturbing thing sometimes," Kim said. "If I want to spend private time with a friend or two, I just want to talk and drink coffee. Every five minutes, people would come up and ask for photos. But here people don't do that, so it's a very comfortable place."
As an undeclared student in the MSB, Kim plans to transfer into the College to study psychology or sociology, but has not yet made up his mind or thought much about a post-college career beyond music. For now, he just hopes to enjoy the ride and see where life takes him next.
"I don't think there has been a singer in Korea who went through being a singer and a student studying abroad at the same time, so I didn't have any role models to look at," Kim said. "But it all just flowed. I don't like to go against the flow. If something's going to happen, I just like to go with it."