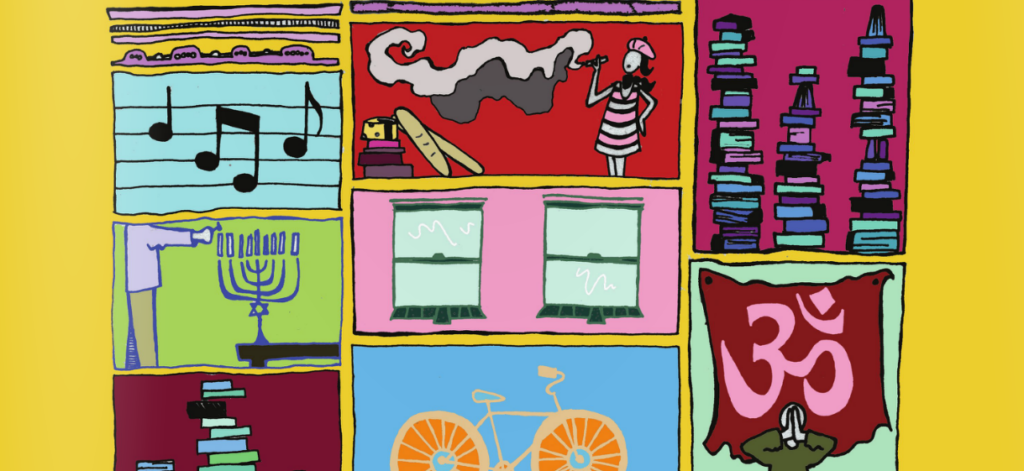 "We want to give people the ability to express themselves," Michael Marino (COL '15) a student leader of the Renaissance House said. Sitting in a living room adorned with paintings of famous Italians, Marino discussed how much the Renaissance House has come to mean to him. "It's about finding mentors and finding people that you can relate to," he says. "In that sense, the house became an open space."
One of the 11 living learning communities on Georgetown's Magis Row, the Renaissance House sits just outside the front gates of campus. Each painted a different color, the 11 townhouses make up a collective of LLCs and, at first glance, do not stand out from the rest of the neighborhood. Their windows are decorated with the occasional picture or sign, but nothing so unusual as to draw attention to the houses. Despite their relatively simple appearance, these communities are a burgeoning part of Georgetown's residential communities and are about to partner with Georgetown's soon-to-be largest and newest LLC in the renovated Jesuit Residence.
As a major part of Georgetown's current round of campus construction, the former Jesuit Residence, made up of Ryan and Mulledy Halls, will become one large LLC: the Spirit of Georgetown Residential Academy, with 148 spots open for students.
Ed Gilhool, director of Residential Education and a major planner for the new residence hall, said that the Spirit of Georgetown Residential Academy concept was a result of student input and is designed around nine tenets that encapsulate Georgetown's spirit, which include Jesuit educational mottos such as cura personalis and being "contemplatives in action."
"[In the former Jesuit Residence] students will have the opportunity to reflect, engage in dialogue and deepen their awareness of our shared values through community programs, small-group cohort reflections, [and] engagement with faculty and Jesuits," Gilhool wrote in an email to the Voice. "We are impressed with the quality of applications."
Applications to join the Spirit of Georgetown opened last December. Prior to applying, students had the opportunity to take tours of the new facility and see its apartment-style living spaces. Applications for the community closed at midnight on Wednesday, Feb. 11, and Gilhool said that they expect to receive well over 200 applications for the academy.
According to Heather, Although LLCs have existed since the mid-90s, their popularity and diversity have grown steadily over the past few years, even before the old Jesuit Residence was in the works. Gilhool added that approximately 300 students are currently part of LLCs, and that number is expected to grow dramatically with the addition of 148 students in the Spirit of Georgetown community and the creation of a new community for transfer students. Heather said that 11 percent of the on-campus population will be a member of a community at the beginning of next semester.
Starting fall 2015, there will be twelve LLCs, with themes ranging from Culture and Performance to Justice and Diversity in Action to a floor dedicated to French living. Although the LLCs have a wide variety of subjects, they all attempt to add another level of involvement to the typical Georgetown residential living experience.
"Living learning communities provide a unique opportunity for residential students to connect their academic coursework with their co-curricular involvement," Heather said. "LLC participants live in an environment that is focused around a common interest."
Of the twelve LLCs, five are available for incoming freshmen: the Living Well community, Culture and Performance, Justice and Diversity in Action, Explore D.C., and the Entrepreneurship community, giving freshmen the opportunity to cut across divisions between years and connect with upperclassmen.
Caitlyn Cobb (COL '18) joined Justice and Diversity in Action before she even started her first year at Georgetown. "I applied to JDA in order to be in a community that pushed me to become involved in community and social justice projects I otherwise would not have been exposed to," Cobb said.
As a complement to Georgetown's emphasis on service, the Justice and Diversity in Action community chooses one social issue per year for the entire community to focus on. This year, the LLC's theme is inequality, with events including service commitments, fundraising for the homeless, and programs about violence against black males in America, according to Marilyn McMorrow, the faculty advisor to the community.
Cobb said that she enjoys the connections with upperclassmen that she's formed in the community and praised Justice and Diversity's ability to foster an environment that was simultaneously supportive and productive.
One potential downside to joining an LLC as a freshman is missing out on noteworthy freshmen experiences, such as living in one of the four iconic freshman dorms. Regardless of this concern, McMorrow said that the retention rate for Justice and Diversity is impressive.
"The students have to decide whether or not they may miss out on the first year experience, but usually only two or three end up moving out," she said. McMorrow said that the program's success stems from its reputation among the student body and that some students stay in the program for all four of their years at Georgetown.
Cobb said that while she enjoys living in Justice and Diversity in Action, she realizes that she has not had a typical freshman year because of it. "It's easy to feel cut off from a common freshman experience at the beginning of the year," she said. Cobb added, however, that she enjoys being on a more relaxed floor and being able to meet upperclassmen.
Other LLCs, such as Bayit, the Jewish living learning community, and the Muslim Interest Living Community, serve as outlets for religious life and devotion on campus.
Bayit consists of 25 Jewish students living in five apartments in Henle Village. The community provides an opportunity for these students to practice Shabbat, celebrate High holidays, and open their apartments to the entirety of the Jewish population at Georgetown for dinners.
Josh Levitt (MSB '17) said that living in Bayit gives him a much more tight-knit community experience than his freshman floor did. "[The] sense of community helped me get in touch with the Jewish community at Georgetown," Levitt said. "I felt like I missed out on an opportunity freshman year."
Craig Levites (COL '17) and John O'Neill (COL '17) both credited the community for helping them to become more comfortable with their religious identity and praised the open culture Bayit fosters. This sense of community exemplifies the central objective of LLC's: creating a common space for similar groups of students who live on an extremely diverse campus.
Sydney Brooks (COL '18) applied to live in Bayit next year because she was drawn to this sense of community. "The idea of having a Jewish community within a Jesuit university was a concept that really appealed to me," she said. "My community at home was primarily Jewish, so to possibly have a community similar to that at Georgetown definitely [appeals to me]."
While LLCs like Bayit and Justice and Diversity have set themes, the Magis Row LLC collective offers students the opportunity to create their own LLC theme, which can change from year to year. Opened in 2009, Magis Row now includes 11 townhouses, a decrease in the original number of 14 townhouses.
According to Chris McCarty, the community director for Alumni Square and the townhouses, each Magis Row house is required to put on two programs per semester, one based on the particular house's theme and another that is a service piece to go along with the mission of Magis Row and is afforded a $300 budget for the projects.
"We want them to give back," McCarty said. This year, one house is doing a feminine napkin drive for homeless women in D.C.
Other houses are extensions of programs on campus. The Meditation House is an extension of the John Main Center for Meditation. "[The house] integrates the concept of meditation and contemplative living throughout college life," Meditation House resident Anthony Buonomo (COL '16) said.
As part of their efforts to achieve this goal, members of the house lead meditations on campus and host gatherings to spread awareness about the importance of meditation. "We want to get other people in the Georgetown community who wouldn't otherwise meditate to understand what meditation is and the benefits of it, " Meditation House student resident Edward Percarpio (SFS '16) said.


The Justice as a Movement house is one of several of social justice houses on Magis Row. "We're interested in social justice from all angles, whether it's law, education or art," Justice as Movement resident Esther Owolabi (COL '15) said. "We wanted to come together to bridge the gap between social justice and art."
Khadijah Davis (NHS '15), one of the student heads of Justice as Mpovement, discussed how the application process made sure that the house had a clear plan for its programs, including a trip to the protests in Ferguson, Mo.
Although the LLCs have grown considerably over the past few years and many members are excited for future partnerships with the Spirit of Georgetown, others remain conscious of a general lack of awareness of LLCs at Georgetown.
Jake Bercow (COL '16), the former president of Bayit, acknowledged that although Bayit is well-known in the Jewish community, other students are unaware of it. "[Applicants] hear more about [LLCs] in the three months leading up to college than when they actually get here," he said.
Amy Dorsey, the program coordinator for the International Student and Scholar Services and adviser for the Global Living Community, echoed Bercow's sentiment and said that she hopes to take steps to broaden the pool of applicants for her LLC.
"I want to make sure that everyone at Georgetown knows [the GLC] exists. A lot of students find out about it later and they think it's a cool idea, but by then it's too late to apply," Dorsey said. Dorsey praised the fact that the GLC has numerous transfer and international applicants, and she reiterated that she wants to get in touch with more American students as well.
Despite many hopeful outlooks for the future of LLCs, some members dislike their current LLCs.
Lilah Burke (SFS '18), a member of Justice and Diversity in Action, said that joining an LLC has extremely limited her social life at Georgetown.
"It was pretty isolating for me when everyone else I knew was eating dinner, texting [in] groupchats, and going out with their floor," Burke said. "I just didn't have those relationships."
Burke also said that her LLC lacks initiative in living up to its mission statement, noting that it does only a small handful of programs each semester. "I constantly get the question 'What do you guys do?'" Burke said. "The answer is 'Really, very little.'"
McCarty said that the LLC program has oversight measures to prevent a community from failing to live up to its own goals.
"We remind them that how they act now and what they're doing now can affect the reapplication process," McCarty said. "If it gets to the point where they've done nothing for the whole semester, which hasn't happened yet, my supervisor and I will step in to have a deeper conversation about what's going on."
Dorsey said that her students have always been committed to the LLCs' mission because they get to choose the yearly plan and programming themselves.
"We have a spring retreat where we evaluate how fall semester went, pinpoint issues on the floor from the fall, and come up with solutions for them, so that generally prevents any mid-year slack," Dorsey said.
Certain programs also have had to deal with insincerity in their applications. Specifically, the Bayit community has attracted some rising sophomores to apply, even if they're not committed to the program, in order to get a Henle apartment, according to Maddy Budman (COL '18), an applicant to Bayit.
"I know that they significantly changed the application this year, namely increasing the questions from two to five essays, to try and dissuade those types of applicants," Budman said.
As administrators are becoming more aware of problems with the system, they've taken steps to combat insincerity on the part of applicants. Bayit's changing of their application from involving two essays to five essays is just one measure.
McMorrow, the faculty advisor to Justice and Diversity in Action, spoke further to this issue. "The desire for a single room motivates some applicants who then quietly disappear when a single does not come through," she said. "My approach is to take applicants at their word."
As the LLC system continues to grow and develop, its proponents recognize that they must give attention to the potential flaws and issues, but most remain optimistic. Professor Guy Spielmann, head of the Culture and Performance community, put it best when he said that LLCs are not just about getting a certain apartment.
"They're about giving incoming and current students residential options that are more than just a room," Spielmann said. Students are brought together by their common interests and passions. "That evolves into personal bonds and friendships."