For a school known for its preppy atmosphere, the performing arts are certainly not the centerpiece of Georgetown. But if you look hard enough, you'll find a tight-knit community of students who manage to find outlets for their work. Whether you're a singer or an instrumentalist, there are plenty of outlets on the Hilltop through which you can express yourself.
Play
The Georgetown Orchestra is more or less self-explanatory. The group is comprised of the usual strings, winds, and percussion and rehearses twice a week. The group is open to everybody, but holds a mandatory audition for prospective members.
There is no marching band at Georgetown. Instead, the Pep Band, which plays at football and basketball games, serves as the main spirit-related musical group on campus. It has a drumline and a wind section and does not require an audition. Members travels to away basketball games for the Big East Tournament in March, as well as the NCAA tournament, if the team manages to qualify.
The Jazz Band is a traditional 20-piece big band that plays literature from Ellington, Basie, and Mingus, as well as more modern arrangements. The group plays at the annual SFS Diplomatic Ball, as well as other events in the city. An audition is required.
Many more student-organized outlets, like Cabaret and assorted bands are open to Hoyas looking to put their musical talents on display. Check out our preview of the campus' bands here. Georgetown's internet radio station, WGTB (there is no official explanation for the call sign), hosts several shows and open mic nights every year, both for student bands and outside performers. WGTB also broadcasts from early to late night everyday, and many eager DJs apply for a one-hour show at the beginning of every semester.
Sing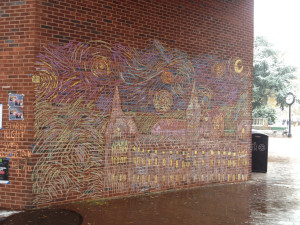 The Concert Choir is performs at least one concert each semester in addition to other events that vary each year. The group performs traditional four-part literature and requires an audition. The Chamber Singers is a smaller choral group that performs regularly throughout the year. The more compact group is more selective than the larger concert choir. An audition is required.
A capella groups are the most visible musical groups at Georgetown. They hold annual shows every semester and invite other colleges to perform at well-attended events such as the Cherry Tree Massacre and the DCAF (D.C. A capella festival). You will come to know at least one freshman classmate who will nervously audition for a group during the tryouts at the beginning of the semester.
The Phantoms, The Saxatones, and Superfood are all co-ed; The Gracenotes are all-female, and The Capitol Gs are all-male and contemporary. Finally, the Chimes are Georgetown's oldest a cappella group and they perform a set of old-school songs. Literature performed as well as requirements for admission vary by group, though most groups sing arrangements of popular music created by members of the ensemble.
Act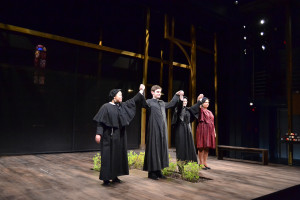 Georgetown has a diverse theater scene, and was even ranked the second best outside of New York in 2012. Performance groups include the country's longest-running college theater group Mask & Bauble and Nomadic Theatre, which once counted Bradley Cooper (COL '97) among its ranks. Read more about the theatre groups in a recent feature that we published.
The Vagina Monologues is a favorite art performance by many on campus and is frequently sold out. Put on each year by the Women's Center in coordination with student groups, The Vagina Monologues aims to break down some of the stigma against talking openly about female sexuality and anatomy with stories at times hilarious and at others sad.
Over the past year, Georgetown Improv has considerably raised its profile as one of the leading comedy groups. They have begun to consistently sell out their monthly performances before their shows begin and have to turn away people at the door. Don't miss their charismatic acts and the annual Improvfest held at Bulldog Alley.
Anyone who likes to paint or film movies is out of luck when it comes to student groups. Options for those arts are limited to their academic counterparts, which provide a lot of help and support for those who do get involved.
Shameless self-promotion
Would you like to draw, paint, or use cameras outside the Film and Media Studies Program? The Voice draws a lot and takes a lot of photos (or at least tries to). If you're one of those people, welcome aboard.