Farmers Fishers Bakers: White Girl Paradise
Reputation precedes Farmers Fishers Bakers, located along the Georgetown Waterfront, among the brunch cachet. It attracts the instagramming, parents-paying-for, cappuccino-crazy set which is all too familiar to many Georgetown students. I set out to experience the archetypal brunch location with a somewhat reluctant attitude, and I was pleasantly surprised by the interesting and delicious food selection and the relaxed buffet style.
At Farmers Fishers, brunch comes buffet style at a flat rate of $30, which includes coffee, iced tea, and desserts (alcoholic drinks come extra). Starting with the most important component of any good brunch, coffee, Farmers Fishers does quite well. The coffee has a smooth, energizing flavor that avoids the bitterness and burned flavor of your typical Starbucks cup of joe. The iced tea was amazing to a transplanted Southerner who loves a good sweet tea. With just a slight hint of jasmine, it made an excellent complement to the meal.
The diverse, wide array of food goes far beyond the typical pancakes, waffles, pastries and fruit. What stood out most to me was how colorful and vibrant every station looked, from the deep rich greens of the salad station to the crimson red of the berry jam by the French toast. A delicious artichoke dip accompanied a pita and bread station, which my brunch partner thoroughly enjoyed. The freshly made omelets, bursting with ham and other delicious flavors went wonderfully with the fluffy, perfectly made french toast.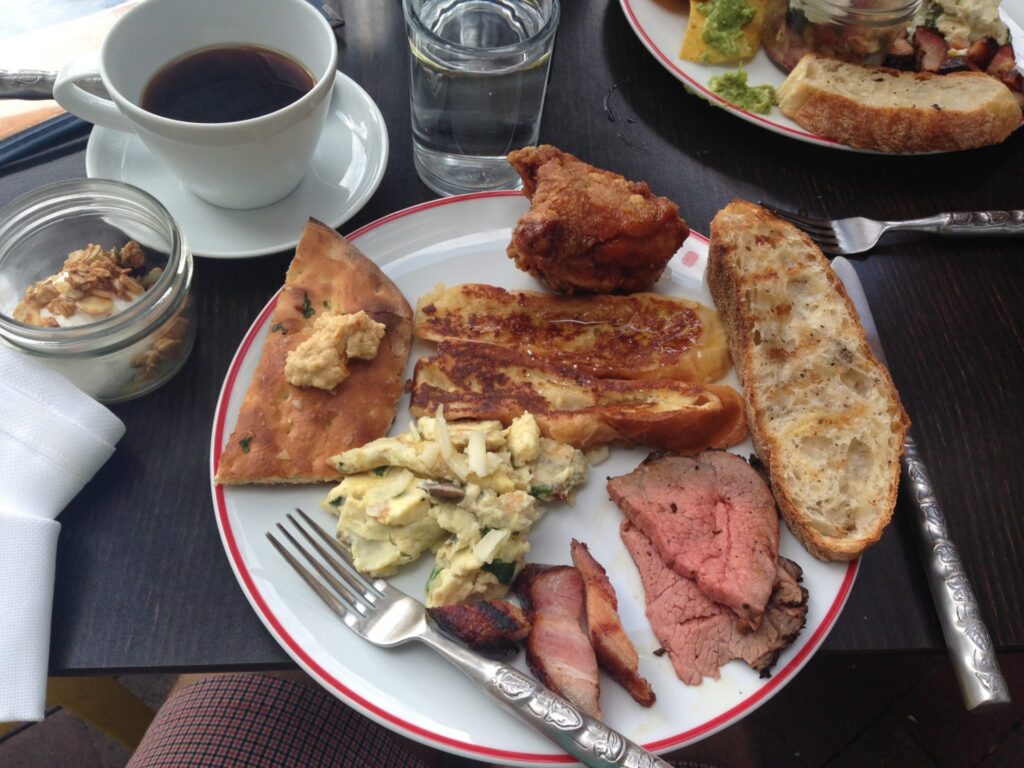 The meat selection went above and beyond any other brunch I've ever had. First, the bacon, luscious meaty chunks which achieved that perfect balance between soft and crunchy. The cured ham deeply satisfied my meat craving. Servers walking around also offered sushi for the table, which I thought was an odd yet interesting twist on brunch. Additionally, the large, soft biscuits that were brought around only added to the lovely meal. To top it off, my partner and I sampled the dessert bar. Although the beignets and small lemon cakes were simply delicious, I have to say that the chocolate cupcake melted in my mouth and finished the meal quite well.
The one downside of brunch at Farmers Fishers is ultimately the price, $30/person, plus more for drinks can quickly run up a big tab, especially if you are taking dearest out. Additionally, be prepared to call ahead, since the seating area does fill up quickly on weekend mornings. I ended up waiting for about 20 minutes but was able to have a cup of coffee at the bar during that time. While the service was very nice, I could tell that our waiter was busy and couldn't really give us a lot of individual attention. Yet all in all, Farmers Fishers Bakers is an excellent place for an upscale brunch, particularly for a special occasion or a nice Sunday to sit outside by the waterfront fountain and enjoy the fresh air.
Price: 4
Food Quality: 9
Food Presentation: 8
Originality: 8
Diversity of Menu: 7
Basicness: 100