David Bowie was…
the champion of the misfits, those that dared to be different.
He was…
a boundary pusher, causing society to take a good, hard look at itself. His words and performances changed our realities as they brought important topics such as gender norms and stereotypes into the foreground.
He was…
an incredible talent with an uncanny ability to work platform boots and a winged jumpsuit like no other. With bold confidence, David Bowie had the remarkable capability to not only be himself, but also to love himself.
He was…
a creative legend, producing lyrics that bleed of passion. Bowie went a step beyond simply loving himself; he helped us to love ourselves. His words made a difference. They meant something. "Oh no, love! You're not alone," sang the British star. David Bowie reminded us to "turn and face the strange" and to "be happy and be who [we] are."
Throughout his life, the iconic David Bowie went by many names. He was born in Brixton, England under the name of David Jones. From an early age, it was apparent that Jones was musically gifted. He picked up the saxophone as a young adolescent and played with numerous bands, including The King Bees and The Lower Third, throughout his teenage years. After these bands broke Jones into the ever-changing world of music, he decided that, in order to avoid confusion with the emerging musical talent Davy Jones, a name change was in order. David Bowie was born.
In 1969, David Bowie released "Space Oddity." In keeping with this space theme, Bowie debuted another alter ego, that of sci-fi rock star Ziggy Stardust. Ziggy catapulted Bowie into fame; the album The Rise and Fall of Ziggy Stardust and The Spiders from Mars was incredibly well received, in part because it captured the world's growing curiosity about outer space.
Bowie's timing was immaculate: "Space Oddity" was released around the time of the Apollo 11 moon landing and was used by BBC News when the station covered the event. Aside from Ziggy Stardust's content being topical, the album and persona also attracted attention due to Bowie's unique sound and style. Bowie's imperfect vocals kept his songs interesting; the soft lull of his accent coupled with his incredible range produced a sound that had never been heard before. Ziggy Stardust made a statement. Bowie paired his distinctive sounds with eccentric outfits. Women's blouses, fuzzy scarves, eye patches, makeup, sequined jumpsuits, platform boots–nothing was off-limits for the innovator. Bowie introduced androgyny to the world. David Bowie was a symbol for self-expression as he pushed the fashion envelope, bringing under-discussed topics of sexuality to center stage. While his words and dress serve to challenge societally preconceived notions of beauty and sexuality, Bowie also raised similarly important discussions on drug use and politics, just to name a few.
Bowie's fame was not to be short-lived. He released numerous other top hits during the 1970s such as "Aladdin Sane," "Rebel Rebel," "Low," and "Heroes." History again influenced Bowie's music in the song "Heroes," and, conversely, Bowie's music influenced history. At a time when the Iron Curtain divided Europe, "Heroes" told of a couple's romantic liaison by the Berlin Wall. Bowie's tortured, strained vocals belt "Standing, by the wall (by the wall)/ And the guns, shot above our heads (above our heads)/ And we kissed, as though nothing could fall." The smoky quality to his voice coupled with the repeated shouting of phrases such as "by the wall" demonstrated the tenseness of the situation and the necessity for a hero to arise. A common thread of David Bowie's music is that he has a message to deliver—his words call us to examine our world and make it a better place.
During the '70s, Bowie again experimented with different genres and personas. By the mid-'70s, Bowie had dropped the outrageous costumes fans had come to expect of Ziggy Stardust and was moving on in his music, producing songs such as "Fame" that fell into the category of soul. Bowie transformed himself once more, this time into the slicked-back-haired Thin White Duke. The Duke's music was characterized by a more electronic, synthesized sound, best portrayed  in "Young Americans" and "Station to Station." At this time, Bowie also struggled with  drug addiction. Bowie's personal life seeped into his music: "Station to Station" sounds more disconnected with an unnerving introduction and quickly changing rhythms and dynamics, mirroring Bowie's discombobulated feelings as he struggled with the addiction. The song even references cocaine, another indication that Bowie's life and music are intricately interwoven.
In the 1980s, Bowie broke into the world of pop music and once again produced memorable hits. "Let's Dance," "Modern Love," and "China Girl" include some of Bowie's smashing successes of the time. During these years, Bowie also pushed into the world of acting. In 1986 Labyrinth was released, a movie where Bowie played the part of a goblin king. The film was significant in Bowie's life because it marked the first time that many of his fans saw him as more than simply an amazing vocalist. Bowie continued to thrive in the worlds of music and acting and, in 1996, Bowie was inducted into the Rock and Roll Hall of Fame. During the '90s, Bowie also released "Telling Lies," which was one of the first songs able to be downloaded via the internet. Outside of music, the star is credited with being the first musician to turn himself into a bond, packaging his royalties into a security that was able to be bought and sold. Unsurprisingly, Bowie was again on the cutting edge of the latest trend.
David Bowie has been a fixture in music for over forty years. It came as a shock to the world, then, when the eccentric man, once so full of life, passed away. On January 11th, a few days after his 69th birthday, the icon died in his sleep after an 18-month battle with liver cancer. As a final goodbye, Bowie produced the album Blackstar. Specifically, "Lazarus" includes lines such as "look up here I'm in heaven" and "you know I'll be free," nods to Bowie's sickness and mortality. The title "Lazarus" translates to "God is my help" and, in the Bible, Lazarus was raised from the dead after four days. The title and lyrics portray that, even though Bowie is physically dead, he will continue to live on through his music.
David Bowie was, in a word, unique.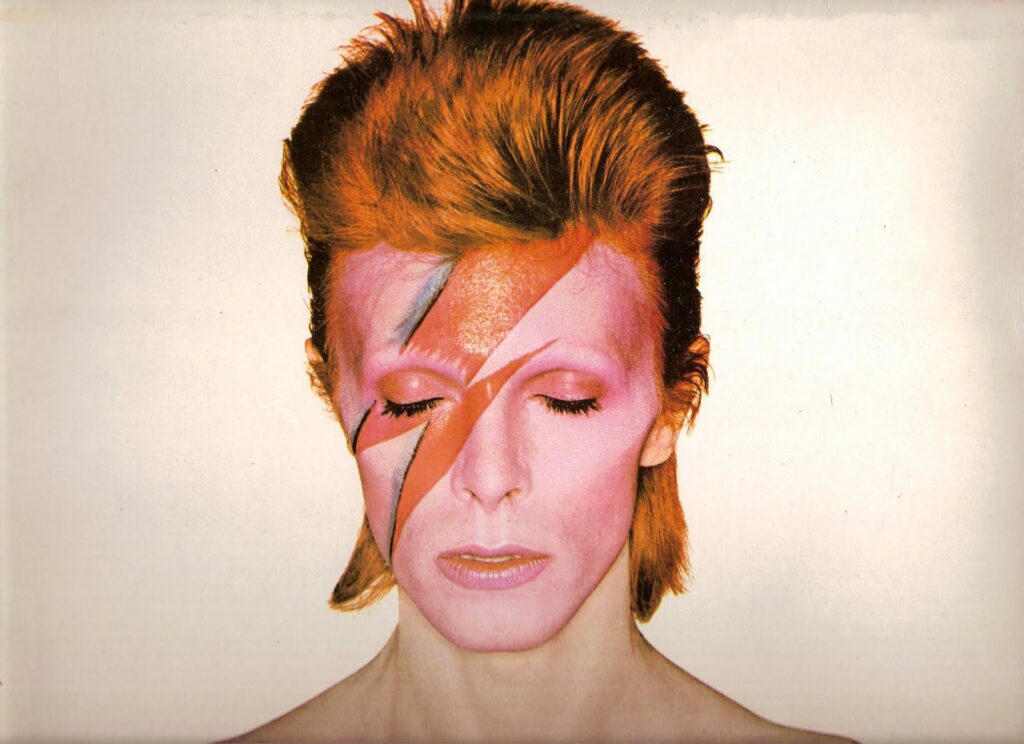 It would be an injustice, however, to confine such an inspirational innovator and multi-dimensional persona to just one single word. Bowie was indeed unique, as he challenged gender roles through his androgynous looks and bold costumes. He likewise had the unique and impressive ability to span genres, dabbling in rock, pop, soul, and jungle, just to name a few. But David Bowie was more than just unique; he was a pioneer, a chameleon, a genius, and so many other words that fail to adequately convey the extraordinary that was this man. David Bowie brought new sounds and creativity to the music industry, revolutionizing it. The star utilized his music to address the important topics of not only sexuality but also politics and drug abuse. Simply put, Bowie left his mark on the world.
If unique is not enough to encompass all that is and was David Bowie, maybe this will suffice—David Bowie was alive. He once said, "I don't know where I'm going from here, but I promise it won't be boring." Bowie delivered. The man was a firecracker, a dazzling shaper of music that we happen to have had the privilege of living with during his trip to our planet.  
He will not be forgotten. Rest easy, Mr. Jones.