Wearing a sequined shirt that looked like it belonged to Donna Summer, Tennis guitarist Patrick Riley walked on stage ready to perform. The duo's second half and lead singer, Alaina Moore, followed shortly after in a strapless leotard and striped, high-waisted bell bottoms, her poofy 'fro topping off the overall '70s look, taking the concert from downtown D.C. to a retro roller rink.
The band played what they said was their largest show to date at the 9:30 Club on Sunday, March 19, the first time Tennis has played at the venue and in the city in seven years. Although Moore was admittedly nervous, she maintained a cool demeanor throughout the concert, constantly showing a soft, almost mysterious smile while performing music off of Yours Conditionally, an album they released only two weeks prior.
The opening act, Australian man-band Rolling Blackouts Coastal Fever, started the show off with their self-described "tough pop/soft punk" brand of alt-rock. The group is composed of three lead guitarists and vocalists, Tom Russo, Fran Keaney, and Joe White, along with bassist Joe Russo. The band members said on stage that the 9:30 Club was one of the nicest venues they've ever played at, and in an email said it was also one of their largest crowds.
"We were really stoked to play at the 9.30 club. It's probably the biggest show we've ever played," Tom Russo wrote. "[It's] the nicest venue! An incredible room. Tennis' sound was enormous."
Together, Rolling Blackouts Coastal Fever is able to achieve a sound that is familiar without being boring, and the group shows variation throughout their songs while holding a consistent flow. Songs like "Julie's Place" and "French Press" off their new EP, The French Press, mix smooth and sharp guitar lines overlaid with strong lyrics and vocals. It was definitely music worth head-bobbing to and could've easily overpowered the main act, had Tennis not been so utterly wonderful.
The purples, teals, and hot pinks of the lighting matched the music perfectly. Simultaneously vintage and modern, disco and beachy, moody and uplifting, Tennis's hour-long set was full of dance-worthy, smile-inducing sights and sounds. When Moore and Riley were alone on stage for the encore, the couple looked into each other's eyes, giving the audience a glimpse into a beautifully private moment while they played a love song. The diversity of music and moments provided for a range of emotions, but not everything was soft and slow.
Tennis started off the show with "In the Morning I'll Be Better," the first song off their new album, which set the show off with a slow love ballad that showed off Moore's haunting, enticing vocals. One of their most popular songs, "Marathon," from their first album Cape Dory, was played mid-set, and completed with the venue's discoball. Much of the audience sang and swayed along. Everything came together for the concert: the look, the sound, the feeling, the emotion. It left a warmth that couldn't be dashed even by the 7 foot tall dude who accidentally slammed into me on his way out mid-show.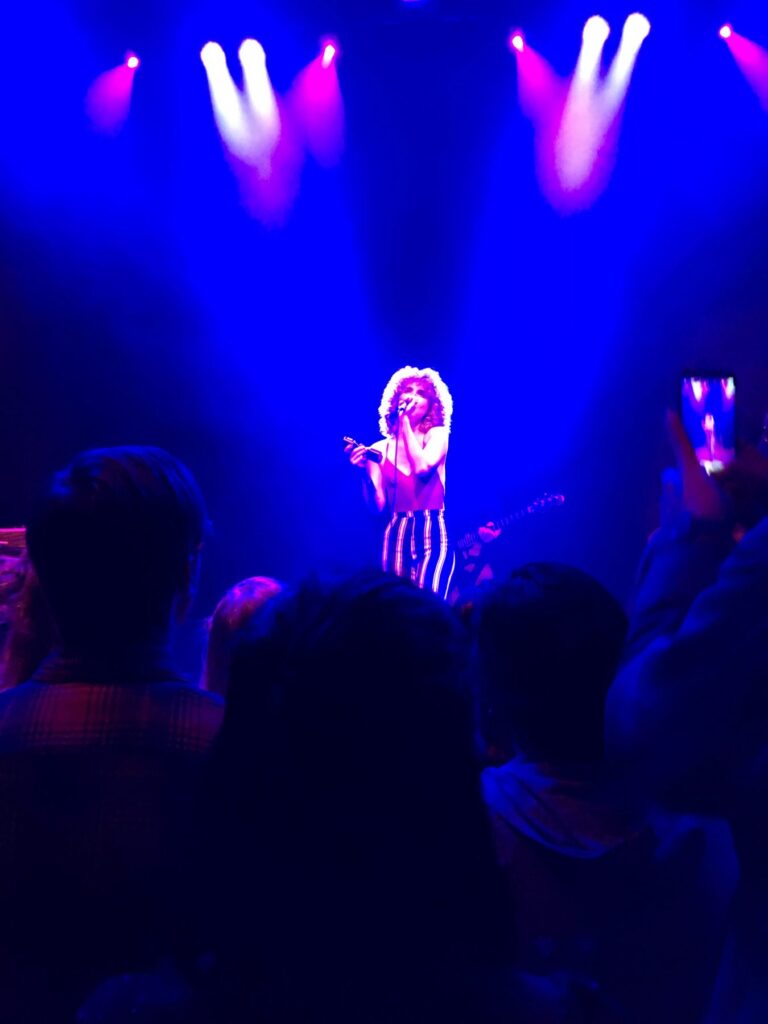 At times a 1970s after-prom and at others a midnight beach bonfire, Tennis transcended the dimly-lit club in which they performed. It was lovely to say the least, and overall a charming and enthralling concert for the audience. With a fresh opening act and an authentic, ethereal performance by Tennis, it was truly an unforgettable night.