Best Eats
Mariscos Guillen La Playita (Santa Monica): The best tacos anywhere, ever. I promise.

Nick's Deli (Seal Beach): A hole in a hole in the wall, Nick's claims to be the inventor of the breakfast burrito, and after you try one, you'll be a believer. It's possibly the greatest surfer food known to mankind.

Amelias Espresso and Panini (Santa Monica): Get the avocado toast or the cheesy toast, and stay for the owners who treat you like family.

eggslut (Downtown LA): You might be asking, is it worth the hype? Answer: hell yeah. The first time I tried eggslut I waited in line for an hour, but every person that passed by with an egg sandwich forced me to stay waiting. Get the egg salad sandwich or the slut. Just because you can.

Michael's Pizzeria (Long Beach): If you're serious about your pizza, don't miss this spot. Located in a Long Beach neighborhood called Naples, you'll think you're in the real thing after the first bite of one of their margaritas. Make sure to get your pizza uncut, like a real Neapolitan.

Lemonade (all over): The cafeteria-style eatery serves some of the freshest, most interesting salads, but don't pass up the mashed potatoes or the truffle mac n cheese, which are both some of the best I've ever had. And they're obviously known for their lemonade, with a personal favorite being the watermelon rosemary flavor.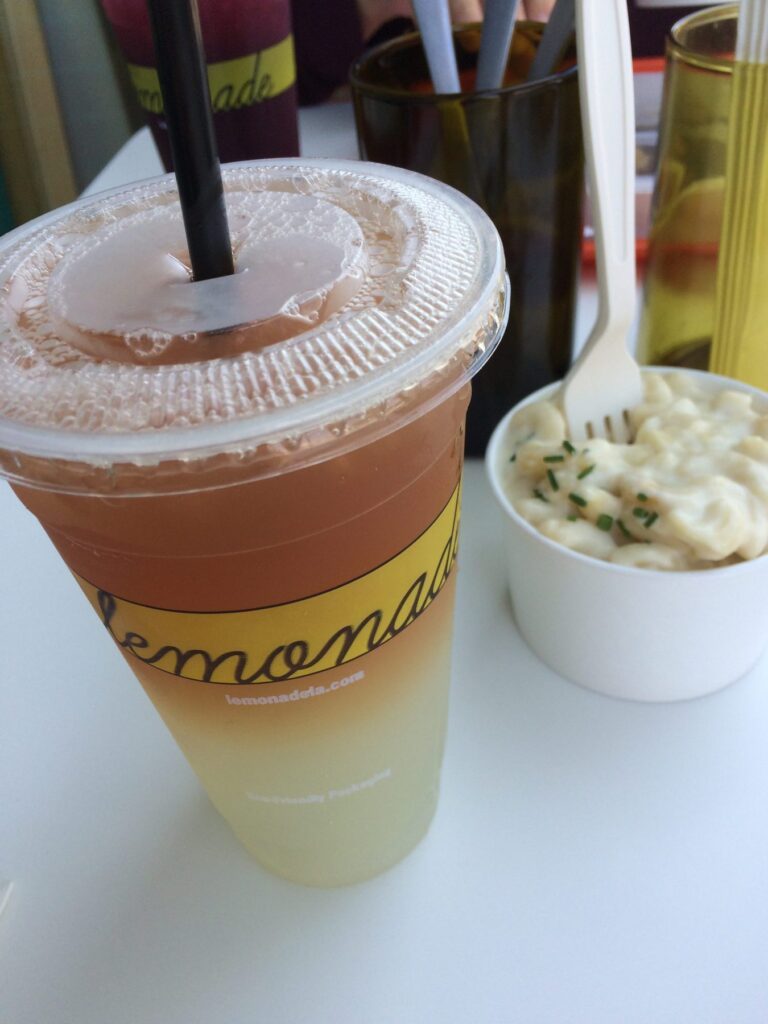 Bay Cities Italian Deli (Santa Monica): Their most famous sandwich is the Godmother, which is filled with Italian meats and sits between two slices of the world's greatest bread. Their Caprese is also fantastic, with fresh tomatoes and burrata cheese that melts in your mouth.

Bottega Louie (Downtown LA): A French restaurant that specializes in pastries (particularly macarons), Louie is a Los Angeles staple. Come for the bougie baked goods but stay for what is arguably the best pasta in the city.
Best Drinks
Groundwork Coffee (all over): When you picture an LA hipster, you picture them with a cup of Groundwork coffee in their hand. But for good reason: it's damn good coffee. They've also got one of the best chai lattes I've ever had.

Love Coffee Bar (Santa Monica): Love Coffee has an aesthetic like no other. They serve their cups with stamps that say "____ deserves love," filling customers' names in the blanks. And they hand pick different roasts from all over the area (and the country) for some truly lovely drinks.

G&B (Downtown LA): It's just really freakin' good. Their iced lattes are stupid delicious and though it's on the more expensive side, it's certainly worth it.

Snow Monster (Long Beach): This place is serious about their boba – they make everything fresh every day – and serve their boba warm, which is an awesome contrast to their cold, perfectly brewed teas. They also have kick-ass ice cream and cookies, but the tea and shakes are the real attraction.
Best Desserts
A cupcake ice cream sandwich from Sprinkles (Beverly Hills): Sprinkles in BH slices a cupcake in half and puts a scoop of ice cream in between. I don't think I need to say anything else on this matter.

Big Man Bakes (Downtown LA): the softest, sweetest cupcakes in the world. They use almond flavoring in some of their cupcakes, which gives them a really unique flavor – on top of the fact that they're baked to perfection.

Porto's Bakery (Downey): When I say this is the Disneyland of cakes, I'm not exaggerating in the slightest. Complete with lines down the block and roped-off waiting areas, Porto's has the best Cuban pastries outside of Cuba (eat your heart out, South Florida). Try the Tres Leches cake and be amazed.

Ice Cream from Sweet Rose (multiple locations): They make their ice cream on-site, with classic flavors like mint chip and coffee that are incredibly real-tasting, and more unusual items like peanut butter and jelly soft serve, which is surprisingly amazing.

Atticus Creamery + Pie (West LA): Their Earl Grey Pie is the perfect balance of sweet and smooth, and their lemon lavender ice cream is a summer necessity. Atticus does some of the most innovative flavor pairings and it always pays off.

Afters (Long Beach): If you don't know what a milky bun is, let this be your introduction. Afters serves house-made ice cream inside warm donuts with various toppings. It's heavenly. I don't feel like I need to say any more.
Best Activities
Malibu Beaches: While you might be tempted to stay in Santa Monica, Malibu is much better and you're likely to find quieter (and cleaner) beaches. Just drive down the PCH, find a place to park (if you're lucky), and make sure you don't end up on someone's private property.

Hiking in Will Rogers State Park: There are tons of amazing hiking trails in the Santa Monica Mountains, but Will Rogers is pretty easy and ends with an unbelievable outlook. You can see Downtown, Century City, Santa Monica all the way to Palos Verdes and, of course, the Pacific Ocean.

Santa Monica Pier Twilight Concert Series: With performers like BORNS, Tune Yards and Real Estate headlining these free weekly concerts in the past, they're not to be missed. And if you're not there for the music, thousands of people choose to picnic on the beach while listening to the background (live) music.

Disney Concert Hall: Yes, it looks like a clusterfuck of aluminum foil, but that's cool as heck. The inside is even better. There's a variety of classical concerts with plays and operas on occasion, and if you have the chance to see conductor Gustavo Dudamel, do it. They also have student tickets for $10 and $20, so take advantage.

Drew League Basketball: The greatest summer basketball league in the world, NBA stars and celebrities make frequent appearances to ball out at King Drew high school. If you go on the right day, you might catch MVP candidates Russell Westbrook and James Harden duking it out.

Dodgers Stadium: Going to a game at Dodgers Stadium is like no other: the mountains in the background make for a perfect distraction when your team is losing.

Rose Bowl Flea Market: Whether or not you like to shop, this flea market is quintessential Los Angeles. With hundreds of vendors selling clothes, furniture, books and what have you, anyone can find a personal treasure.
All photos by Claire Goldberg