This article is part of a series of explainer pieces by the Voice on some of the most important topics on campus. Other articles in the series can be found here. 
Georgetown's bureaucracy can be overwhelming, to say the least. It takes a lot to run any university, and the sheer number of administrative positions can make it difficult for students to understand where decisions are coming from, and who the people that run their university are. 
We at the Voice hope to combat that confusion with a set of university-wide organizational charts that explain which administrators are responsible for what and identify some of the people who work behind the scenes to craft university policy. 
The following charts were made in August of 2020, so any subsequent changes in organization or hiring for positions are not reflected. The charts are mainly based on publicly available information and have not been verified by the university. 
The Board of Directors
The Board of Directors (BOD) is composed of between 10 and 50 (currently 38) individuals who are tasked with approving all major changes made by the university, including in educational programs, tuition, the budget, and university buildings and land. The BOD appoints the president and approves the president's nominations of a provost, secretary, and treasurer (who is also called the chief financial officer). 
Directors serve three-year terms and are elected by other members of the BOD at annual meetings. According to Georgetown's bylaws, directors can serve up to two terms at a time and can be reelected for as many terms as they like as long as one year passes between each six-year period they serve on the Board.
Most members are alumni or have a connection to the university, the Washington D.C. area, or the Jesuit order, though those connections are not mandated to serve on the Board. The university president, chairman of the board of regents, president of the alumni association, and CEO of Medstar are automatically granted seats on the Board. 
The Board is led by a chair and three vice-chairs. The current chair is William Doyle (COL '72), and the Vice-chairs are Sr. Carol Keehan, Timothy J. O'Neill (LAW '77), and Fr. Daniel Villanueva, (GEMBA '15). Most work in the BOD is done in one of the committees illustrated below, which include between five and 15 members each.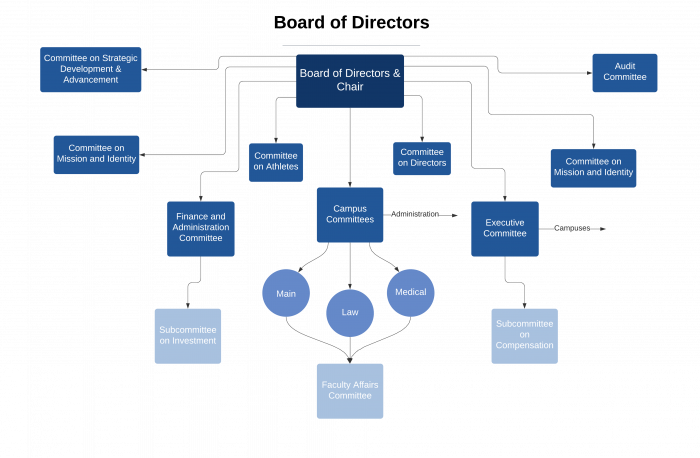 Executive Committee – The executive committee is the primary body for the BOD to advise the president. They can act on behalf of the entire Board if needed, deal with issues of major university policy, and set agendas for BOD meetings. They also review any identified risks and provide oversight.

Subcommittee on Compensation – This committee, made up of members of the executive committee, reviews the performance of the president and recommends a salary. They also review the president's assessments of other high-level employees, and advise the president on compensation levels for those employees. 

Committee on Strategic Development and Advancement – This committee focuses on the future of the university, working on long term planning, public and alumni relations, and fundraising and development efforts. 

Audit Committee – The audit committee acts as an oversight body for the university's financial reporting, internal and external audits, risk management, and compliance. They approve internal audit plans, and work with related administrators.

Finance and Administration Committee – The Finance and Administration Committee oversees university use of funds and resources and monitors financial strategies and operations.

Subcommittee on Investments – The subcommittee handles the investment of the university's endowment and helps to set university investment policies.   

Committee on Directors – This committee acts as an internal administrative body, and is tasked with recruiting directors, integrating them into the BOD, and assessing their performance.

Committee on Global Engagement – This committee helps the university create international programming and maintain a positive image around the world.  

Committee on Athletics – The committee on athletics works with university officials to oversee athletics programs and policies. 

Campus Committees – There is one campus committee for each campus (Main, Law, and Medical Center) to deal with campus-specific issues. 

Faculty Affairs Committee – This committee oversees faculty development and university-wide faculty concerns. The committee is composed of the chair of the BOD, the president, and the chair of each of the campus committees.

Committee on Mission and Identity – This committee is tasked with helping to ensure Georgetown is upholding its religious identity and is fostering Jesuit values in students and faculty. 
The Administration
The administration includes employees of the university who oversee academics, student affairs, and university affairs. The dozens of departments under the administration are divided into two main sections: university services and campus services. University services are overseen by the senior vice president (also called the chief operating officer) while each campus is overseen by their provost or executive vice president. While each campus, Main Campus, the Law Center, the School of Medicine, and the Qatar campus, has a different structure, we have focused on the main campus as it makes up the largest administrative body. The first chart will illustrate the structure of the executive officers, while subsequent charts will examine university services and the structure of the main campus. 
Executive Officers
These seven positions serve as the executive leadership for the university and are appointed by the president.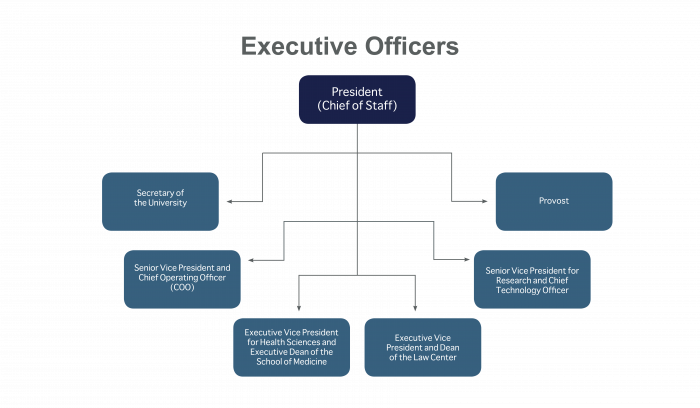 University Services
The first side of Georgetown operations provides administrative services across all of the university's campuses. Headed by Chief Operating Officer Geoffry Chatas, the offices that work in the department mainly handle the inner workings of the university, including oversight and financial affairs. They also offer resources for faculty and students through the offices of Human Resources, Institutional Diversity, Equity and Affirmative Action, and Mission and Ministry.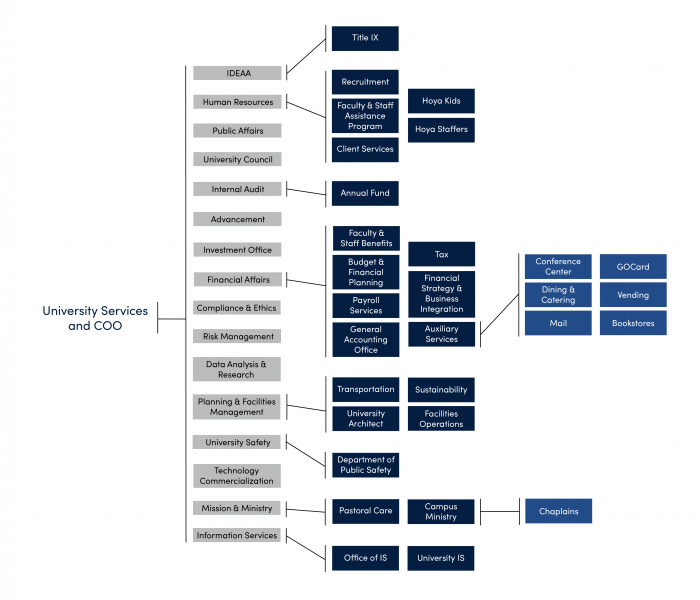 COO – In addition to their other responsibilities, the COO oversees all the offices under university services. Three different lists exist of what these offices include, but they have all been listed here under university services. 
Office of Advancement

– Headed by the Vice President for Advancement, currently R. Bartley Moore, this office handles alumni relations and university fundraising campaigns. They also oversee the annual fund and specific giving campaign for regions and schools. 

Annual Fund

– This fund, which is made of donations to the university, supports annual scholarships, support, and resources. It is managed by Associate Vice President for Alumni Relations and Annual Fund William Reynolds. 

Office of Compliance and Ethics

– Headed by the Associate Vice President for Compliance and Ethics and Associate University Counsel James Ward, this office works across departments in the university to ensure compliance with regulations and best practices. They administer the university whistleblower policy and handle employee reporting. They also create and distribute the code of ethical conduct and manage the protection of minors policy.

Office of University Counsel

– Led by Vice President and General Counsel Lisa Brown, the team of university counsel provides legal services to the university, faculty, and staff. 

Office of Planning & Facilities Management

– Headed by the Vice President for Planning and Facilities Management Benjamin Kuo, this office provides "community services related to campus and space planning, design and construction, real estate, facility maintenance, utilities, grounds, custodial, transportation and parking," according to its website. This includes GUTS buses, the Office of Sustainability, the university architect, and general facilities operations, such as maintenance, custodial services, and energy and utilities.

Transportation

– This office oversees GUTS buses and parking. They also provide information about alternative transportation options available near campus. 

Sustainability

– This office, led by Audrey Stewart, supports research and education related to sustainability studies, as well as leading sustainability initiatives on renewable energy and conservation and providing information for students on individual action. 

University Architect

– Architect Gina Bleck and her team work on long-term campus planning projects and oversee the construction of those projects. 

Financial Affairs

– This office, led by Chief Financial Officer (CFO) David Green, serves as the main administrative unit for financial issues, such as assets and liabilities, financial reports and analysis, payroll, accounting, contracts, and investments. Green handles long-term financial budgeting and planning, as well as overseeing central financial functions. The CFO also serves as the "treasurer" mandated by university bylaws. The following vice presidents and offices each specialize in a different aspect of financial administration.

Stella Apesky – Senior Associate Vice President for Budget, Financial Planning and Treasury Management

Willem Roos –  Comptroller of General Accounting Office

John Kotwicki – Associate Vice President for Tax & Special Assistant to the Vice President for Finance

Adam Donaldson –  Associate Vice President, Financial Strategy & Business Integration

Rebecca Risley – Director of Payroll Services 

Investment Office

– Led by Chief Investment Officer Michael Barry, this office manages investments from the endowment and pension plans. 

Office of Faculty and Staff Benefits

– This office manages benefits, including health and retirement, for all university employees. 

Auxiliary Business Services

– This office manages outside contracts with providers, working with the bookstore, dining services, GOcard, catering, commercial property, mail services, vending, off campus housing, and area hotels. It is currently led by Vice President for Auxiliary Services Marc Fournier. 

Human Resources

– HR, currently led by Interim Vice President Marshall Taylor, handles relations with employees, including employment services, recruitment, client services, employee training, Hoyakids, and the Faculty and Staff Assistance Program. Each department in the university also has a designated HR generalist who is intended to serve as a resource. 

Information Services – The Chief Information Officer, currently Judd Nicholson, oversees technology policies and daily operations through two departments. 

Office of Information Services – This office deals with long term and strategic planning of technology policy. 

University Information Services

– This office carries out daily operations, works on university technological infrastructure, and helps users with problems.

Office of Institutional Diversity, Equity and Affirmative Action

– The mission of this office, led by Vice President for Diversity, Equity & Inclusion, and Chief Diversity Officer Rosemary Kilkenny, is to create an inclusive academic and work environment through conversations about diversity and access. This mission is promoted through working to ensure equal opportunity and affirmative action, administering the cultural climate survey, and advocating for accommodations, as well as the work of the office below.

Title IX Office – This office, led by coordinator Samantha Berner and investigator Sarah Onori handles complaints of gender-based discrimination, including allegations of sexual misconduct and addresses resources for survivors of sexual assault and harassment.

Office of Mission and Ministry

– This office, led by Vice President for Mission and Ministry Rev. Mark Bosco, heads all faith initiatives on campus and supports Jesuit values through on-campus initiatives that combine education and faith. 

Campus Ministry –  Led by Father Greg Schenden on the main campus, these ministries deliver faith to students and campuses. Within each campus, there is a faith chaplaincy for Christian Life, Jewish Life, Protestant Life, Orthodox Christian Life, Muslim Life, and Dharmic Life. Other religious initiatives include athletics ministers, residential ministers, musicians, ESCAPE, Calcagnini Contemplative Center, and Interreligious events. 

Department of Mission and Pastoral Care

– In conjunction with the hospital, this department provides spiritual support for families and patients for those receiving care.

Office of Public Affairs

– This office, headed by Erik Smulson, Vice President for Public Affairs and Senior Advisor to the President, represents the university to external groups such as media and governments, communicates news internally, and develops a communications strategy. 

Office of Risk Management

– This office, led by Associate Vice President Joseph Yohe, handles the university's insurance portfolio, workers' compensation, and claims. They also offer risk management services and try to prevent university loss. 

Internal Audit Office

– Headed by Chief Executive Auditor Frank Maggio, the office evaluates internal controls and risk management in business, financials, information systems, and organizational roles. The office conducts an annual risk assessment. 

University Safety – The office of university safety oversees the emergency preparedness plan, public safety, and connections with local law enforcement.

Office of Technology Commercialization

– This office, led by Vice President Claudia Cherney Stewart, manages inventions, patenting, confidentiality, and partnerships with local businesses. 

Office of Data, Analytics, and Research

– This office serves the university by improving the capacity for data analytics both for university growth policies and the general academic community. 

Additional staff – These staff did not seem to be associated with any particular department other than the COO's office but serve as vice presidents.
Main Campus 
Main campus affairs, both academic and student affairs, are overseen by Provost Robert Groves. Most departments that students interact with on a daily basis are part of one of these departments, including residential living and student health. The provost also is responsible for additional academic units, institutes, centers, and programs. Provosts on other campuses oversee similar structures, adapted for the needs of each campus. The offices under this office are so numerous, they have been divided into two charts.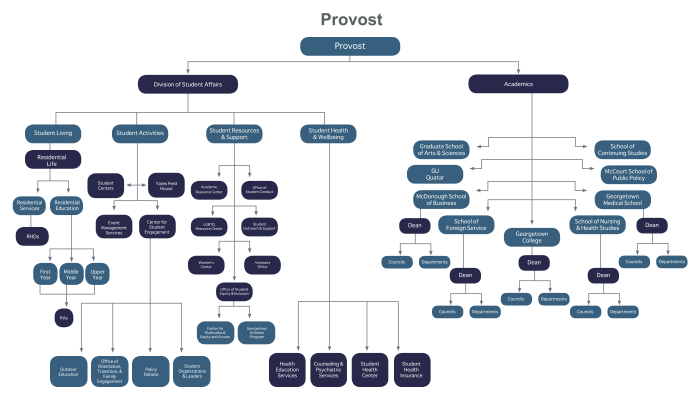 The provost, in conjunction with a series of directors and vice presidents that can be found here, oversees nearly twenty main campus schools, academic units, and programs. These units are responsible for the day to day experience of students, and Provost Groves helps coordinate across each of them. 
Schools
All purely academic affairs, including academic classes, departments, and research, are run through one of the seven main campus schools. Each school is headed by a dean and led by a combination of administrative staff and department chairs. The four main schools (SFS, College, NHS, MSB) also each have executive councils composed of the dean, vice deans, representatives from academic units, and undergrad and grad students. The deans of each school are below. 
Edmund A. Walsh School of Foreign Service – Joel Hellman

Georgetown University in Qatar – Ahmad Dalla

Georgetown College – Christopher Celenza

McCourt School of Public Policy – Maria Cancian

Graduate Schools of Arts and Sciences – Alexander Sens, Interim 

McDonough School of Business – Paul Almeida

School of Continuing Studies – Kelly Otter
Though the division of student affairs is technically just one of the academic units on the main campus, it is by far the largest and most encompassing, so for clarity, it will be presented as a separate set of offices. It is headed by the Vice President for Student Affairs Todd Olson, who oversees non-academic student resources and services on the main campus.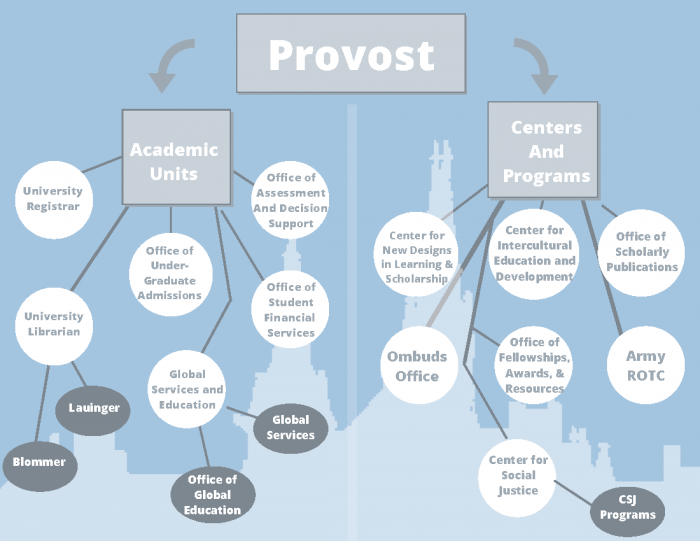 Academic units
In addition to the Division of Student Affairs, these academic units provide resources and services across departments and main campus schools. They are all overseen by the provost. 
Institutes, Centers, and Programs
These organizations provide additional services through students for specialized areas of education or student life. 
This organizational chart is by no means exhaustive and has not been verified by the university. If you wish to share another office or have reason to believe there is an inaccuracy, please contact us at news@georgetownvoice.com. 
Patrick Walsh contributed reporting