Something happened on Twitter last week, but we're not going to bother with that here.
Kanye West recently announced that his seventh album, entitled Waves (formerly So Help Me God and Swish) would be released on February 11. The album will contain recently-released singles "No More Parties in L.A.," featuring a verse from Kendrick Lamar, and "Real Friends," as well as "Wolves," a track featuring Sia and Vic Mensa, which debuted in early 2015 at an Adidas fashion show. A track list is available here, but it gives little information about the album besides, well, track names.
So, to pump you up for Waves, we're going to walk you through some of West's more interesting works. Let me say this now: this is not a "Best of Kanye West" list, rather, just some personal favorites.
"Spaceship" from

The College Dropout
A great groove from an album with many great grooves. Kanye may say that he doesn't want to make music like this anymore, but I don't think many people would mind if he embraced the style of his earlier years.
"We Major" from

Late Registration
People at Gawker seem to believe that "We Major" is one of Kanye's worst ten tracks, but my opinion tends toward that of New York magazine's Rembert Browne.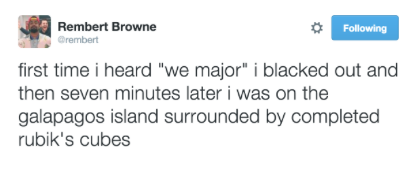 "Gone" from

Late Registration
This track, built on top of an Otis Redding sample, is great musically and lyrically. Consequence's verse uses the word "gone" in every line. Cool stuff.
"Good Morning" from

Graduation
I could probably include every track from Graduation on this list, but this is one that doesn't get nearly enough credit.
"The Glory" from

Graduation
This one, too.
"Love Lockdown" from

808s and Heartbreak
When this track was released, high school freshman me was very confused. Why was Kanye singing? Did he rap and I just zoned out? Was the whole album going to be like this? Well, the whole album was like that, and I didn't particularly enjoy it. But, this song and 808s was a bold departure from his prior body of work and led to the blend of styles that would garner acclaim on My Beautiful Dark Twisted Fantasy.
"Runaway" from

My Beautiful Dark Twisted Fantasy
If you haven't watched this, watch it.
"Lost in the World" and "Who Will Survive in America" from

My Beautiful Dark Twisted Fantasy
These two tracks, featured at the end of the "Runaway" video, combine for one of West's most hair-raising statements. The former, featuring Bon Iver's Justin Vernon, as well as samples from the band's song "Woods," references West's longing for fulfillment while West's verse, now assumed to be about Kim Kardashian, props up a romantic interest as the answer to his desires. The latter sets part of Gil Scott-Heron's "Comment No. 1," which dives deeper into the theme of isolation.
"Bound 2" from

Yeezus
This track, despite being a parody of West's earlier soul-sampling days, is thoroughly enjoyable, as is its absurd music video. "Bound 2" leaves the rough, grimy cellar shown by the rest of Yeezus' tracks to give us, well, horses and sunsets. If you want to get a better idea of what Yeezus is actually about, check out "On Sight" and "Blood on the Leaves."
"No More Parties in L.A." from

Waves
West flexes his lyrical muscle for the first time in years. After experiencing Yeezus' unconventional style and moments like this, many thought that West's prime was behind him. But, after "No More Parties in L.A.," it's easy to believe that Kanye is back. "I know some fans who thought I wouldn't rap like this again/But the writer's block is over, emcees cancel your plans," West says. Sounds good to me.
https://open.spotify.com/user/jonabloc/playlist/2gqQqCJNzhsY3iwfBQ9jMB
https://www.youtube.com/watch?v=uu8YkQ-5I5M ("No More Parties in L.A." is not yet on Spotify.)