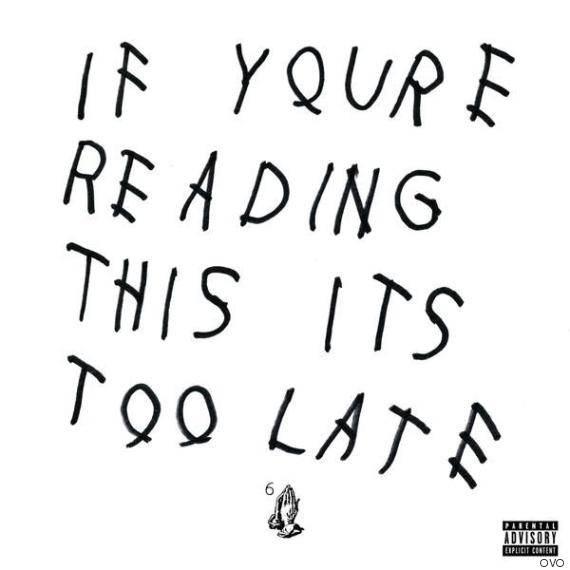 2pac released All Eyez on Me after his first big break. Biggie dropped Ready to Die after a round of first hit singles. Successful rappers, much like Han Dynasty emperors, inevitably become obsessed with their own mortalities. Drake turns that corner with his mixtape If You're Already Reading This It's Too Late by opening with his own elegy, "Legend." The gateway of through which we enter the mixtape ("Oh my God, oh my God/If I die, I'm a legend") set the tone for the rest of its tracks: reflective, jealous, and marbled through with a lonely existentialism.
In stark contrast to his voracious appetite for success, showcased in "0 to 100/The Catch Up," and his pride on achieving it highlighted in "Started From the Bottom," "If You're Reading This It's Too Late" straddles a thin line between late-night melancholy and self-pity. Many of the songs consist of the consequences of Drake's success, from "Enemies" ("I got enemies, got a lot of enemies/Got a lot of  people tryna drain me of my energy") to "Know Yourself" ("I ain't rockin' my jewelry that's on purpose/Niggas want my spot and don't deserve it"). Apparently success can be just as difficult as obscurity.
In between we're given glimpses of Drake's emotional machinery: both his maintenance of the success that made him ("10 Bands": "Drapes closed I don't know what time it is/I'm still awake I gotta shine this year"), to his isolation ("Know Yourself": "Runnin' through the 6 with my woes!"). The refrain in "Know Yourself,"one of the strongest tracks on the tape, is a particularly devastating rhetorical twist; it refers simultaneously to WOE, Drake's original crew Working on Excellence, and his own troubled thoughts. Much like the tone of the mixtape, the refrain conveys a sense of being surrounded and yet totally alone, glassed off from former friends by success.
The first six tracks of the tape move painfully slow, transitioning over time from hypnotic to exhausting. Even after marginally picking up at "6 God," the pace never accelerates past a slow grind. From this tape, those who've never heard Drake's previous work would mistake him as a spoken word artist. Old fans will notice an absence of the energy that characterized Thank Me Later and Take Care. The beats, many made in conjunction with PARTYNEXTDOOR, are flowy, and sound more ethereal than grounded. Although "Know Yourself" deploys these perfectly to show Drake's emotional soft tissue, they get sleepy, dominating the first 25 minutes of the mixtape. Even with Lil Wayne injecting some much needed adrenaline in "Used To," the mixtape still suffers from its lack of range.
If You're Reading This It's Too Late feels far too much like a grace note for this stage of Drake's career. Even with strong tracks "Know Yourself" and "Used To," the tape feels more representative of a lonely king's twilight years than the spontaneous generator Drake's proven himself to be. In the track "Energy", Drake claims to have exactly that. I hope his upcoming album Views from the 6 shows it.
Photos: spin.com, i.huffpost.com