"We certainly are keenly aware of the fact that you have choices and your children can go anywhere," Chancellor of the District of Columbia Public Schools (DCPS) Antwan Wilson said to concerned students, parents, and teachers gathered at a community conversation in Alice Deal Middle School on March 27. Students, teachers, and parents sat at cafeteria tables to ask questions about overcrowding, school resources, technology, and the future of DCPS.
Wilson spent much of his town hall address discussing DCPS' Capital Commitment Strategic Plan. The plan, which was developed in 2012, consisted of five goals DCPS hoped to achieve by 2017, including raising graduation, achievement, and school satisfaction rates. DCPS also sought to increase enrollment in its schools, an attempt to reverse a decades-long trend.
According to DCPS statistics, traditional public schools increased enrollment by seven percent  between the 2011-12 and 2016-17 school years. These modest gains contrast with charter school enrollment, which increased 24 percent over the same period.
Charter schools are public schools that run independently of the local school district. They are part of a nationwide movement known as school choice, which attempts to give families a greater say in where they educate their children. Traditional public schools enroll students assigned to them based on the student's residence, whereas charter schools accept students via a lottery system. Charters schools have been particularly popular in the District. According to the Washington Post, there were 8,640 students on charter school waitlists in April 2016. Many of these students are on multiple waitlists.
The volume of waitlisted students indicates a strong demand for school choice options in the District, Rachel Sotsky, executive director of Serving Our Children, wrote in an email to the Voice. "This is particularly important in Wards 7 and 8, where 46 percent of our applicants live. The D.C. OSP expands educational options for low income families."
Serving Our Children operates the D.C. Opportunity Scholarship Program (D.C. OSP), the District's federally-funded voucher program. Conservatives, including President Donald Trump, often support private school vouchers, which are scholarships given to families to offset private school tuition, as a part of an expanded school choice system. Trump's proposed budget would cut funding for the Department of Education by 14 percent, and would dedicate $1.2 billion to expanding voucher programs across the United States.
Rep. Eleanor Holmes Norton (D-D.C.), who cannot vote, opposes the expansion of the federally funded D.C. private school voucher program. "Federal funding for education in the District should reinforce the hard work of our city, parents, and residents, who have shown the nation how to build a fully accountable public school choice system," she said to the House Committee on Oversight and Reform on March 8 during discussions to reauthorize the program.
Since the 1970s, the D.C. Council has had the ability to create a voucher program, but council members have chosen instead to improve its public schools, Norton told the committee. Nevertheless, Republicans in Congress created a D.C. voucher program in 2004, and have continued to push for its expansion.
Local government has largely opposed the D.C. voucher program, instead favoring continued investment in school choice through charters. The struggle to provide education for all D.C. students, particularly at-risk students and those from low-income backgrounds, is characterized by this unusual dual charter-traditional public school system and underlying inequalities across the District.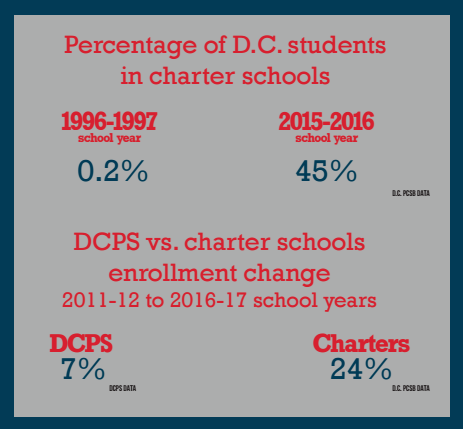 The origins of the District's charter school system, as with its voucher program, lie not with local government, but with Congress. The D.C. School Reform Act of 1996 created the charter school system with two governing bodies, the previously established D.C. State Board of Education and the new D.C. Public Charter School Board (D.C. PCSB). Together, these two chartering boards have the power to set up 20 charter schools each year as start-ups or by converting private and public schools.  
Since 1996, charter school enrollment has drastically increased. According to D.C. PCSB data, charter schools went from educating only 0.2 percent of the total public school population in the 1996-97 school year to 45 percent in 2015-16 at 38,905 students.
Today, charter schools play a larger role in D.C. public education than in most other U.S. cities,  towering over the 2013-14 national average of five percent enrollment reported by the National Center for Education Statistics. The District now has two public school systems that are about the same size, with 118 public charter schools and 115 traditional public schools, numbers reported by the respective school systems.
Local school boundaries, which DCPS redrew in 2014 for the first time in four decades, determine what DCPS school a student will attend. Some schools are more sought after than others and are consequently overcrowded, such as Ward 3's Woodrow Wilson High School and Alice Deal Middle School.
"Supporters of charters advocate them because they create choice for students who wouldn't otherwise have that choice for better education," Douglas Reed, a government professor at Georgetown, said.
To help make charter schools more accessible to local families, D.C. Mayor Muriel Bowser announced a proposal on Jan. 30 for a charter school "walkability preference." Under this optional initiative, charter schools can give preferential admission to students living less than half-a-mile away. The proposal will go into effect for the 2018-19 school year.
"My administration will continue to expand opportunity and make unprecedented investments in public education so that students from every neighborhood, in every ward are set up for success," she said in a Jan. 30 speech at D.C. Bilingual Public Charter School.
A city task force considered requiring all charter schools to adopt a policy of weighted admissions for neighborhood children in 2012, but found that implementing the policy would disproportionately hinder school-aged children in the predominantly black Wards 7 and 8 in admissions to competitive charter schools.
D.C. PCSB declined to comment on the walkability proposal because the legislation is yet to be drafted.
Charter school admissions are often high-stakes because, as a whole, D.C. charter school perform better than their traditional public counterparts. D.C. charter elementary and high schools outperformed DCPS schools on the Partnership for Assessment of Readiness for College and Careers (PARCC) standardized test in 2016. Recent studies find performance to be more consistent between the two nationally.
Advocates for charter schools point to the District as a positive case study of public school choice. Critics counter that structural issues within D.C. charter schools lead to some negative trends. For example, in 2011-12 D.C. charter schools rate of expulsion was 72 times greater than in DCPS schools, as reported in a review of D.C. school data by the Washington Post. Opponents to charter schools explain this as a pattern of unaccountable charter schools pushing students into the DCPS system, which is required to educate all students.
Charter school policies are thought to encourage high expulsion rates, but both school systems systems exhibit racial bias in student discipline. While expulsion and suspension rates have recently decreased across the District, inequalities persist. Black students in both public school systems are suspended almost seven times more frequently than their white classmates, according to The Washington Post.
There are also racial disparities in student performance. In a comparative look at different U.S. public school systems, The New York Times found that sixth-graders in the richest school districts across the U.S. perform an average of four grades ahead of students in the poorest districts, with gaps in performance by race within each district. In D.C. traditional and charter public schools, white sixth-graders perform almost three grades ahead, while hispanic and black students perform 1.4 and 2.2 grades behind, respectively.
Further driving performance gaps in the District's schools is its underlying geographic racial divide, Sabrina Wesley-Nero, a professor in the Education, Inquiry, and Justice program, wrote in an email to the Voice.
The District is the nation's sixth most segregated city, according to a FiveThirtyEight analysis by Nate Silver. Census-based maps show an obvious racial divide, with white population density concentrated in the northwest, and black population density concentrated in the southeast.
"Residential segregation greatly impacts racial and economic diversity in schools. The District's broader historical context on issues of race, class, and governance cannot be divorced from any analysis of contemporary trends and policies." Wesley-Nero wrote in an email to the Voice.
The socio-economic makeup varies between the charter and traditional public school systems, but low-income students form the majority in both. Students receiving free or reduced-price lunches in the 2014-15 school year make up 82 percent of the student body in charter schools as compared to 76 percent in DCPS, both of which are above all public schools' national average of 51 percent in 2013, according to the New York Times.
Voucher proponents advertise the program as a way to increase educational opportunities for low-income students. The average household income of participating families is $20,472, and nearly all recipients are students of color. The federally-funded D.C. voucher program currently serves 1,154 students, according to Serving Our Children's website.
Serving Our Children announced Feb. 24 that they plan on expanding the voucher system significantly in the upcoming school year, the Washington Post reported.
"Given the unique relationship between the District and the Federal government, the D.C. Opportunity Scholarship Program (D.C. OSP), which is strictly a D.C. program, is funded separately from other education programs under the purview of the U.S. Department of Education," Sotsky wrote. "Nonetheless, we anticipate that this administration will support expansion of the D.C. OSP, given its strong support for school choice."  
Pro-voucher camps in national politics have demonstrated increasing zeal for school choice, particularly in Trump's proposed budget. Recently, hard-line conservatives in Congress have promoted the expansion of the D.C. voucher program on a drastic scale. Sen. Ted Cruz (R-TX) introduced a bill last year that would convert the District's entire education system to a voucher program. The bill has not passed the Senate finance committee.
Many local officials oppose the District's voucher program, though. Eight council members sent a letter to Congress on March 7 requesting that vouchers be phased out, rather than expanded. They asked for funds to be devoted to existing public education in the District, arguing that the voucher program is an ineffective and inequitable way to promote better education for disadvantaged students.
"I'm 100 percent opposed to public dollars going to private schools like this," D.C. Council Member David Grosso (I-At Large), who has spoken forcefully against the voucher program for years, said in the Washington Post.
The 2010 evaluation of the District's voucher program concluded that there is no evidence that low-income students in the program perform better than they would in a traditional public school. This study and the council members' letter both cited additional analyses conducted on voucher programs across the U.S, none of which found conclusive evidence that they work to bridge the gaps left in public education systems.
The school choice movement attempts to solve educational inequality by providing alternatives to the existing public education systems, but critics argue this draws resources away from where they are needed. In the District, educational inequalities in both systems remain despite the unusual success and collaboration of charter and traditional schools.
These inequalities also plague voucher schools. A Washington Post investigation found that very few voucher students attend elite high schools, and many attend schools almost entirely filled  with voucher-program participants.  
Wesley-Nero said that D.C. education policies reflect the need for more equitable access to high-performing schools.
"One of the goals that is evident is to create quality and effective options for families throughout the system as opposed to having a few brilliant gems being overrun and largely inaccessible to the majority of the student population," she wrote.