You may know Nicki Minaj for her edgy verses and "own it" attitude, but the iconic rapper may just be blossoming from talented musician into a full-fledged movie star. On January 18, Minaj starred in her third film, a 16-minute feature to accompany her album The Pinkprint.
Directed by Taylor Cohen and Francesco Carrozzini and executively produced by Dwayne Carter, Gee Roberson, Frank Cooper, Nabil Elderken, Justin Benoliel, Bryan and Ronald Williams, and Minaj herself, the movie is separated into three parts. Each corresponds to a song from Minaj's album, "The Crying Game", "I Lied", and "Grand Piano".
The movie depicts the fraying relationship between Minaj and her boyfriend, played by Willy Monfret. Many have speculated that it includes details from her own breakup with longtime boyfriend Safaree Samuels, but Minaj has neither confirmed nor denied these claims.
Minaj dated Samuels for roughly 12 years. Reflecting on her post-breakup grief, she said, "This is somebody I grew up with. Like, I don't even know how I'm going to function without that person in my life. I never lived my life as a famous person without him. I don't think people realize it's not just a breakup, that was a humongous part of my life."
The Pinkprint Movie is somber and at times heartbreaking, exploring the struggles of a tough separation. It captures the confusion in the wake of the end of a relationship, seamlessly weaving between flashbacks and the present. Minaj pulls at our heartstrings as she remembers major events in her relationship over and over again.
Besides some unrealistic dramatic elements (driving without her hands on the wheel for extended periods of time), Minaj does a decent job of acting the part of an emotionally-devastated girlfriend. Her emotive facial expressions convey her inner suffering.
The movie is filled with tightly-wrought emotion and honesty, Minaj baring her soul in every scene. As she runs through fields in the third part of Pinkprint, it's hard not to relate to Minaj's desire to be freed from the weight that this sudden change has placed on her shoulders.
Even if you are not a Minaj fan, The Pinkprint Movie is more than worth watching for its stunning cinematography, crisp editing, and crystal-clear sound quality. The video has already amassed more than 700,000 views on her YouTube channel.
In the interest of entertainment, here are my live tweet responses to the movie (SPOILER ALERT). Feel free to print out these tweets to use as a critical film guide while you watch the movie yourself.
INTRODUCTION
The movie is opening with "All Things Go". One of the best songs on the album! #ThisIsThePinkPrint
There are some scenic views of the skyscrapers of LA. Nice touch, Nicki.
PART I: THE CRYING GAME
NICKI, WHY ARE YOU DRIVING WITH YOUR EYES CLOSED?!?! (DON'T, STAAAP)
Damn. Nicki's got this acting thing down. Look at her facial expressions. She looks devastated. I kind of want to let her cry on my shoulder right now.
Okay, seriously girl. PAY ATTENTION TO THE ROAD. Stop looking at the camera and FOCUS!
Rolling her eyes and hands off the wheel… does she want to die? #roadrage
Nicki's ex looks suuuuuuper pissed.
The product placement as they let "Range Rover" take up a quarter of the screen is too real.
Why are they shining the high beams into my eyes? Is this what the CIA does at Guantanamo? (Too soon?)
Aaaaand she got into a car accident. THIS IS WHY YOU DON'T DRIVE WITH YOUR EYES CLOSED, NICKI.
PART II: I LIED
Starts out with Nicki passed out in a car. Completely normal.
Then she wakes up and randomly starts singing… #WokeUpLikeThis
They keep showing her ex in a car window. IS HE IN HER CAR? WHAT IS GOING ON?? WHERE ARE WE IN THE PLOT DEVELOPMENT GAHHH
He's in the same car as her. I do not understand. This is some next level insanity going on.
Nicki has a head wound, but she still looks #flawless. She's single, right?
And her ex is cleaning the wound. How sweet! #truLuv
He also took off her shoes… #runningthisgameforfiveyears #guessthatswhymyfeethurt
Oh god. More than shoes… No, Nicki. Don't fool around with him again! HE TORE YOUR HEART TO PIECES.
Well, that went from zero to 100 real quick. Things got weird. #yikes
It's like the story is being told in a stream-of-consciousness as she remembers all their shared experiences as a couple. Trippy.
PART III: GRAND PIANO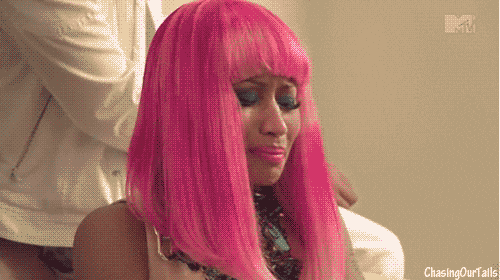 So this part begins with an aerial view of some scraggly fields. Seems like the middle of nowhere.
Nicki is so fine. She's wearing a red dress and it's quality.
The cinematography for this is breathtaking. Also, Nicki's vocals sound so good.
At least she finally got a bandage for that headwound. Phew.
See, they're at a party. But she's longing to just run through nature and be free…I think. #criticalanalysis
Ah, right as she sings about the grand piano, they show someone's hands playing one. Nice timing.
Oh god. The guy playing the piano is none other than ex! #plottwist
Random, but I like ex's stache.
Now she's standing behind him at the piano!!!
The tension is so high at this point. I can't breathe.
Nicki gets into a convertible. Will he get in with her? Or naw? That is the question.
Answer: Nope.
Cue dramatic cutaway to violin player.
And the credits roll. Well, that was an experience.
I feel enlightened. And in need of some tissues. #Kleenex.
—————————————–
Photos: directlyrics.com, reactiongifs.com, tumblr.com, giphy.com