After only a few minutes of conversation with photographer Pete McCutchen at the opening of his newest show, "The Quality of Light," it is wildly apparent that he is no typical photographer. "The world is a chaotic mess, and art is making order out of it," he says, gesturing behind himself to a photo of Lake Yellowstone, the soft pre-dawn blues of the lake juxtaposed against an arrangement of dark scraggly trees with a scattering of tiny yellow flowers. "A good photograph looks like you are a painter and you can put anything there you want," he continues. "Everything is there for a reason."
Instead of working with paint, McCutchen deftly controls light, capturing and displaying it in all forms. Each grouping of photographs hanging on the walls of the Touchstone Gallery focuses on a different aspect of light in various environments, ranging from the natural beauty of our national parks to the echoing interior of a gutted factory, from the softness of a sunrise to the harsh glitter of Las Vegas.
McCutchen's most striking photos make powerful use of "emptiness"– a barren factory floor, interrupted only by support pillars, seems transformed into a holy space by the natural light from outside. In another photo, the only light is in reflections on the shiny linoleum floor of an abandoned asylum with a single metal fan at the end of the long, crumbling corridor. The excellent use of space draws one's attention immediately despite its mundanity.
While those photos may be the most arresting, landscape photography is where McCutchen's talent truly shines. In one work, the luminescent swirling blues and whites of the sky seem more like a painting of an ocean than a photo of clouds, while the spiny silhouette of the mountain in the foreground only emphasizes the dramatic beauty above. Another adjacent photograph displays the fore-, mid-, and background are so perfectly in harmony it seems like he arranged it all himself; a golden plain of grass, a craggy green mountainside, and a delicate lavender and pale blue sky all combine to form an achingly beautiful tableaux.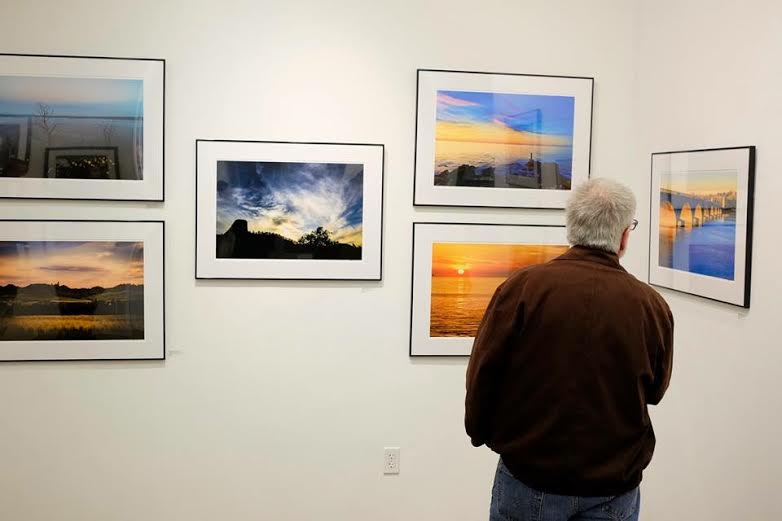 The only photos that failed to evoke a reaction from me were a small grouping in which McCutchen focused on how light plays through a pebbled glass – they could not hold their own amongst the grand scale of the rest of his work. A trio of photographs of wind turbines at sunset also seemed incongruous in their placement next to the black and white photos of the asylum. They were interesting enough on their own, with the almost organic beauty of their blades contrasting against the fiery gradient of the sky, but they simply felt misplaced in the collection.
In "The Quality of Light," there is less an overarching theme than a spirit of experimentation – it is a true pleasure to watch a master photographer play with the most basic of elements. The grasp McCutchen has on his craft is unmistakable in this showing – you will leave with a greater understanding and appreciation of how important and expressive light can be.
Touchstone Gallery
901 New York Avenue N.W.
Wednesday-Friday 11-6, Saturday-Sunday 12-5
touchstonegallery.com